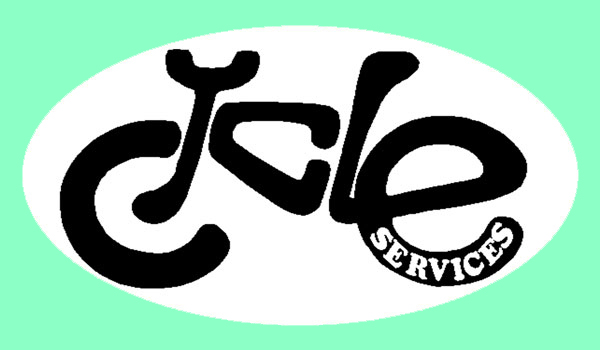 DECEMBER 1993
NEWSLETTER X
Hi Punters, happy Xmas. Just when you thought it was safe to settle back and read "Road Bike Action" mag, we're back with another installment to put fear into the hearts of poseurs everywhere. Why haven't we done a newsletter for so long, you no doubt want to know.
Excuse List :
Last month's newsletter was too explicit to print and we didn't want to get busted
Green paper was scarce as Shimano spare parts and there was none in the country for 6 weeks
We were busy sueing NZ Cycling Mag for plagiarism
October and November were just way too surreal and we were too freaked out to shralve
As you may remember, last Xmas we had Weird Al dressed in a Santa outfit, riding a unicycle, with a detached front wheel, and wearing a sandwich board, riding around malls and performing stunts in the middle of crowded intersections. He was awesome, but sadly after falling into the Manners Mall fountain while trying to ride around the edge in front of several hundred punters, he got water in his ears and has never been the same since. If you are really good at unicycling, like dressing up, and are willing to work for one powerbar and hour, come and see us about a job.
Otherwise it's just going to have to be Al again, isn't it?…
---
Following hot on the heels of the Kennett Brother latest book "Classic NZ Mountain Bike Rides" is another new mountain bike book, released just in time for Xmas. "The Nihilist hardcore fully marginal death vert guidebook" by Spooks, Bugle and Mr F (published by Bogus Press), is poised to become another best seller. All the rides are in Wellington, because, as the authors point out, all real mountain bikers are in Wellington, and all real tracks are in Wellington, too.
The book starts out with chapters on how to ensure that your bike and riding gears is suitably "hard". Chapters 1 "Turning your bike into a thrasher" & 2 "Dressing like a hellman" are packed full of useful tips, like how to get rid of that new bike look in one afternoon, and what to do with fluoro riding gear.
Next the book moves into Nihilist philosophy, with chapters on thrash music, emergency walkman repairs, how to keep your stash dry, why you should never ride straight, how to abuse tossers, and asks the crucial question "What is FEAR?"
By this stage, the reader is well psyched up and ready to go off over the rides. All of them are downhill, and have been extensively tested. There are three categories: verts, death verts, and fully marginal death verts. The authors have left no stone unturned in the relentless search for verts, having spent the past year searching for them every day. The most lucrative areas are Mt Vic, and Tinakori Hill, but all areas are covered including the Hutt Valley ("The bogan lands") and Mt Kau Kau ("Elevator country")
Finally, the book has chapters on urban terrorism, including car parks, stairs, ramps, buildings, malls, one way street action, and man made jumps. The research for this book is extensive, and included in the appendix is a list of parts broken while testing rides (including 17 rear derailleurs, 15 rims, 4 Manitou fork crowns, 3 frames, 42 pairs of brake pads, etc, etc), and an invaluable glossary, which lists hundreds of useful Nihilist words and sayings. We have reprinted a few here to whet your appetite.
"Nihilist" - no hope, no fear
"Yelp hard, no grogan" - really awesome, no shit
"Frot Out" - a surplus of good frottage
"Tripper" - a few sausages short of a barbecue
"Fully jiz" - stylee and going off
"Freaked" - the onset of FEAR
"Trolleyed" - toasted on conage and skullage
---
Name
Rod Bardsley
Nickname
Mad Dog, plus many derogatory names incorporating "Rod"
Suburb
The Terrace
Age
27
Occupation
Firefighter, MTB mechanic, any Arthur Daley type enterprises
Bike
Manitou FS
Components
XTR, TNT, synchros, SRP, Onza, Ringla, Answer, Flite, Sedis, Odyssey, Yeti (i.e. anything obnoxiously expensive that does sweet F.A, but looks really cool)
Extras
Lizard skins, Computer, Anti chain suck thing, Brake boosters, SPD's, extra rubber jammed onto my Manitou 3's 'cause they're too bloody soft (Yankee softies!)
Most awesome ride/race
Rollercoaster, Climie downhill
Other favourite rides
Wainui summit to Days Bay, Butterfly Creek, Belmont Trig, Tinakori Hill, Midland Park (when those pinhead stussy boarders aren't dicking off)
Favourite Food
Weetbix, pasta, rice, burritos, bananas, ultra strong coffee, milky bars, toast
Favourite Music
My twisty spokes thwanging at 75kph down the Rollercoaster
Favourite Films
Butterfly Creek MTB home video! Highlander 1, anything with Sharon Stone
Favourite Books/Mags
MBA, any super covert spy story
Ambitions/Aspirations
80kph down the Rollercoaster

See if Lloyd's as good as I suspect he is

Achieve corresponding travel with rear susp, as with new M3's

Ride till I die (hope someone invents a 3 wheeled MTB with arthritis compatible shifters)

Hot Comment Action
Twisty spokes go off!! You just need strong wrists *

I believe in Martians – but can they ride!?

* Read "Vaseline & Ambidextrousness – Beginners Guide by Rod Bardsley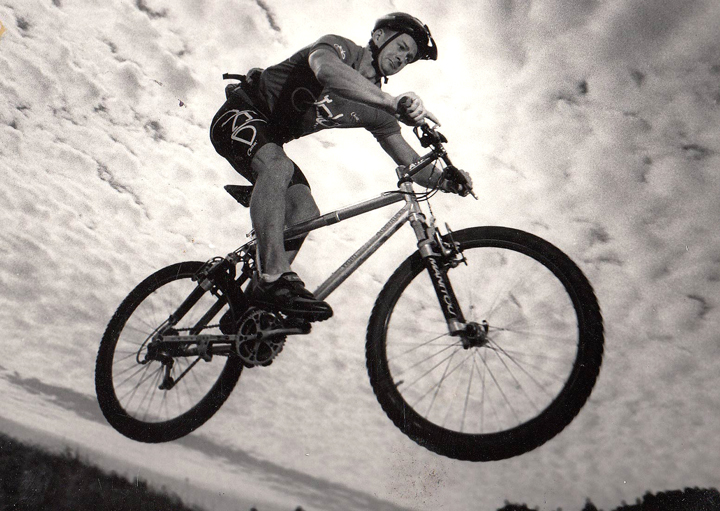 ---
(I was planning to spend a page going off over my awesome performance in the Round Taupo race, but something arrived in our letterbox only this morning which you might find rather interesting)
Dear Cycle Services,
A truly magnificent publication. The best on any street, in any city in the country – if not the world. Stylish, completely original, totally inspiring. After such a glowing critique, maybe you can use this modest offering. It may lack the snap of your crazy style, so feel free to inject it with whatever is suitable – make sure it's with a clean needle – Pamela doesn't want to be infested with something that'll slow her down.
Yours in anticipation,
Pamela Wolfgang.
---
THE ADVENTURES OF PAMELA WOLFGANG – QUEENSTOWN MOUTAIN BIKE GUIDE AND GENERAL HELL CHICK
(This is complete, unabridged, and uninjected by us – Editor)
Another hellishly early morn. The state of it. Hooter for breakfast to cut the edge on Turo conviviality. Into the van, pick up the Euros and power up the Remarkables access road prattling the usual hype – no different from yesterdays and the morrow will bring the same. A few hysterics as the van fishtails. "No worries, mate! Never lost a punter yet!" A few dive for their translators, but most smile – they lap up that classic Kiwi lingo.
Power slide to a stop at the top – and the punters pour out amping. 40 minutes up at 50-100kph equals monumental downhill action. Relaxing while the Euros kit themselves out – custom moulded lids, Killer loops with Go Fast lenses, Go-Glow Fluoro lycra one pieces – and the bikes. Blow my year's wages on one of these space-tech gravel grinders. My battle weary Stump Jumper – hardened by a years Cycle Couriering in Wellington waits patiently beside me.
Are we ready? Are we ready yet? Are we finally ready? Outta here like a skinned rabbit. Charging straight downhill. No need to pedal. Medium grade gravel – washboard but speed smoothes it out – at 50-60kph it's pure liquid. I'll hand it to some of these boys – they want to go fast. One in particular is gripped by Olympic dreams of glory – Hans in hostile competition mode. I hang on his tail – warn him of the more freaking corners coming up – buy hey, language barrier – my German's a tad rusty – and over he goes – sideways and disappearing off the side. 100 metres if scree slide – stops on the road – zig-zagging round. Looks like someone's attacked him with a belt sander – graft material – skin donor needed.
The zig-zagging road lends itself to some hellish air – off the road down the steep slopes in between. Complete freak scene having the ground falling away below – soaring skywards. Sweet fast landing on the steep sections. Punters bail out on this one. Sugar refill, halfway down – Euro speak fills the air. Sheesh! These boys are still stuck on surf speak "Awesome", "Gnarly", "Out there, man" – all with the fucking Euro (FE) accent. Consume the chocolate, time for a few essential visual adjustments to the costumes while I sneak some altitude adjustment with this Yankee Hellman who's turning on the charm. Hmmmm – I don't think so.
But now – tracks to fry. Stonking scream off through a narrow goatee track. Tad technical. Fruit loops all over the place. Jellybean jungle jumping round my brain. Can't quite seem to kick the habit. Blaze back onto the access road for a bone bouncing blast down the final bits. Home straight – count them off – everyone made it – no missing Fritz. The van awaits with the skin job looking a bit more colourful than the pasty while thing I'd patched up earlier. Pack up, take off. Everyone's tired but buzzing megawatts, like an electric fence – silent but very much alive, else recounting their favourite bit – that second where things were a tad out of control – skating the edge. Me? I think Wellington, and pine for a red light to blast through – haven't they heard of traffic lights here? Moral of the story? Don't do this sort of shit unless you're paid to. And go out of your way for air – essential elements: Good fast takeoff and a steep landing for sweet touchdowns. Love ya, Pamela.
---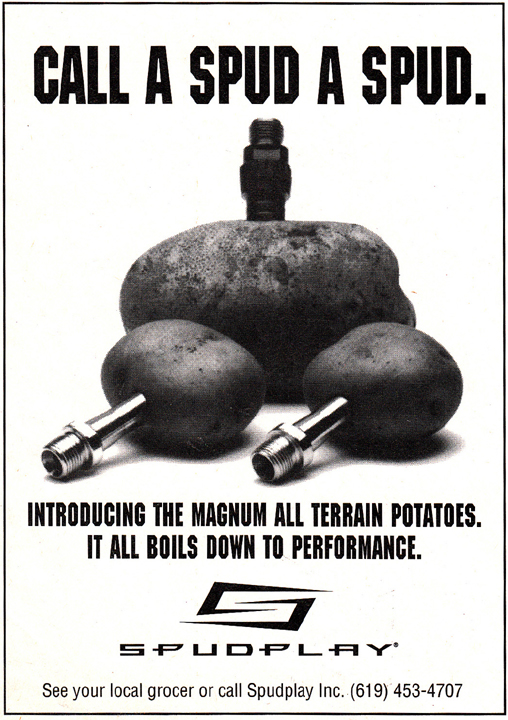 ---
Have you ever noticed, whilst cruising through town on a post hardcore shralving Tinakori action warmdown, the multicoloured infestation of road lice we know as couriers. Well, I have and I must say I'm most intrigued with these diligent little creatures scuttling around on their archaic and more often pre-historic bicycles. I was so curious as to what these walking, riding bulletin boards were doing that I stopped one to ask it it's purpose. "Halt, coloured creature" I said "Where goest thou and for what purpose?" It was then that I noticed the creature had two mouths (one located in the middle of the face, and another found in a black box hanging on the hip.) In reply to my query, the courier spoke from the lower mouth saying "5.3 Pick up Cuba St Sex Shop" I was so disgusted that I got on my bike and fled. The couriers obviously ride furiously around town in the futile hope that someone will pick them up and take them for sex on Cuba St. Woe betide any of these sex starved lycra clad weirdos that come into Cycle Services ranting "5.3 Pick up Cuba St sex", they'll be getting the old "Bronson drop off courier Pine Needle Bank"
C.U.
B.
Editors note: Bronson is just pissed off because Sub 60 wouldn't give him a job. Bronson is a S.N.A.G.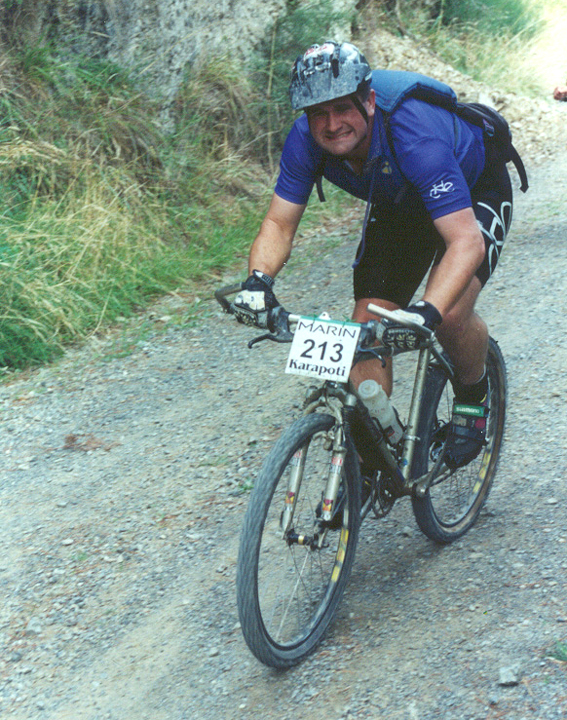 ---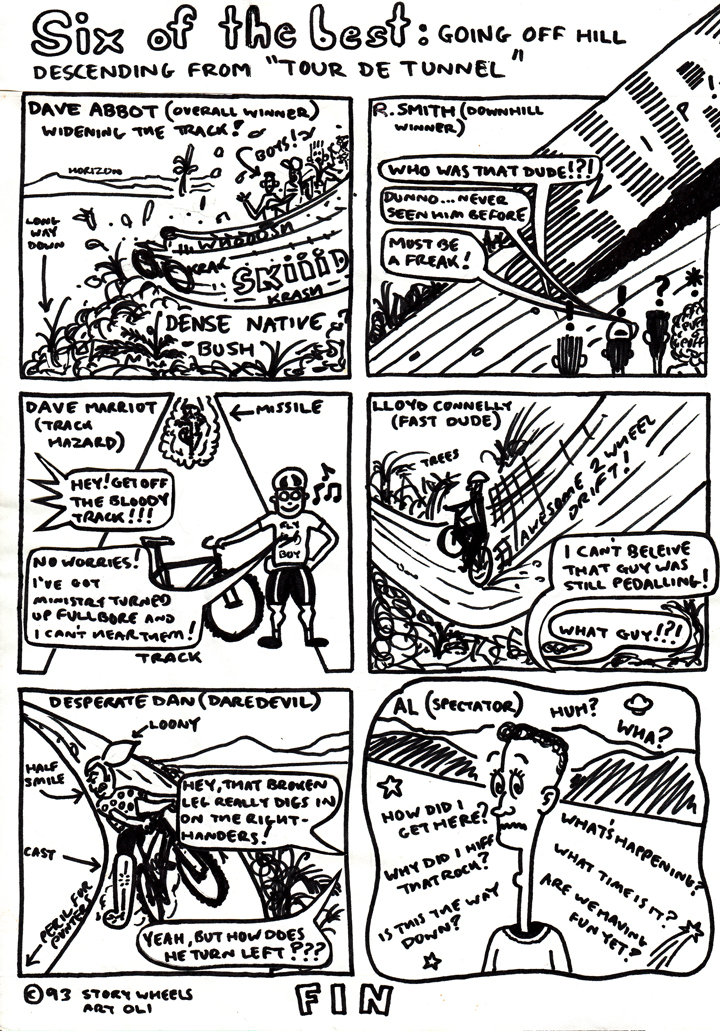 ---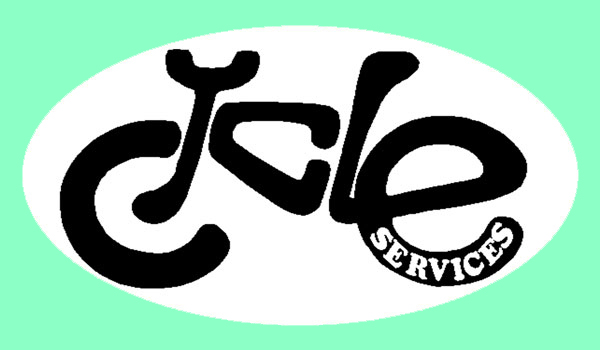 Back to Cycle Services Newsletter Index
S i t e B y F R O T D E S I G N