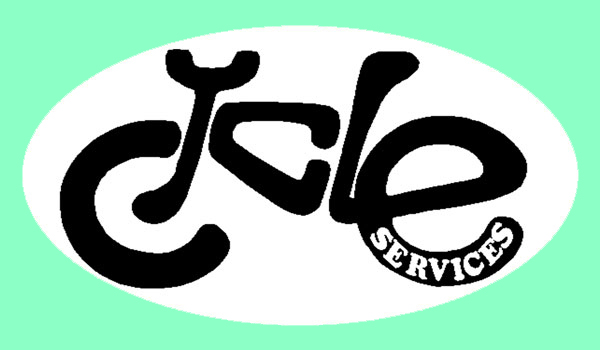 FEBRUARY 1993
NEWSLETTER #1
Starting with this one, we are planning to bring out a newsletter each month. We intend having information about upcoming races, good rides, technical and product reviews, and any other entertaining stuff. If you have anything that would be good for the next newsletter please drop it in. (Especially cycling cartoons and bizarre stories).
---
SECOND ANNIVERSARY
Cycle Services has now been open for two years (we opened 1 Feb 1991). This year we were thinking of moving into the vacant Smith City showroom and having 4000 new bikes on display, but our customers have convinced us to stay small, and also we didn't want to put Midnight Espresso out of business by moving all their clientele away. To all our regular customers who keep coming back – Thanks heaps and keep on destroying those bikes.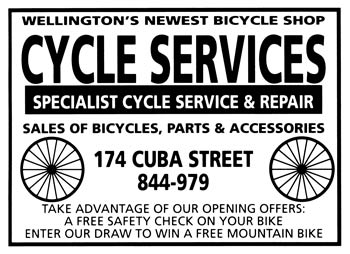 ---
Hot word action from Cycle Services:
Going off: good, works well, looks good
"That $8000 Marin Team Titanium FRS goes off !"
Hot action: an especially going off example of some kind of activity
"Hot downhill crash action !"
Tosser: Not going off dude who is not capable of any hot action
"Look, that tosser on the Raleigh 20 just fell off in the gutter"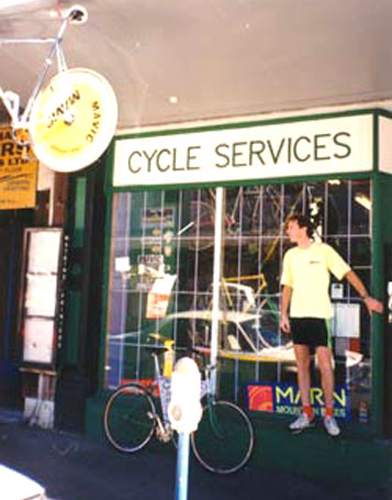 ---
The first in a series of rider profiles on customers who "Live to Ride" – what makes the hardcore rider tick ? Here is psychological insight to help budding "hell riders" go from tossing to thrashing:
Name : Craig Anderson
Nickname : Bugle
Suburb : Red Light Central (Marion St), Wellington
Occupation:Roadie (Musical) Age :23
Bike : Diamondback (Well, the frame is)
Components : Shimano, Mavic, Araya, Selle Italia, Richley, Panaracer, Mt Zefal, Gaffer Tape
Extras : J bars, pump, bottles, Custom "Wheels" Shoulder Strap
Most awesome ride/race : Belmont Reserve, Johnson's Hill, The ELEVATOR
Other favourite rides :Mt Climie, Wrights Hill short track, Eastbourne hills
Favourite Food : Pasta, powerbars, espresso, tequila, chicken, spuds, fish
Favourite Music:Pixies, Tom Waits, Bad Brains, Suicidal Tendencies or anything else decidedly alternative, jazz hip hop x-over
Favourite Films:
Vampire's Kiss, Akira, anything by Jim Jarmusch, Brazil, Ford Fairlane, The Cook The Thief
His Wife and Her Lover
Favourite Books/Mags: Sci Fi, anything with MTB or Naked Women, Gary Larsen
Ambitions/Aspirations : Pay my acc at Cycle Services, Ride to the top of Mt Climie without stopping more than once, Get rich, Die spectacularly
Hot Comment Action: Live to eat. Just cause you're not paranoid, don't mean we're not after U. Don't eat shellfish. Team Nihilist – one for one, one for one. No Hope, No Fear
---
HELLRIDE OF THE MONTH
Belmont Trig to Korokoro, via Baked Beans Bend
To make this ride more epic, we chose a day with torrential rain and a ripping southerly. Starting at Stratton St carpark (where we left a car and trailer) we rode at a grovelly but determined pace up to Belmont Trig, where the business could begin. The long wet grass meant there were some going off crashes right from the outset, as complete brake failure lead to out of control careering down the steep bits, and frequently the only way to slow down was to slam into some bushes.
The track was a bit overgrown, but all rideable, although a couple of bits, like the tight tree root technical section near the top, we didn't manage to ride without hitting a few trees, and crashing a bit.
Once past the Baked Beans Bend the track is flatter but all gradual downhill. Some major drops down into the Korokoro stream beside the narrow track made for exciting near misses, until one of us clipped the bank and fell off a 30 foot vertical drop upside down. Fortunately he lived. Note: Extra wide handlebars are not really the go for this ride.
Coming out at the bottom in Cornish St, we picked up the no 2 car and went and got the first car and trailer from Stratton St. Stauncher riders who didn't want to use two cars could either ride up through Belmont on the road, or ride up both Korokoro and Baked Beans, and then back down again. Just up from Baked Beans turnoff is the Korokoro dam, which is also worth a look for scenic action. Watch out for walkers !
---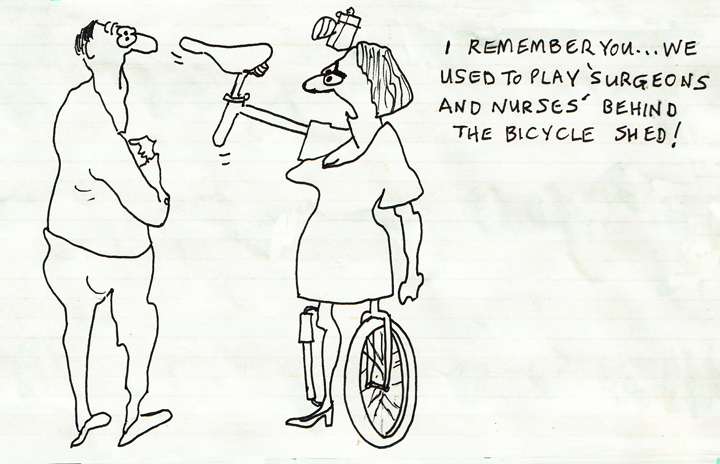 ---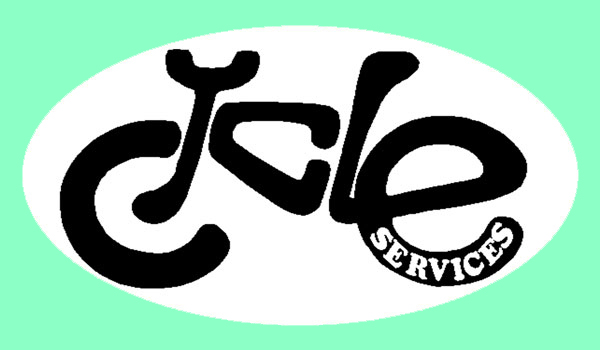 Back to Cycle Services Newsletter Index
S i t e B y F R O T D E S I G N