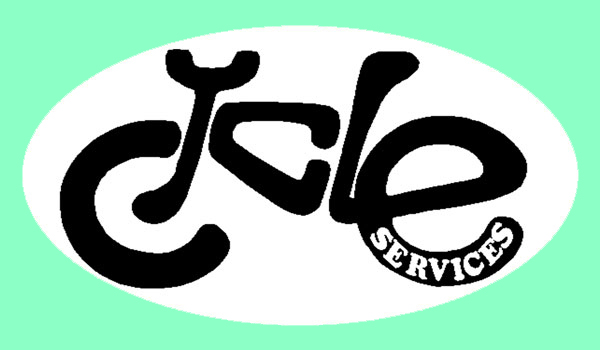 MAY 1993
What do you guys do with these newsletters ? Is this some kind of cult ? With groupies hanging out for the next newsletter and getting stressed out because April is late, we can only conclude that punters are hanging out to find out how to GO OFF … Sorry it's late. Lateness is really seventies, man. CU lateness. April never existed. This is the May newsletter. And it's early. Because here at Cycle Services we say "Why put off to today, what you can do yesterday"
---
TECH TIP
SADDLES : There is such a proliferation of bizarre saddle angles that we feel compelled to draw attention to a basic principle of saddles…
*** FLAT ***
As in level, not sticking upwards or downwards. One of those things with a bubble floating in the middle may be useful to check this.Why ? 1. Greg Lemond says so2. Weight distributionA downwards sloping saddle puts extra weight on the wrists and arms, and forces weight onto the front wheel, making the bike heavy and sluggish.An upward saddle puts pressure on the groin (CU !) and leaves the front wheel too light, ready for front end washouts.
Yes, it's true that some people can't handle having their seats flat, and always need it sloping down at the front. This is because they are physically deformed… But otherwise, if you can handle a flat saddle, then Greg Lemond and other notable famous punters, ALL agree that you should LEVEL OUT.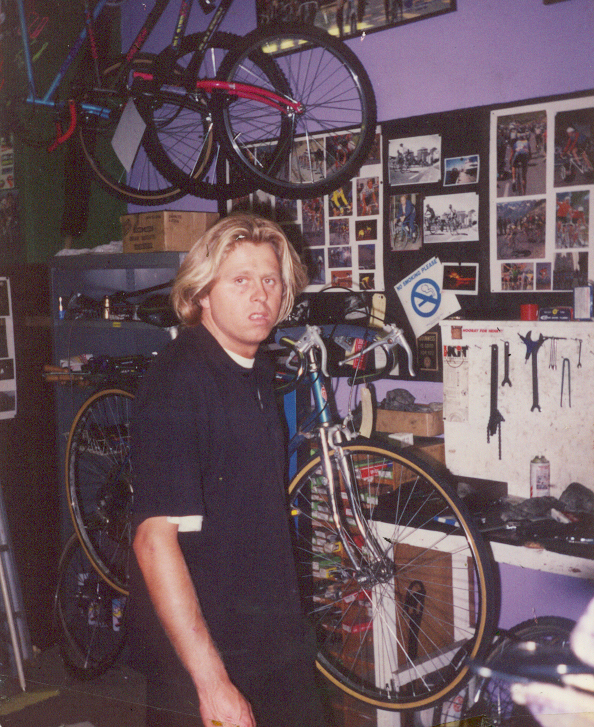 ---
THE WORD FROM CUBA STREET
Hot word action from Cycle Services:
TOASTED
Toast is all about soft white fluffy stuff getting burnt

How to learn about TOASTED

Method A

Ride off knarly vertFreak out half way downApply front brake hard
Wait

Method B

Get right off the back of the saddle on a steep downhillTake feet out of pedals and straddle rear tyrePress crotch in space between tyre and frame
Scream

STONERS
How to spot a stoner. Telltale signs:

The guy turning back 50 metres into a race because he forgot his lighter. (Why does he want a lighter in a race ?)Anyone with Team Green written in their sponsorship column. What does Team Green mean ? Sounds a bit dodgy, doesn't it ? Kawasaki ? Not…
Anyone in Cycle Services. Why is the shop painted green ? Looks a bit dodgy, doesn't it ? Why is this newsletter green ? Is this paper made from recycled herbal foliage ?

BOGANS
Key words:

Holden. Hutt. Lion. Heavy Metal. Sheet metal. V8. Keg. Ford. DB. Black Sabbath. Headbang. Chevvy. AC/DC. Bullbars, leather, Jim Morrison. Black jersey. Flagon. Petrol. SCORE 1 for each item10 or more – REAL bogan5 to 10 – try hard boganLess than 5 - CU no go bogan

0 – may not be any type of bogan
---
RIDER PROFILE – This month's SPECIAL: Two for the price of one, and they're both zany wild men groovers….
Name
Stevo the Devo
Nickname
Gollum
Suburb
Kelburn
Age
23
Occupation
Stoodent
Bike
Diamond
Components
Shimano etc
Extras
Mavic, Ambrosio rims, Bear Traps
Most awesome ride/race
Hawkins, Karapoti
Other favourite rides
Rollercoaster, Johnson's short track
Favourite Food
Pasta, animal, mud
Favourite Music
Anything that's very very fast, Metallica, Ministry, Soundgarden, Nurse, etc
Favourite Films
To live and die in LA, The cook the thief, Bambi
Favourite Books/Mags
Hitchhikers guide, Lord of the rings. Clockwork Orange, Slaine
Ambitions/Aspirations
To escape the clutches of Lilith, To outwit all the bogans
Hot Comment Action
Look out bogan, What red light

If you can you will, Shit happens in threes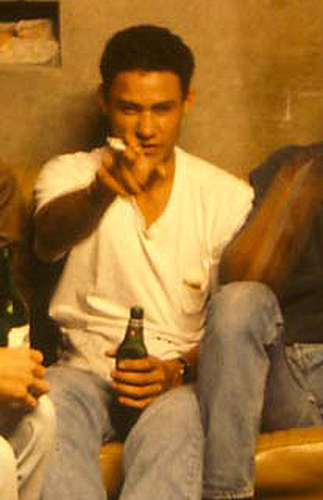 ---
| | |
| --- | --- |
| Name | Ben Kepes |
| Nickname | Beano, Keepsie, Doolally Alley |
| Suburb | Tawa |
| Age | 21 |
| Occupation | Electrician |
| Bike | Raleigh |
| Components | Shimano, Selle Italia, Mavic |
| Extras | Pulse Rate Monitor |
| Most awesome ride/race | A 1st and 2nd for Team Cycle Services in the Taranaki Pro/Am Road Race, Shitting Twinkies down the Elevator |
| Other favourite rides | Paekakariki Hill (The steep side), From Cycle Services to McDonalds |
| Favourite Food | McDonalds, Helga's chips |
| Favourite Music | Jesus Jones (Goes off ! for time trialling) |
| Favourite Films | American Fliers (of course), Tour de France videos |
| Favourite Books/Mags | Bicycle Guide, Greg Lemond's complete book of cycling, Karma Sutra, Zen and the art of motorcycle maintenance |
| Ambitions/Aspirations | To ride the Elevator (ha ha !!), To get Wheels to dig road riding again |
| Hot Comment | Not all roadies are CU tossers from hell (but quite a few are) |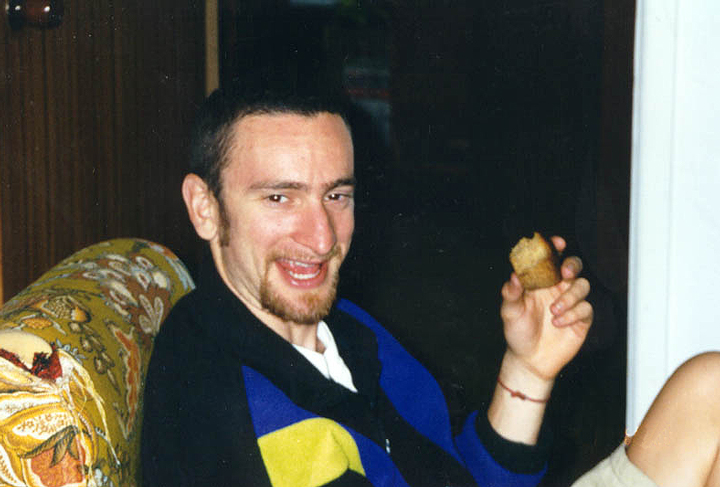 ---
HOT RACE ACTION
NZMBA National Cross Country Finals – PALMERSTON NORTH This race was HOT. Even driving up was exciting, as we pulled off the steep, narrow gravel road up to the start, to let crazed HELLMAN Darryn Henderson past in his big grunty ute. Next thing we saw was wild sideways powerslides, and a trail of the most impressive four wheel skid marks since the Wellington waterfront the day after the Nissan 500.Lining up at the start with all the awesome riders going off, and right from the outset Team Cycle Service was in the hunt for publicity as we etched the new purple riding jerseys into the collective psyche of the mountain bike fraternity.Firstly Steve Butland set the standard with a wild cartwheel and spectacular crash right in the middle of the bunch, Then Dave Newbury overtook twenty riders into the first corner doing a manic crossed up motorcross slide, only to crash his brains out and go straight back to the tail end place.The weather was perfect, and the track was a beautifully tortuous figure eight that took in steep hill climbs, rolling four wheel drive tracks and grass, rough downhills, mud, river crossings, wild fast downhills, technical single track and gravel roads. What else is there ? (Apart from carrying, and who needs that ?) In the space of just minutes it was possible to go from a wrist busting adrenaline frenzy mega descent overtaking riders like a fighter plane dropping out of the sky to blitz unsuspecting slow things, and then switch to being all alone, lost in a silent single forest track, a paranoid search for tyre tracks (the arrow did point up here, didn't it ?)
So it went off, and I haven't got a clue who came where, but everybody was racing hard, and after the Karapoti this may well be one of NZ's most epic races. Sam McMurray and Yvette Southorn both rode strongly in the Expert classes, and the rest of us cruised around with all the other slow plebs in the Sports class. (As a new sideline to pass the time while cruising with the other Sport riders – if you're sick of watching the grass grow – play count the over $5000 bikes. There's enough titanium at the back end of the Sport grade to keep a NASA space shuttle going off..)
---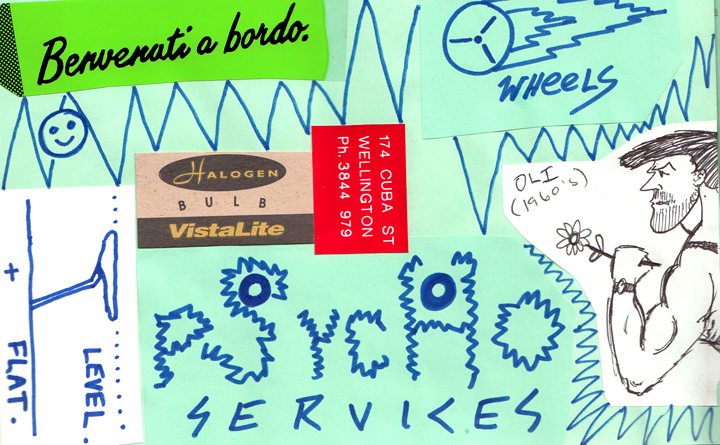 ---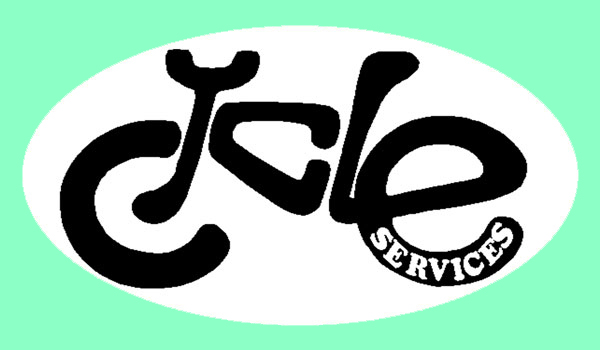 Back to Cycle Services Newsletter Index