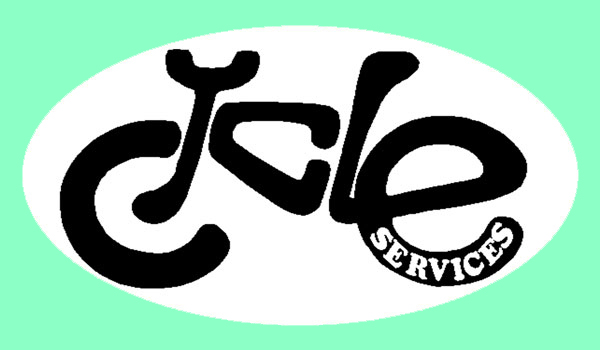 OCTOBER 1993
We have heard rumours that some of our hardcore, full bondage hell thrasher action, going off bigtime bogan free shralving is doing the business in literary circles. Best selling authors are ringing up to ask us if they can plagiarise our newsletters to spice up their manuscripts. No one wants to be left tossing with last year's Californian freestyle talk. No way, Sphincter out and make some shapes punters, fruit loops go off.
That you to the most heinously cool and style-mo-de groover(s) who showed their awesome good taste by nominating us for the Top Shop award. We would like to give you a big sloppy kiss on the bottoms. Styling dudes !
Is it really true that one of Wellington's biggest is unable to carry out free service checks on their bikes if they have any dirt on them, because dirt makes them nauseous and gets in their eyes ? Surely not, it's too bizarre to be true, the story must be a complete fabrication.
---
SOUNDS– How to make shapes, part 1
It has been said that you are what you eat. Oli hasn't turned into a Moro Energy bar yet, so it must take a long time. But sounds work much faster, within minutes you feel like what you are listening to. Imagine Cycle Services with Moron FM playing on a transistor radio in the office. It would be like zombies dawn of the dead.
"What are you guys playing ?" punters ask, wanting to get a sense of what's going off. What do Nihilists listen to ? they wonder, hoping to become hardcore. OK, Nihilists listen to Ministry, L7, Metallica, Sound Garden and anything that's really fast. That's why they ride so fast. We never play anything like that in the shop because we might freak out and start using the hammer (and I would definitely freak out and use the hammer on whoever put it on – sub editor). We listen to gentle, loving world peace meditation tapes. Except when we have a Ferruno bike to work on. Then we get out the thrash metal and start thrashing some metal. But just to show we don't really listen to the same Faith No More album over and over every day, here it is. The first ever Club CS CUBA hot list, compiled by our resident DJs and hidden elsewhere in the newsletter, so you have to work for our hot tips.
---
By Oli BFR McDs OS
Tuesday Night : Simpson O'clock : Pitch Black…
Wheels says, "Hell ride ?"
I say, "Check"
After fitting mandatory danger apparatus (i.e. Light, pump, tools, inflatable dinghy), we set out. Wheels set tempo up Thompson St, Brooklyn Hill, to Panorama Heights…. I follow cursing & complaining as usual. At the first Hawkin's Hill gate, we are stopped by a stranger with a truck. "Careful lads, there's a loony up the hill who keeps going up to big guys and saying "Kiss me, sweetie !" " Wheels and I exchange brave and heroic, yet strangely terrified glances.
"Let's go", I say. We do. The thought of a mad pervert leaping out of the bushes and trying to rape us never enters our minds.. much.
Wheels again set tempo, but this time fear lends me wings, and I stay somewhat in touch with him. After the windmill, I take the lead as my legs start to fire. My smooth turn at the front is ruined by a kamikaze possum throwing itself under my wheels, at pace. It bullets into the undergrowth as quickly as it appeared. We continue.
The lights of the South Inland glitter as me near the summit of Hawkin's Hill. It's cold so Wheels stops to put on his jacket. An hour later, we set off down the tip road track. A hundred yards later, he's just a faint glow in the distance as I slowly follow down this most excellent descent. Somehow I find that riding in the dark isn't that bad, as I have to concentrate solely on the pool of light my BLT provides, rather than look ahead and be intimidated by the "Bike Swallowing Ruts of Satan". Most of my lines even work out for me!
Wheels waits every now and then, but we just do our own thing. The bottom of the track comes up sooner than usual for me, but only just soon enough for my battery, as my light dies the minute I hit Owhiro Road. Just as well we didn't go down to the beach, or it would have been bouncing down the hill on my head in the total dark action time. Bad oil.
We ride around Island bay buzzing.
"Strange night, dude !" says Wheels
"Check", I say.
---
The future of suspension frames?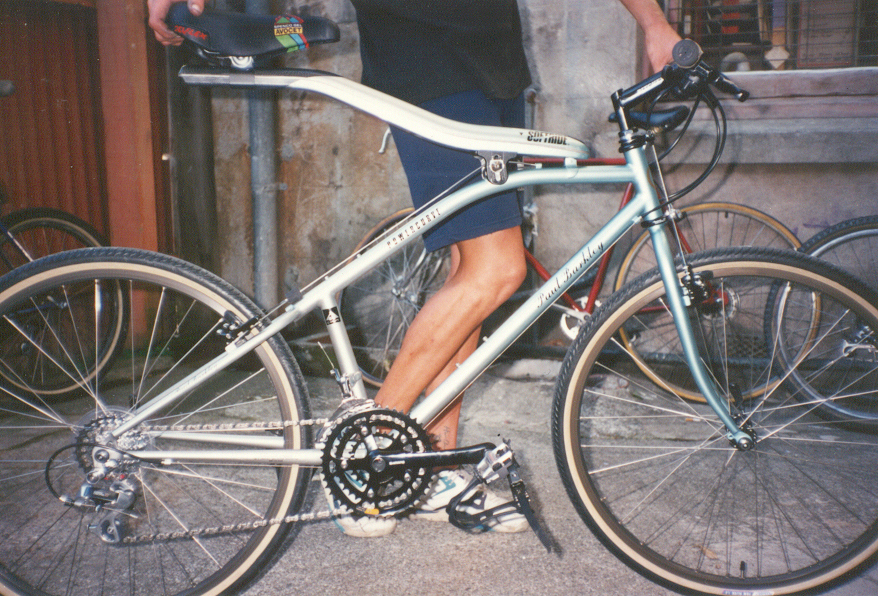 ---
RIDE TIP: Just to get this straightened out once and for all, when passing on a track the call "On your right" means "Passing on the right, you move left". A call of "RIGHT !" means the same – the person being overtaken moves left. If you don't know your left from your right, get it embroidered on your gloves before you get tyre marks on your back !
---
TEAM CYCLE SERVICES– RIDER PROFILE
Name

Brent

Nickname

Spooks

Poison Dwarf

Suburb

Northland

Occupation

Stud-ent

Age

24

Bike

Alpine Stars Cro-mega ("Flick")

Components

Deore DX

Extras

Manitou II, concord saddle, std paraphernalia (those in the know will know

Most awesome ride/race

Ngaumu Forest, Tinakori (in summer), any hell uphills

Other favourite rides

Mt Climie, Rollercoaster, St Pats

Favourite Food

Pasta, curries (hot only), fish, porridge !

Favourite Music

Reggae, hardcore black (hate) music (Ice Cube, NWA), Jazz

Favourite Films

Baron Munchhausen (tripping only), Nikita, Planes Trains & Automobiles

Favourite Books/Mags

Psychotic thriller, M biking mags

Ambitions/Aspirations

To keep up the Team Nihilist lifestyle & still go off !

To make other bike shops realise they don't go off !

Hot Comment Action

Frottage action goes off !

If you don't smoke, you're not on fire ! (Weed is evil – Editor)

Team Nihilist hate stussy dickheads ! (CS believe in peace and universal harmony. These feelings are really heavy, man ! _ Editor)
---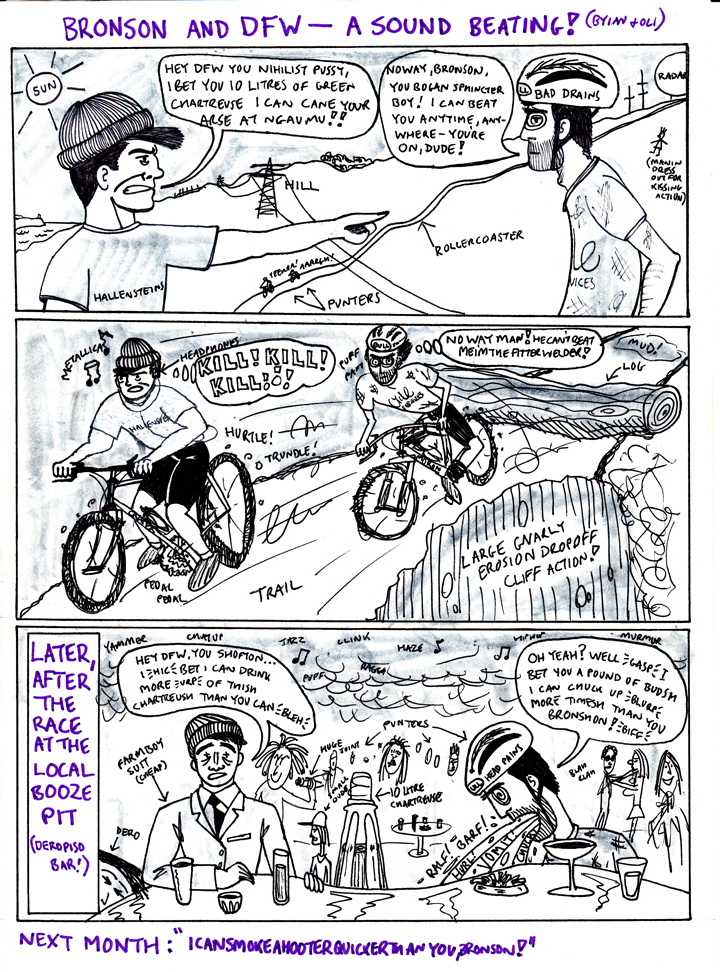 ---
DJ SPOOKSOUND'S HIT PICS
Sound Garden : Ice Cube : Public Enemy : Bomb the Bass : King Missile
DJ OLI BFR :
Welcome to the Terrordome – Public Enemy : I Have Loved Me a Man – Allison Durban : Connected – Stereo MCs : Please Release Me – Engelbert Humperdinck : Rusty Cage – Sound Garden : Me & Mrs Jones – Tom Jones : 21st Concerto – Mozart dude : Shoot That Poison Arrow – ABC : Gasranken Station – Headless Chickens : Legalise It – Peter Tosh
TERMINATOR BRONSON'S HIT PICS ; Sticky Filth – Weep Woman Weep : L7 – Bricks R Heavy : Rage Against the Machine ; Soundgarden – Badmotafinger : Pearl Jam – Ten : The Trip (Compilation Album) ; Metallica – Metallica : PIL – The Best So Far ; Temple of the Dog – Hungerstrike : Quicksand – Slip
DJ WHEELYMAN : Iggy Pop – Dog Food : King Missile – Detachable Penis : The Cult – Wildflower : Nirvana – Come As You Are : Jane's Addiction – Been Caught Stealing : Beastie Boys – Fight For Your Right To Party : 808 State – In Your Face : Faith No More – Everything's Ruined : Living Colour – Cult of Personality : Ministry – Jesus Built My Hotrod : Shaggy – Oh Carolina
MR CU : Ice T – Body Count : Jimi Hendrix – Purple Haze : Rolling Stones – Gimme shelter : Curve – Doppelganger (Album) : Red Hot Chilli Peppers – Under the Bridge : Primal Scream – Slip Inside This House : Faith No More – Kindergarten : Led Zep 2 : Husker Du – Lonely
DJ DEB (But they only let me play them upstairs !) Barefoot – kd lang : It's Raining Men – Weather Girls : Everybody Hurts – REM : So Cruel – U2 : Throw Your Arms Around Me – Hunters & Collectors : Stand On Your Man – Tuffy Wynotte : She's So Modern – Boomtown Rats : Bailero – Kiri Te Kanawa : When You Don't See Me – Sisters of Mercy : Don't Stop Me Now – Chained Daisies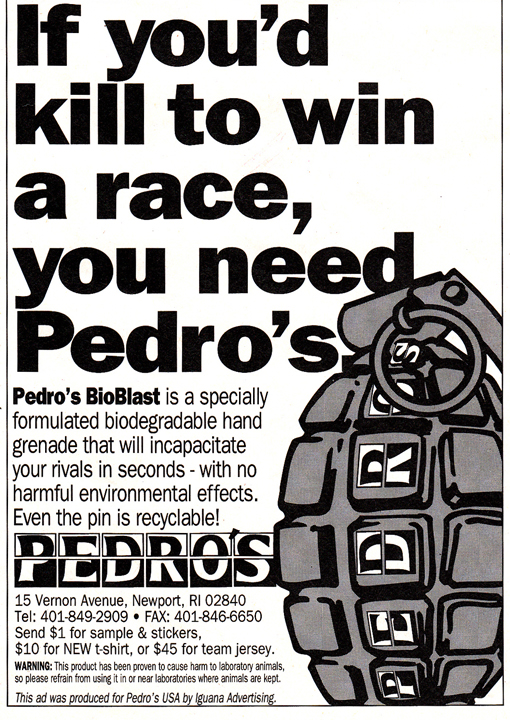 ---
There has been a great deal of debate on the topic of performance enhancing drugs. Two Questions: 1. How do we define performance enhancement ? 2. How do we define drugs ?
In my experience, performance enhancers must do one of two things – increase your physical capabilities (make you hard) or, alter your mental state (make you crazy). So what about the drugs question ? In this case the old "Does it get you really out of it ?" test does not apply.
Alcohol is not a performance enhancer as far as MTB substance abusers are concerned, The only performance that grog increases is the old horizontal thrusting action (and then only in the mind of the performer – Sub editor)
Is spirulina a drug ? Well, it doesn't get you high, but it does create a mild form of euphoria leading to addiction. Ask Wheels what happens if he doesn't get a daily fix of seaweed pills. The classic is Brent (Sphyncterboy) Nihilist who upon drying out from three months of hard out spirulina abuse suffered from withdrawal symptoms ranging from chronic back pain to high velocity dysentery (Oooh, smelly).
Is Gatorade a drug ? Try sniffing it.
Here it comes ! What about pot ? Is it a performance enhancer ? For purely scientific reasons, I decided to conduct a series of controlled experiments involving this most unusual of substances and discovered the following:
It does get you out of it
It does make you crazy
It does make you hard
It does make you forget
Helpful hints:
If you decide to try this enhancer, don't forget to eat and don't forget to hold onto the handlebars. Short-term memory loss is a major hassle e.g.
Where are the pedals ?
Where is the track ?
Where did that tree come from ?
Bronson the traditionalist is above all these trivial things and rides on instinct, but if you will insist on experimentation, go off !
---
HELLRIDE OF THE MONTH : NGAMU FOREST By Wheels
Do you like to get up really early, go out in the cold and pay to push your bike through the mud for three hours ? Have you got "Masochist" tattooed on your forehead ? Do you eat nails for breakfast ? Then this could be the race.
Lining up at the start. Team Cycle Services were awesome, a sea of purple jerseys styling and going off. When Brent Hoy said "This is not a race, it's a survival, 50% of you won't even finish", we knew he must mean Bicycles Unlimited riders !
We hoofed off down the track, starting with fast gravel, which soon turned to muddy track, blocked with fallen pine trees, and huge gaping holes where parts of the track had slipped away. Soon the notorious Ngamu orange arrows came thick and fast. One minute you're riding fast along a track, the next thing you know a cursed orange arrow is diverting you up a vertical slippery clay bank that goes up for about 200 metres, and then gets even more slippery, but just ridable for a long, long time, before getting steeper again.
Mixed in amongst this torture are the downhill bits that just go off big time. My personal highlight was the road part where you can easily spin out a 46 x 13 gear, curving around big sweepers at hell pace, then turning hard off the track and swooping down a greasy death vert, picking up so much pace it's like doing a water chute in a bicycle. The steep slippery bits on the narrow, overgrown tracks were fun too, running off the edge and crashing through the scrub to shave off a bit of pace in the looser sections.
But the race did have its low points. The 2nd lap was a bummer. It wasn't any longer, but it was an awful lot deeper. Watching the clock I felt rabid and desperate to be running 18 minutes slower on my second lap than the first. But surprisingly enough, even after stopping to lie down and sob on the last big hill where my bike weighed 72.5lbs, and Brent Hoy had spread 4 litres of grease on the track, there was still hardly anyone overtaking me. Everybody else was grovelling on the 2nd lap too. Except for Lloyd, who overtook me right at the end, in front of all the fans, and gave me such a shock that I nearly fell off in front of all those video cameras.
After the race, Team CS won all the spot prizes, then we went to Hung Wah Kwok takeaways where Al shouted us to $75 worth of takeaways out of his winnings so that we could all feel fully marginal thrashing home over the Rimutakas in the snow. Check out these results:
TEAM CYCLE SERVICES:
Supersport 1st Alastair McIntyre (Weird Al)
Junior Sport 2nd Ken MacIver (The New Hellman)
7th Neil Holdom (Bronson)
8th Dave (Mate) Newbury (DFW)
9th Paul Waite (Crash)
Senior Sport 3rd Lloyd Connelly (Break)
4th Ian Gregson (Wheels)
6th The one & only Henry (Mr CU)
Masters 3rd Harry Gregson (Ian's Dad)
Recreational 6th Brent Williams (Spooks)
7th Pete Tulloch (The Sausage Man)
15th Brendan Byrne (Luciano)
16th Adrian Armstrong (Virgil)
17th Oliver Brookewhite (Oli BFR)
19th Craig Anderson (Bugle)
---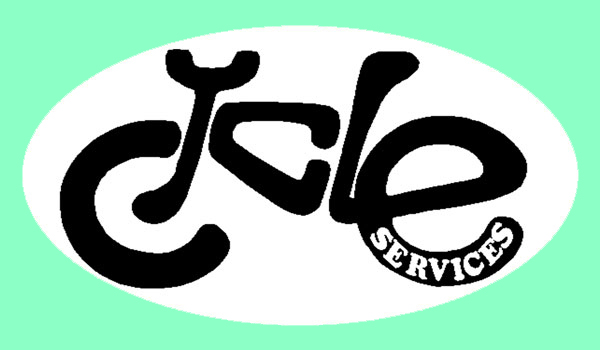 Back to Cycle Services Newsletter Index
S i t e B y F R O T D E S I G N