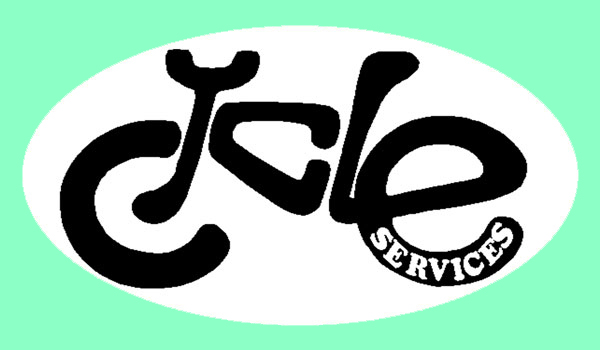 JULY 1994
Yes, our June/July newsletter is going to be ready before August, heaps of time to spare. So don't freak out. This month we are celebrating our 12th ever newsletter by having 9 lists of 10 things. (9 divided by 10, multiplied by 17.777778, minus 4, equals 12)
Punters have been stumbling across unexpected new cycle shops, in bizarre locations, and drawing them to our attention. "What is going on," they ask, "Why so many bike shops?" Figures may well be totally bogus, (like the ones above) but it has been said that :
1. Wellington has the highest level of mountain bike sales per head of population, of anywhere in the world
2. Half of all high quality mountain bikes sold in NZ are sold in Wellington
That said, it looks suspiciously like there are too many bike shops in Wellington. In fact, we are so desperate to get a slice of the action that we are having a "midwinter midterm madness mirkin moron mutant monopoly sale" where everything in the shop will be disounted at least 100% less than 50% off half price, with half for one, so why pay more elsewhere when you can pay more here. (Sale to be advertised on Moron FM)
P.S. Some of you have got your hot little hands on our tapes. We know you have. Search through your walkmans and tape collections for the following :
Anthrax - Attack of the Killer B's
Pixies - Trompe Le Monde/Doolittle
Guns 'n Roses - Use Your Illusion II
Red Hot Chili Peppers - Mother's Milk
King Missile - Detachable Penis album
Snap - The Madman's Return
Nirvana - Nevermind/Pearl Jam - 10
The Cult - Love/Sonic Temple
Pixies - Bossanova
If you bring them back, we won't even hassle you - think of it as an amnesty. We will even let you wear our shop mirkin. Come and see us. We can be reasonable
---
Tech Tips - Downhilling (some of the basics)
1. Look where you want to go. Your bike will follow where your eyes are looking, almost as if you are laying rails with your eyes. Look at the smoothest part of the track, the best line, the gaps between the ruts. Never look at what you don't want to hit eg. "Hey, look at that big rock, that would really hurt if I rode into that.." is not what you want in your mind. Look around obstacles.
2. Relax, keep your arms and legs bent, and your hands relaxed. There is more travel in arms and legs than in any suspension bike you can buy, so stand with your legs bent and make full use of them. Dropping the saddle a couple of inches nearly always helps, and it also allows you to get down over the rear tyre on verts. Open and close your hands when you get the chance, so that you don't get locked onto your handgrips. Breath deeply into your stomach and stay calm.
3. Play. Trying to go faster will make you tense. Relaxing and playing on your bike will make you faster. Experiment about, try different lines, different techniques. If you are tense, do some skids, bunnyhop, pull a wheelie, relax and stop trying so hard.
4. Pick the best lines. Lines are the first thing to master - the foundation of going fast. Here are the 5 main ones for a 90 degree RH corner. The apex of a corner is the point at which you can see the rest of the track, and on an unknown or blind corner, this is the point at which you decide how to exit.
- 1. The out/in/out line is the fastest, keeps momentum highest, and would usually be first choice in ideal conditions.
- 2. The in/in/out line is ideal for overtaking on the inside, stopping someone behind overtaking, or where there there is a centre berm coming into the corner. In practise, this is the most commonly used line.
- 3. The out/in/in line would be used if the next corner was a left hander, or if there is a centre berm coming out of the corner. It's also good for off-camber corners.
- 4. In/in/in has the slowest momentum, but in some situations, especially when the going gets rough, the tightest line can be the fastest.
- 5. Out/out/out is a good one for blind corners where there might be oncoming traffic. In driving terms, this is the only line where you would not cross the centre line. In general, it is not the fastest.
The important thing is to keep lines in mind, and use the right one at the right time. Think ahead and set yourself up for the next corner or pass.
5. Steer with your brakes. When the front brake is used hard, it makes the bike go straight, so do your hard front braking before you go into the corner. The rear brake is your rear wheel steering. Don't skid on every corner (sideways is not forwards, and forwards is fastest) Skid the rear when you need to tighten up, or change direction suddenly. A quick back end slide can change your line faster than anything you can do with the front end.
6. Weight the outside pedal. Make sure your inside pedal is up, and most of your weight is on the outside. This keeps the bike pushed hard into the corner, and stops the tyres washing out.
7. Set your bike up. Good brakes, good front tyre, every thing tight and reliable are the essentials. Good suspension forks and clipless pedals both help enormously. Strong components give increased confidence, especially handlebars and stem. An easy to use quick release on your seatpost makes it much easier to put your seat down fast (ie. use a heavy steel one that works!) Move hand controls inwards to give plenty of hand space. Wide handlebars give more leverage.
8. Read the terrain. Float over the rough stuff, brake on the smooth bits, use berms, straighten out your lines and ride smoothly if it's wet, cross ruts at 90 degrees, look ahead.
---
9 lists of 10 things you never needed to know
10 alltime worst common MTB designs
10 useful things to have on your bike
1. U-brakes (under chain stay brakes)
1. Bar ends
2. Elevated chainstays
2. Suspension forks
3. Straight blade fork legs
3. SPDs and shoes
4. Dia Compe 986 brakes
4. Bottle and cage
5. Biopace chainrings
5. Pump and strap
6. Suntour Express gearshifters
6. 6V lighting set
7. Superlight Taiwanese handlebars
7. Tube and tyre lever
8. Suspension handlebar stems and seatposts
8. Real tyres
9. Presta valves on MTBs
9. Walkman and out there sounds
10. Shimano non-centring brake straddle wires
10. Paraphenalia
10 Marketing Haves
10 of the best improvements in the past 5 years
1. Lightweight quick release skewers
1. Indexed shifting - 7sp top shifters
2. Lightweight minimalist saddles
2. Shimano 7sp cassette rear hubs
3. Lightweight
3. SPDs & lace/velcro MTB shoes
4. A-head sets
4. Manitou suspension forks
5. Microdrive gearing systems
5. Bar ends
6. MTB Action Magazine
6. Panaracer Smoke & dart tyres
7. Underbar shifters
7. 1 1/8" O/S headsets, & allen key headset locknuts
8. Cheap suspension forks
8. 150mm handlebar stems & 400mm seat posts
9. Disc brakes
9. Short wheelbases & sloping top tubes on frames
10. Titanium
10. Expensive American stuff to drool over
10 Cool Brand Names
10 Uncool MTB Brand Names
1. Ballistic (Suspension forks)
1. Hopper * * These ones get extra points for brand lameness
2. Extreme (MTB)
2. Ferruno *
3. Manitou (Suspension forks)
3. LL Bean
4. Fox Racing (Clothing)
4. Supergo
5. Clark Kent (MTB)
5. Huffy
6. Nuke Proof (Hubs)
6. Alurad
7. Camelbak Humpty Pak (Bladders)
7. Yotoka
8. Killer Loop (Sunglasses)
8. Norco
9. Orange Clockwork (MTB)
9. Allsop
10. Wheels Manufacturing (Bolts)
10. Checkered Pig
10 Most Popular Brands of MTB in USA - 1993 (in order)
10 of the brands of MTB most common in Wellington
1. Specialized
1. Marin
2. Trek
2. Diamond Back
3. Cannondale
3. Avanti
4. Bridgestone
4. Yak
5. Diamond Back
5. Giant
6. Schwinn
6. Milazo
7. Giant
7. GT
8. Gary Fisher
8. KHS
9. GT
9. Specialized
10. Klein
10. Extreme
10 things we most frequently get asked for that we don't sell
1. Skateboard parts
2. Guidebooks and maps
3. Electrical appliance repairs
4. Fishing equipment
5. Drugs
6. Nuts, bolts and other hardware
7. Car parts
8. Industrial Grade concrete
9. Mountain bikes for $200 or less
10. Blow up doll accessories
Next month :
10 Bizarre things you can do with a mirkin
---
CS Competition #407 - The Lamest Cycling Magazine in The World Competition
What will it be? "Australian Long Distance Performance Endurance Cyclist Psychophysiology Journal", "UK M57 Motorway Time Trial Weekly", "California New Age Environmentally Friendly Cycle Commuter Illustrated".
Find the most dross passage from the most lame cycling magazine and bring it in for our perusal and critical dissection. We will put the saddest piece of journalistic cyclogarbage in our next newsletter (to be published no later than December 1998), and the winner will receive a genuine sheepskin mirkin. We will also send an award and a sheepskin mirkin to the winning publication.
---
Name : Joanna Dale
Age : 23
Suburb : Breaker-happening-Bay
Occupation : Student, part time Courier, Fitness Assessor at Evolution Gym, Nanny and any other work except prostitution to get money to go to the Worlds
Bike : Reiker, and hopefully also an AMP full suspension real soon, yippee
Components : '94 XT, computer, blah, blah, I don't really know
Extras : Mud, 'cause I'm too lazy to clean it properly, vibrating ribbed seat post (oops, that's rude)
Most awesome ride/race : Mt Fyffe downhill, 18 minutes of absolute adrenalin rush, and a helicopter ride as well. NB : Don't eat the food provided at the Kaikoura pub afterwards, it's really bad
Other favourite rides : Karl's not bad (oops, more rude stuff), Mt Climie and the Tongariro Forest crossing is fun even when you get lost and have to bush bash.
Favourite Food : Lollies, had better say fresh fruit to sound a little healthy, hot chocolates, all that really good training food
Favourite Music : Have a really wide taste, ranging from Matt Bianco to Nine Inch Nails. Really depends on my mood. (With that wide range, makes it sound like I have real big mood swings.) Willie Nelson's "On the Road Again" is an all time classic.
Favourite Films : The Leading Edge - fantastic NZ adventure movie, everything you could want in your life in one movie. Anything involving Indiana Jones & swashbuckling sword fights ie Princess Bride.
Ambitions/Aspirations :
- Not to wipe out in my run at the Worlds
- To keep on having heaps of awesome adventures & doing crazy things
- To get loose on my mounatin bike during downhills
- To actually use my degree, finish the new studies I've started and to one day have a career/job, shock horror.
- To get good at snowboarding
- Fly across Africa in a Tiger Moth
- And an endless list of other ambitions & aspirations. Outdoors adventure, hanging out with my mates and having fun is going off.
---
Snow down to 200m we eagerly await. This being Wellington, the aforementioned snow doesn't materialise. Desperate for snow frotage, we don our cold weather mirkins and head out to the Hutt. Only in the upper reaches of bogan country can snow be found. Mt Climie is engulfed in a full on snow storm and looks like a scene from a "Scott and his faithful husky dogs die of exposure in Antarctica" type docu/drama, so we go for the easier Karipoti - Three Skulls Rd - Totara Park circuit. "Stinking hot" is not a phrase generally associated with snow, but I definitely recommend polypropolene, polar fleece and gortex for that "hope we get back into the icy southerly again soon before I explode" feeling.
We hoof up the Karapoti gorge to the concrete bridge, then hang a left and grovel up to the top ridge. Here we meet real snow, chill out, make cell phone calls to rival shops, burn exotic vegetation and head for the first downhill. It's a fast, freshly bulldozed, slightly muddy 4 lane highway, good for 60kph even into the southerly headwind. We stop by the shed at the top of Three Skulls Rd and ride up to the ridge overlooking the Hutt Valley. There's a hangglider launch platform sticking out over the void, with a couple of hundred metres of sheer drop into the bush below. Hangglider freaks have got to be out there, but the view is awesome, with big black clouds hovering ominously about.
Next is what we've been waiting for, a big, long downhill, with heaps of slippery hairpins, seemingly endless as it winds all the way down to Totara Park. Bugle gets to test out his new suspension bike, and Steve blows everyone away. Then it's back round to the cars for heater testing action. (Yes, that's heater, not hooter!) Were we the only punters in Wellington stupid enough to be out playing in the snow? Are we the ultimate hell men? Do Ferrunos break?
---
Tosser of the month award goes to Rik, who after crashing, thought it would look cool to kick his bike in front of some onlookers, and whose SPD cleat happened to crumple in his top tube, necessitating tube replacement. Stylee move, Rik.
---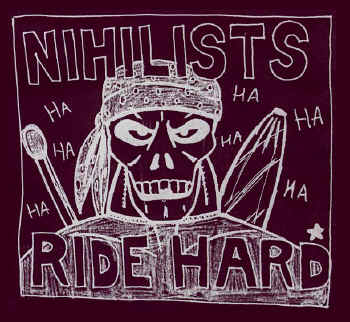 ---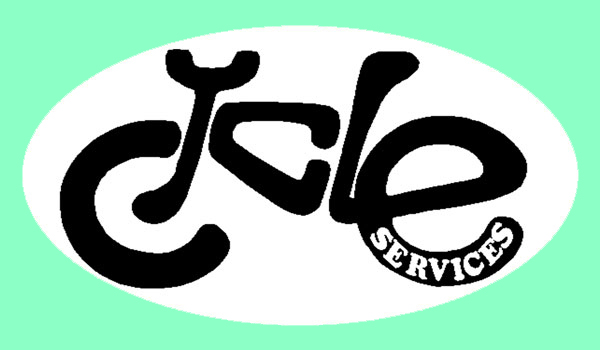 Back to Cycle Services Newsletter Index
S i t e B y F R O T D E S I G N