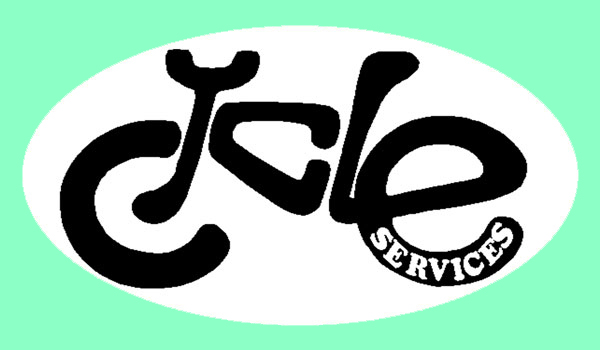 DECEMBER 1995
After being inspired by the fully frot hell movie "Clerks", which is about two dudes in a grocery store dealing with an array of bizarre punters and misfit hangers on, we are writing a movie script based on the exploits of the staff of a bike shop surrounded by deviant freaks, and all the dodgy and dubious conversation, adventures and mannerisms that they pull out over the course of a day. It's going to be called "Punters" and will hopefully be directed by Peter Jackson.
And speaking of freaks, has anyone else noticed how serious everybody is getting about riding these days? - like training programmes, nationals schedules, sponsorship deals, heart rate monitors and race to kill attitudes. Road riding has been like this for years, and the scene has been fully bogus for years too. Only in the past year, since road riding has become more casual and social has it grown in Wellington. These days people are already working way too hard in their jobs, so who needs hard grinding recreation as well. Remember to ride for thrills and go off big time - winners say "NO" to training programmes.
Maybe we are just a bunch of slackers. "The Official Slacker Handbook" contains a section on suitable jobs for the slacker lifestyle, including :
Bicycle Courier : Must be able to weave through rush hour traffic on a stolen mountain bike while under the influence of hallucinogenic drugs.
Bike Store Guy : Learn how to do something with your hands, for once in your life. Expose yourself to the aesthetics of WD40. Get intimate with a wrench.
It's really gratifying to be recognised officially like this - something that's got to further enhance the image of bike shop guys everywhere. (Mechanics, take note - tool aprons uncool, grunge shirts cool.)
( Dunn, Sarah : The Official Slacker Handbook. Abacus. UK. 1994)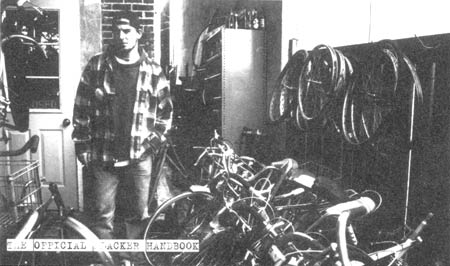 ---
Many of you will have heard of the Colonial Classic Cycle race, which is a real roadie race from Kaitaia to Wellington. (Real roadies as in guys who actually ride for a living, as opposed to guys who ride round a block of factories in Seaview abusing each other.)
It was covered on Sky TV and included some excellent CS footage of Ben climbing out of the window of a van doing 70ks to get a bike off the roof, and of Ben being savaged by a rottweiler, and of Ben being yelled at by Stephen Swart.
Henry was a tour mechanic, so he was too busy to play with dogs. He had to fix and prepare 50 racing bikes every night, including those ridden by Marcel Wurst, Stephen Swart and Graeme Miller. He had a great time hanging out with roadie gurus, and sussed out heaps of new pro mechanic tricks.
Ben - before he got savaged by the rottweiler!
---
Hot new things we are going off over include :
"Race Face" cranks - if you are looking to upgrade to some hot cranks, don't buy CNC machined ones like KOOKA - they flex and creak horribly, get cranks that are Cold Forged first, then CNC machined, like Race Face ones. At $469 a pair, they are expensive, but they are lighter, stronger, stylier and cheaper than XTR ones, and not that much dearer than those bogus CNC machined ones.
Wheels Manufacturing (no relation) coloured cable end ferrules ($1.10 each) are a cool way to style out your gear cables and become a fully anal poseur for under $7.
Fox Skyline cycling jerseys in baggy cut plain rust red or navy blue are the hot item for styling casual cycle clothing ($85).
And the latest 96 suspension forks are just peaking. The Manitou SX microcellular oil dampened fork with bonded legs and 2.5" travel ($895) has been described by "MTB" magazine as "the best fork on the market". But not to be outdone, Rockshox have upgraded the Judy XC ($850) to 2.5" travel also, and the rebound dumping is now adjustable as well, so either of these forks will be frotty for cross country.
For downhill, try Judy DH ($1195), now with two new redesigned oil cartridges, or the Quadra 21R, bargain long travel elastomer ($595).
We now sell "MTB" mag for $7.50 and it's much cooler than "Mountain Bike Action". Be Christmas, have a day, don't go postal and we'll CU round like an elliptical thing.
---
Gear ratios are a relatively simple thing, all you need to know is one calculation :gear inches = (front chainwheel teeth x rear wheel size in inches) divided by rear cluster teeth. But even Shimano themselves now seem to avoid using this calculation, so it's not surprising so many people have trouble with it.
When mountain bikes were 18sp (7 years ago), they mostly had 28/38/48 chainrings on the front, and 14-28T clusters on the back. If we just concentrate on the top and bottom gears, this means they had a low gear of (28 x 26")/28 = 26", and a high gear of (48 x 26")/14 = 89". A spread of 26" to 89" is utterly appalling and was improved with 21 speed set-ups like the 1991 Deore DX/XT, giving a spread of 20.8" to 92".
XTR 24 speed was a breakthrough, in that it offered a really good range of gears - 12-32T x 24/36/46, a spread of 19.5" to 100". This is the direction Shimano should have continued in, the only other improvement would have been a slight change to 11-30T, giving 20.8" to 108.7" - a real top gear.
Sadly, they went astray and managed to come up with microdrive - 11-28T with 22/32/42T, giving a spread of 20.5" to 99" - certainly not an invention worth changing the industry standards for. The one good thing to come out of this is 11 tooth cogs, which are excellent.
There are basically two easy ways to get a good grunty gear setup. If you have an older bike with full size chainrings, keep them and put on an 11-28T cluster (22.3" to 108.7"). If you have a new bike with microdrive, get an aftermarket 46T chainring. You may not be able to get all gears in the front chainring because of the short front derailleur, but you will at least have a good spread of gears (20.5" to 108.7").
Roadies who were fully anal techno gopher heads used to work out all their gear ratios, then tape a little table of gears to their handlebar stem, so that they could frot out over them while they rode. Luckily for Shimano, mountain bikers are already preoccupied with optical gear displays and computers!
---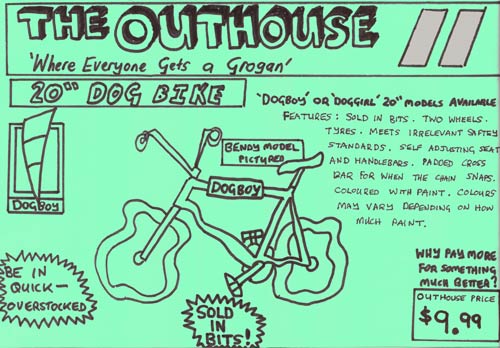 ---
| | | | | | | | | | | | |
| --- | --- | --- | --- | --- | --- | --- | --- | --- | --- | --- | --- |
| F | I | N | I | S | H | L | I | N | E | | |
| I | | I | | H | | A | | O | | | V |
| T | O | P | | I | | G | | R | | | E |
| | | P | | F | | U | | B | E | L | L |
| P | E | L | O | T | O | N | | A | | | O |
| R | | E | | E | | A | | | G | A | N |
| E | | | A | R | A | B | S | | O | | E |
| S | A | C | H | S | | E | | | R | | W |
| T | | | E | | | A | L | I | E | N | S |
| A | | | A | T | A | C | | | T | | |
| | P | A | D | | | H | O | P | E | | |
| | I | | | | | | | | X | | |
---
Hellride of the Year - Mt Fyffe

Like a magnet for the hardcore, the "Mt Fyffe Psychotic Downhill Race" looms up in November, an invitation to do a real downhill.
Having already been shown on TV several times, a lot of people have a reasonable idea what the track looks like, and they often ask things like "Is it like riding Mt Climie twice?" To put Mt Fyffe into Wellington terms is difficult, because at over 1600m it's three times the height of any of the hills here. Although it's rough and rocky beyond belief, and the concentration required to keep everything together is 100% from the top to the bottom with no margin for error, it's also very fast, with the fastest run averaging over 50kph, and a max of over 75kph.
Imagine riding the tip track twice, end to end, without the uphill bits in the middle, but with deep shingle and rocks spread liberally all over the track. Add a dozen hairpin corners, some 800m vertical drops off the edge and take away all the ruts. Then stick the top two thirds of Mt Climie on the end, just to finish things off, and strap a kanga hammer onto your bike to finish you off.
Not many locals do the race because they think it's mad to even ride down Mt Fyffe, let alone race it, so of course Team CS just had to be there. Rod, Bugle, Nadia and myself piled down on Thursday night, ready for some practice runs on Friday. Hoping to catch a helicopter up to the top, we were disappointed to find low level cloud made flying too difficult, so we got psyched for a big walk. After an hour and a half of hard pushing, we popped out of the clouds and were treated to a view very similar to looking out of an aeroplane - a sea of white cloud, with peaks sticking up like islands, and in the distance the coast disappearing into the horizon.
By now the sun was beating down on us hotter than a hot thing, so we put on some padding, turned and took the plunge, except for Bugle, who being a living legend, decided to keep going right to the top. It took him four hours to get to the top and back down again - by comparison, Mt Climie takes about an hour to go up and down at the same pace.
At 5pm, the helicopter guys decided it was OK to fly up, so with bikes on a couple of car racks attached to the landing skids, we flew up and did the full run. One part of the track was submerged under a snow drift, so "the chute", a kind of vertical shortcut, had been put in for added thrills and spills. A complete clean run down gave us a lot more confidence for the race, as it no doubt did for the other 20 or so riders also practising that day.
Afterwards we cleaned the bikes and set up Jo's new KeeWee Engineering full suspension bike. She arrived on Friday evening, so just for a bit of added pressure had to race with no practice, on a brand new bike she hadn't yet ridden.
We got up on race day fully amped, and ripped back the curtains to find - a perfect day! Rod got us all psyched up leaping round the motel room like an excited person and in the blink of an eye we found ourselves standing in a paddock at the bottom of Mt Fyffe, surrounded by more suspension bikes than the inside of John Tomacs garage.
Out of the 65 riders there, around 40 had full suspension, and realistically, if you want to do well in the race, say, top 20, a suspension bike is essential. Judy DH forks, Michelin tyres, body armour and a complete absence of fear are also very helpful accessories. My prediction for next year is steering dampeners as well.
This year, things went well. As expected, Darrin Henderson won with a new course record of 11:40. He really is in a different league to everyone else on Mt Fyffe. Rod, hoping for a good run, managed an awesome second place, ahead of some really hard competition, in a time of 12:10. Jo sussed out her bike by the second run and took first place in the Women's section, for the third year in a row. Bugle finished a fast 15th (all the top 20 times were fully smoking) while I made the stupid mistake of not using Michelin tyres, and tore the valve out of my rear tyre on both runs, but at least managed to do both runs entirely crash free (unlike last year).
Not crash free at all, hell woman of the trip award goes to Nadia, who had a rib crunching crash on the first run, but got back on and finished her run. Although feeling pretty sore, she still went up for a second run after deciding her first time wasn't fast enough, and turned in a much faster time. Getting third was cool, but even more awesome after X-rays showed she had a broken collar bone, a fractured sternum, and a fractured shoulder, as well as grazing and bruised ribs. Hardcore or what?.....
At the after race do at a pub with a very styling garden bar, Bugle managed to win both a Fyffe Chaingear bike bag, and the much coveted $250 Fyffe Chaingear jacket, and everybody drank an excessive amount of beer. Everything they say about downhillers is true...
There is nothing else quite like the Mt Fyffe race, the organisation and effort that goes into running it is epic, and the ride itself is said to be the toughest downhill in the Southern Hemisphere.
---
Bugle and Rod go downhilling with the Michelin Man

---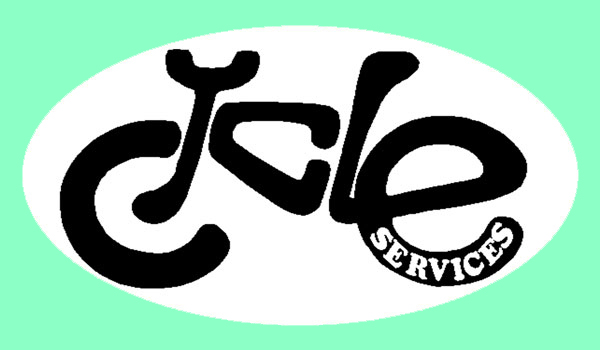 Back to Cycle Services Newsletter Index
S i t e B y F R O T D E S I G N