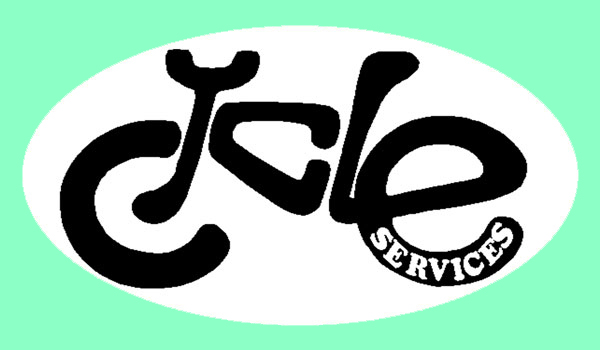 JULY 1996
Bare news for frotters, it's here at last, the mid winter newsletter. If you think the gaps between newsletters have been getting bigger, it's all to do with your obsession with gaps. Gaps go off!
Despite the fact that a lot of team CS has gone soft lately and taken to getting baked and eating marshmallow and pizza while squeezing putty, there has still been a remarkable number of CS riders selected for the world MTB champs in Cairns this September. Congratulations to Nic Blair (XC), Rod Bardsley (DH), Sarah Dee (DH), Gwilym Griffith-Jones (XC), & Jo Dale (DH) on being selected, and Henry who will be NZ team mechanic.
If you are one of the 99% of mountain bikers who will never go to the Worlds, or the 99.999% who will never make it to the Olympics, you may still be a worthwhile person. Fill out the reader survey on page 2 and remember to release your sphincter muscles and ride like a psycho hose beast.
While the World champs are very cool, it's debatable whether having mountain biking in the Olympics is a good thing. Here's a quote from Steve Gurney from a recent issue of Adventure mag :

"Mountain bike racers are treated like juveniles with the introduction of petty rules and disobedience fines. Regulations and impractical race entry criteria are making mountain bike racing the domain of a select few. Olympic regulations is the defence. Administrators are allowing the bright but short lived flame of Olympic excitement to starve the heart of the sport of life giving oxygen. In short, mountain biking's lush grass is dying - rapidly. The roots of fun are being killed."
Very unfrotty vibe, but its true, MTB races should be loose and social, with hot-dogs, beer and bad spot prizes like pink lycra saddle covers and blue dinosaur horns, and there should be bogus course marking so that the fastest person doesn't always win and chronically unridable bits to freak out roadies. That's how it used to be, and yes it really was more fun.
Fortunately, Wellington does still have racing with no drug testing, and plenty of them - see upcoming races listing.Reading mags from other countries can be an eye-opener. Out there as it may seem, the Germans all want to be freaks - in fact Giant, with what has to be the marketing slogan of the decade, proudly proclaim "CADEX - BUILT BY FREAKS" (this is true).
Meanwhile, the Australians have given up the pretence of going off road at all, and started doing articles on how to ride your MTB in the city. At least they don't seem to have ads for spray on mud. And in India, police are tracking a killer described as "a man like beast who drove a white van, looked like a pig and could fly" (this is something I read in the paper).
Remember, if you can't find any freaks to avoid, just avoid Germans and don't swallow live bacon .
---
Fill in this survey and go into the draw to win a genuinely used pair of gloves.
Reader Profile
1. Type? Freak ____ Tripper ____ Fripper ____ Stoner ____ Thrasher ____ Female ____
2. Income Source? Loan ____ Grant ____ Sport & recreation fund ____ Dealings ____ Other (include Jobs) ____
3. Is your house worth ripping off? Car ____ Stereo ____ TV ____ Big TV ____ Video ____ CD's ____ Microwave ____ Video games ____ Loose cash ____ Drugs ____
4. If you ticked five or more boxes for Q3 please print your address here _________________________________________________________
5. Drug usage? Occasional ____ Frequent ____ Can't remember ____ Holding ____ Holding surplus to requirement ____
6. Educational status? A bozo ____ Smarter than a bozo ____ A lot smarter than a bozo ____ What's a bozo? ____
Reader Involvement
7. Which publications do you read regularly? Jogging adventure quarterly ____ Ribald ____ Soldier of Fortune ____ Sid's Bait Shop Peloton News ____ Buff ____ Torana Fever ____ Weird shit (give details) : ______________________________________________________
8. Where do you keep your copies of CS Newsletter? The toolbox ____ The bed ____ Rectal suppository ____ The shower ____ The freezer ____ With your stash ____ (give exact location details) ___________________________
9. How paranoid are you? Question 8 seems..... Totally innocent ____ A little suspect ____ We want your stash ____ THEY want your stash ____ WE are THEM and everybody wants your stash ____
10. How many hours do you ride per week? Hundreds ____ Thousands ____ Really often ____ Never ____ A lot more than you admit to ____ If you can remember then you weren't really riding ____
General lifestyle
11. What sports beside mountainbiking do you play ? Rugby ____ Ballet ____ Bus Surfing ____ Watersports ____ Beekeeping ____ Trainspotting ____ Hide the sausage ____ Carparking ____ Hallucinating ____ Posing ____
12. Which nutritional products do you use ? Powerbar ____ Clifbar ____ Mars bar ____ Mushrooms ____ Sushi ____ Absolut Vodka ____ Cafe "Latte" ____ Bananas ____ Dope cake ____ Bongwater ___ Big Mac ____ Guarana ____ Ginseng ____ Stim-o-stam ___ Iso-wind____
13. How many hours per week do you spend baked to the gills ? Less than 1 __ 1 - 3 ___ 3 - 6 ____ 6 - 10 ____ 10 - 15____ 15 plus ____
Blatant Consumerism
14. How many bikes have you got ? Not enough ____ A barely adequate amount ____ Enough to ride a different one every day of the week ____ More than you can count ____
15. How flash is your best bike? A courier bike ____ Suitable for wharf jumping ____ A Ferruno ____ A Proflex with Kooka cranks ____ A Raleigh Arena with "buff" stickers _____ A Softride Allsop with Matrix rims ____ A MR BIG _____ Really flash ____
16. Do you go roadriding? No, legs too hairy ____ No, a roadbike would break ____ Yes, but always wearing a bumbag ____ Yes, but only on a MTB ____ Yes, and looking to buy a Raleigh Arena with "buff" stickers ____
Thank you for your help - we will post out your prize if you win!
---
25 REASONS WHY BICYCLES ARE BETTER THAN WOMEN
Bicycles don't get pregnant.
You can ride bicycles any time of the month.
Bicycles don't have parents.
Bicycles don't whine unless there is something really wrong.
You can share a bicycle with friends.
Bicycles don't care how many other bicycles you have ridden.
When riding you and your bike arrive at the same time.
Bicycles don't mind how many other bicycles you have.
Bicycles don't care if you look at other bicycles.
Bicycles don't care if you buy bicycle magazines.
If your bicycle goes flat you can fix it.
If your bicycle is too loose you can tighten it.
If your bicycle is misaligned, you don't have to discuss politics with it.
You can have a black bicycle and take it home to your parents.
You can ride other peoples bicycles and still stay friends.
If you say bad things to your bicycle, you don't have to apologise before you ride it again.
You can ride your bicycle for as long as you want and it won't get sore.
You can stop riding your bicycle as soon as you want and it won't get frustrated.
Your mother won't keep in touch with your bicycle after you dump it.
Bicycles don't get headaches.
Your bicycle never wants a night out with other bicycles.
Bicycles don't insult you if you are a bad rider.
Bicycles don't care if you are late.
You don't have to take a shower before riding your bike.
You can ride a bike the first time you meet it, without having to take it out to dinner, see a movie, or meet its mother.
Next issue : 25 reasons why handlebar grips are better than men
and : 101 uses for a dead man's bike seat.
---
TECH TIPS - FULL SUSPENSION BIKES
One of the most confused aspects of mountain biking at the moment, full suspension is something that no-one seems to agree on. Being new, unlike say derailleurs, or wheels, rear suspension has no set standard against which new designs can be judged.
In NZ, the very fact that a bike is available at all will make it popular and reliability hardly comes into the picture, because there are very few suspension bikes older than 2 years around.
Another area of confusion is that people have very little idea of what a suspension bike is used for. A good suspension bike is better for going downhill - not just rough downhills but pretty much all downhills can be ridden faster and safer. The bikes corner, steer and brake with far greater predictability and stay glued to the track.Suspension is also really nice for cruising smoothly around on the flat, and can be handy for getting better traction on technical uphills.
But suspension adds weight and absorbs power with every pedal stroke, and slows down the bikes responsiveness. It also hates mud and requires more maintenance. In other words, suspension is not well suited to hill climbing, cross country racing, bush bashing, commuting, roadriding, winter riding, touring, or for people on a limited budget, or with a dislike of doing or paying for maintenance.
If you ride off road all year round in Wellington and you buy a suspension bike, then you are best to keep your hardtail as well. Despite all that, when it comes down to it, although they are not the most practical bikes for anything other than downhilling, they are so much fun to ride and so frotty and stylee, a lot of people want them. So why haven't we got a shop full of them?
It's mainly due to a lack of available, well designed bikes. Here's a checklist of what we think a well designed suspension bike should have.
Evenly matched suspension travel, 3" - 5" front & rear.
Big strong easily serviced pivots, with frame reinforcing at pivot areas.
An oil dampened adjustable coil spring rear shock.
A linkage design with a "Horst " link.
Fully adjustable seat height.
Quality construction, a full warranty and dealer backup.
There are not many bikes in NZ that have all 6 of these features. But is NZ a backwater for suspension bikes? After going through a recent US buyer guide and counting 88 different brands making suspension frames, it is worth noting that NZ has only 27 brands that even have an importer, and most of those are pretty scarce. Check out the list of brand names - there's a lot, but many of them look bogus, so we're not necessarily missing out on all that much. There are still some good suspension bikes available in NZ, but there are also some real lemons, so think carefully about design features before rushing in.
THE LIST
(* Possibly available in NZ.)
3-d Racing, Alpinestars, American Flyer, AMP*, Answer*, Avitar, Azonic*, Balance*, Barracuda*, Battle, BeYond, Bianchi*, Brew, Caloi, Cannondale*, Catamount, Conejo, Crankin' Cycles, Dagger, De Kerf, Diamondback*, Dogma, Ellsworth, Fat City, Foes Fabrications*, Gary Fisher, Giant*, Griffen, GT*, Haro, High Zoot, Ibis, Iron Horse, J.P. Morgan, Jamis, Karpiel Design, Kestral, KHS*, Klein, Kona*, Lightening Cycle, Litespeed*, Loco Motion, Mako, Marin*, McMahon, Mongoose*, Moots, Morales, Mountain Cycle*, Mountain Goat, Norco, Otis Guy, Outback, Performance, Pro-Flex*, Raleigh USA, Ralph Cycles!, Research Dynamics*, Ritchey*, Rocky Mountain*, Ross, Salsa, Santa Cruz*, Schwinn, Scott*, Slingshot, Softride, Specialized*, SyCip, Ted Wojcik, Ti Cycles, Ti-Cranium, Titan, Titus Titanium, Trek*, Trinku Design, Trophy*, Turner, Univega, Ventana, VooDoo, Yeti*, Zero.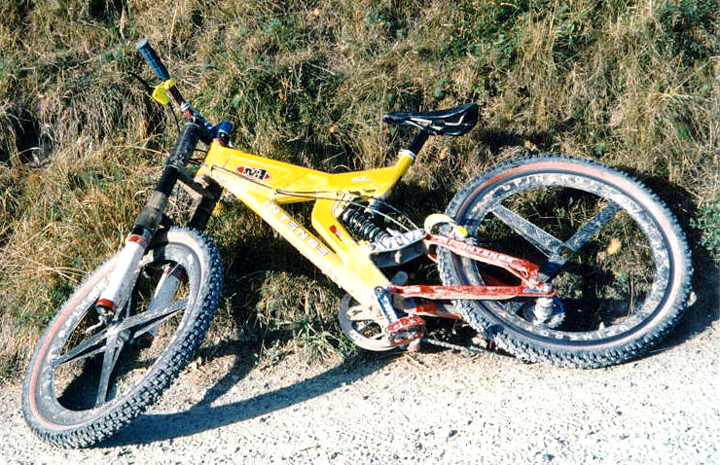 ---
When roadies are not training, they play on the internet, where they are attempting to come up with their own "dictionary of roadie slang". So far they have 10 pages of it, and haven't even got "anal" on there yet. But here are some of the better ones:
Ate straw - Lost the line in a tight corner
Bed stick - What happens the morning after a biff.
Bloater - A rider with more muscle than you. See : Fat boy.
Bowling for dollars - A rider who crashes and takes down most of the peloton.
Burger - Crash. " He really burgered..."
Cannonwhale, Cannonsail, Cannonball, Crimp & fail - Cannondale.
Carpet sprint - What happens when you ride off the rollers.
Carrot choppers - Spinergy wheels.
DFL - Dead fuckin' last.
EWD - Extreme wiener discomfort. (aka: penile numbness)
Fat boy - A rider with more muscle than you, especially above the waist.
Going like....a donkey / a bag of shit - riding badly.
Gut spray, gopher juice - What gets sprayed on your legs when a truck runs over fresh road pizza.
Laughing group - the guys just trying to finish the race.
Lloyd - A triathlete.
Lost the remote - When your Mavic Zap goes nuts.
Mission - Ride. " I known where THAT is... that's a long Fucking mission from here!!!
Pack fodder - What you are when you can't crack the top 20 in a race.
Pump the big meat - push a big gear.
Road pizza - Road kill, furry frisbees, flattened fauna.
Roadie - Cyclists that like to put their rubber on something hard!!!!
Snot shot - To catch someone's blow. " I got snot shot."
Taste lung - Go way anaerobic. Really hammer.
Trailer - A person in a break who can do little more than hang on the back for dear life.
Triathlete - Three times the athlete!!! (Ed - What's this doing here, Sam? Wasn't it supposed to say "geek")
Ugly - Hurt. " Its going to be ugly. I'm going to put a hurting on you guys."
Vulture - To circle at the top of a hill waiting for slower "friends".
Wheel suck - Someone who sticks to your arse like snot to a fingernail.
---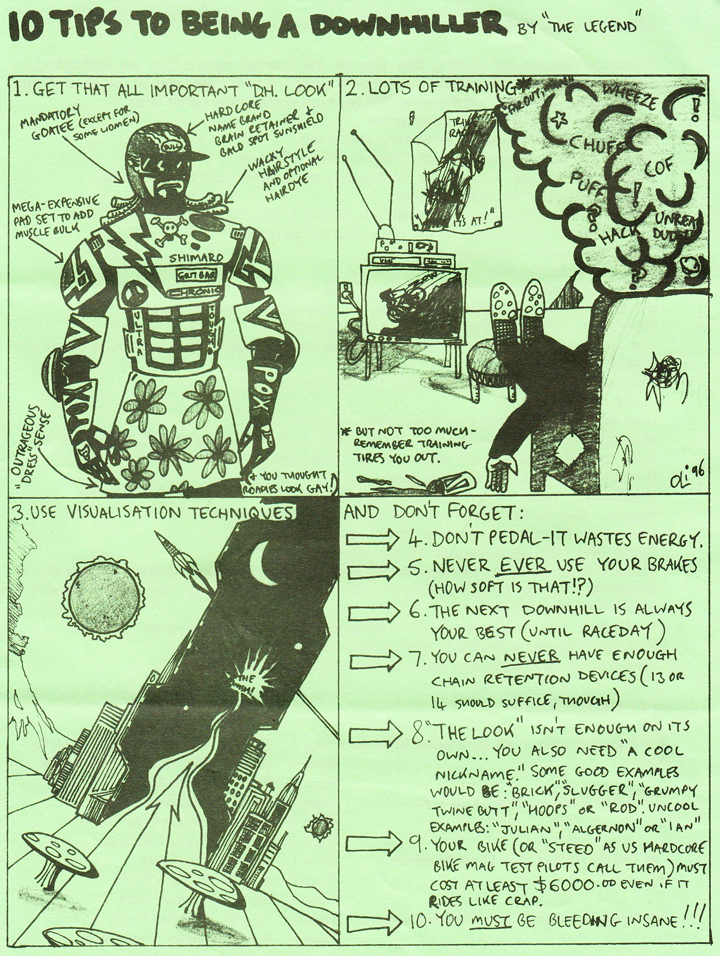 ---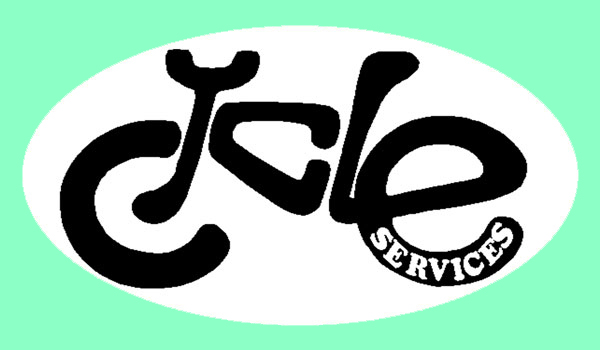 Back to Cycle Services Newsletter Index
S i t e B y F R O T D E S I G N