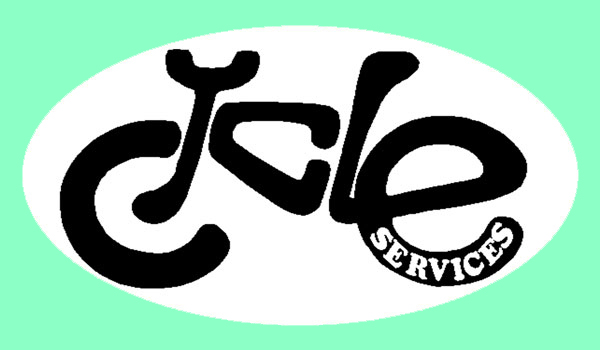 SEPTEMBER 1997
*** The new techno era in Cycle Services newsletters. ***
Things were getting sort of slow and sifty in the newsletter production department, (we've only done two this year – a full sift record) but now we have become techno heads, (technologists, not ravers), and we have THE GOODS….
No longer restrained by the inadequacies of a gutless old computer, we can now do stuff like scanning, graphics, and printing. We also have an E-mail address: wheels@frot.co.nz After checking out the fully deviant Mud Cycles web site, we are also looking at getting out there in cybergeek land in the near future.
This means that we can now do newsletters at pace, and incorporate almost any material you freaks can supply – photos, drawings, cartoons, text, and virtually anything else that's A4 size and almost flat. So give us your ravings and naked tripper pictures, and we will probably butcher them up into some unrecognisable new configuration and credit it to your name to avoid any embarrassment.In keeping with our new, urban sifter about town approach to newsletter writing, this month we have included an article first published in NZ Adventure magazine on getting really baked and riding aimlessly about, as well as a bike shop bike spec from NZ MTB magazine, and a letter from some gormless anus who hates getting really baked and riding aimlessly about. The drawings are a best of from this week's desk blotter pad.Team CS have been getting a bit unfit since the impressive display of dominance at the Mud DH series, but there have been notable exceptions – at the recent Cannon Point eliminator, (where all our other riders were eliminated in the first or second round), Mike McGovern went on to win the senior grade overall. But everyone else may have to start doing secret training – those young grommets are looking fast!The latest marketing concept is "FREERIDING", which is pretty much what we've been doing for years, but now companies like Cannondale are selling freerider bikes, aimed at disillusioned paranoid speed freaks who dress in baggy black clothing, and ride downhill on drugs. Where do they come up with these ideas?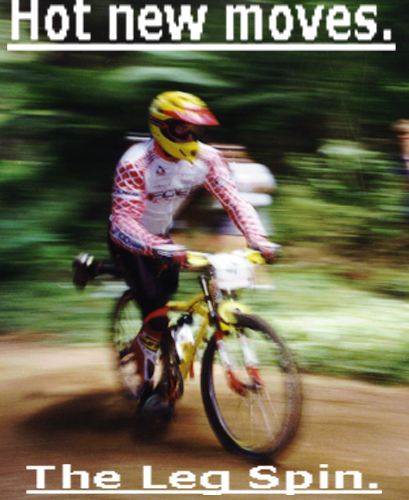 In the new bike stuff area, we are awaiting the imminent arrival of frotty new 98 things. Until we run out of leftovers we will continue having our sale, but we are rapidly running out of things that we will pay you to take away. The main area of development for 98 is longer and cheaper suspension - for example, 98 Diamondbacks will have 4.5" of travel, from $1995. Triple clamp forks will also be more affordable and available – with new models from White Bros., Manitou, Rockshox, and many others, starting at around $1000. The coolest new DH rig we have seen is the Rotech – finally a bike with up to date motorcross technology, using the same bearings for both bottom bracket and swingarm
---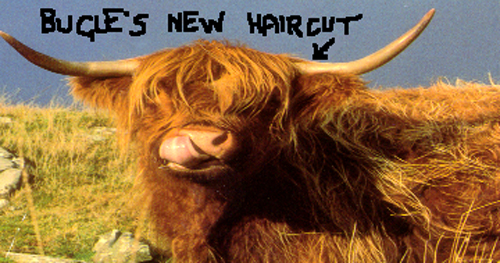 A drawing of a sales rep from the CS office deskpad:
---
A downhill life.(NZ Adventure Magazine)
While mountain biking has become a mainstream activity, with everyone and their grandmother at least owning a MTB, if not actually riding it, there is always a new competitive frontier, and for many experienced riders, it's downhilling.
To a lot of cross country riders, who go straining up mega 30 min hill climbs checking their HR monitors and pushing their aerobic threshold to the limit, downhillers are a bunch of unfit slobs who push their bikes uphill, or worse, drive! to the top, and coast back down the hill doing skids. If only it was that easy!
On race day, when the spectators gather down the edges of an off-camber corner, waiting eagerly to see gladiator like competitors sliding sideways down the hill at 50 kph, and hopefully crashing at their feet, they too get a fairly one-sided view of downhilling, seeing only 5 seconds of a 5 minute run that took 50 hours to arrive at.
To be a top level downhiller is a serious business, but that's not to say that most downhillers are top level. In fact, within downhilling, there's several quite distinct approaches, each with their own philosophies about the sport. At the top level of skill, equipment and fitness are "nationals-heads". These guys train really hard, and have the fitness of expert cross country riders, combined with a lot more strength from weight training. If they get the chance, they will do up to 30 practice runs down the course, in the weeks before the race. These guys are the committed elite, the epitome of pro downhilling, and I'm certainly not going to go on about them, because they make the rest of us look like slobs who coast downhill doing skids.
Lurking about at a more primal level than the glossy professional work ethic of the nationals-heads, is another more unique sub-culture, that of the "locals", and although different areas have some markedly differing sub-cultures, they all seem to have certain things in common. While nationals-heads train, the locals just ride, and while nationals-heads want to travel about and gather to beat other nationals-heads in timed runs, locals want to outdo each other in terms of style moves, like pulling off a dangerous passing manoeuvre while simultaneously getting air sideways over a log, preferably on a new, and possibly illegal, track, while baked to the gills on prime hooter. Yes, like surfers, the locals do not say no to drugs, and maybe that's one of the reasons why the downhill scene has a lot more flavour than the comparatively tame XC scene.
At a basic level, downhilling is not about times, it's about sensations, namely that of being at the furthest edge of control, the point at which you still don't know, half way round the corner, whether you are going to get round it or not. It involves thrashing, shralving and sometimes munting yourself into a bank. You are not going fast until you are out of control, you are not out of control until you crash, and you haven't crashed unless someone saw you.
The equipment used for downhilling has come a long way since the early days. Eight years ago, we used to race each other down some of the same tracks we ride now, but we did it on fully rigid bikes, with no helmets and no protective gear, and although we were certainly out of control, by today's standards we weren't that fast. Five years ago, we had front suspension with 1 1/2" travel, and we were wearing helmets, but it's only over the past three years that we have started getting real DH rigs. Once you start using full suspension, everything gets into a new speed dimension, and what seemed wildly out of control before, seems hovercraft smooth and somehow slightly removed from reality. You build up confidence and start to go faster, only to be rudely awakened by a high speed crash. It really hurts, so you get more body armour, a full face helmet, pads for everywhere. And you need more traction, and more brakes, so you are always on the hunt for fatter tyres and gruntier brakes. You start to wonder if 3" travel is enough, and that $5500 6" travel frame and fork looks tempting. Ultimately, you have a bike worth more than the latest motorcross bike, and you're wearing more protective gear than a motorcross racer. The locals start to look at you funny. Maybe you have turned into a nationals-head. It's time to start riding in your T-shirt again.
The key attitude adjustment required for downhilling is to set up your bike, your gear and your mind, for the primary purpose of going downhill. This is known as being "strictly downhill". You still have to get up the hill, but speed is unimportant, getting to the top is just a necessary evil, especially as 35lb suspension bikes climb like pigs.
A few downhill basics: for your bike, buy the best suspension and brakes you can afford, get wide downhill handlebars for extra control, run a 2.2" DH front tyre and drop your seat around 4" from it's XC position. For gear, wear a minimum of helmet, full finger gloves, glasses, and a riding jersey and shorts, and for high speed stuff, add knee and elbow pads and preferably more, such as shoulder and hip protectors and a full face helmet. For your mind, remember to focus where you want to go, as if you are a laser guided missile, and if you have to try, try to be smooth, or stylish, or loose, or just about anything other than fast. Never try to be fast, it's not zen and it will just make you get tense and crash.
So where are you going to ride? The best downhilling area for compactness, convenience and variety is Wellington, where there are hundreds of great downhills, all close together. The Wellington scene is big, probably the only place where there are bigger fields at minor local races than there are at nationals races, but even so, unless you have a contact, probably nobody is going to tell you how to find the really good single tracks. It's not like going to Rotorua (NZ's biggest BMX track, but definitely not DH!), where they have maps and signs. What you need is an inside contact, and in order to infiltrate the scene, you need to talk to the locals. Here's how : cruise up to a bunch of riders, when they are sifting about in a secluded clearing in the forest indulging in suspicious and furtive drug abusing type of behaviour, and say something like "Wicked, liz, is that it with you, bro? Check it out, are you holding? I've got some wicked hooter, how about showing me down a fully marginal hell track and getting some air over a big shralving death vert into a frotty bit of new singletrack?" Who knows what may happen...
If this approach doesn't work out, you could always try reading the Kennett Bros. MTB book, which although more oriented towards expeditions rather than DH's, does point out a lot of areas that have a good downhill or two. Wherever there's a 500m+ hill, there's usually a downhill, but it certainly makes life easier if there's a road up it. Unless, of course, you have the wedge to hire a helicopter. And what is the ultimate downhill? Mt Fyffe, behind Kaikoura is generally considered to be the mecca, a 1600m vertical height, 15-20 mins of really hardcore open track, an ear popping, genuinely dangerous rush. Only problem is the 3 1/2 hours it takes to push your bike up it. But often the best downhills are not standing out like dog's bollocks, they require a lot of careful searching, and a bit of subtle refining. Be prepared to explore, sometimes even downhillers have to ride about a bit.
Remember; what goes down, must come up.
---
Dear Sir,
It was with great alarm that I read your article in the latest issue of Adventure magazine. In my mind there is no place in our great outdoors for such mechanized monsters as Mountain Bikes, let alone such deplorable things as illegal drugs!
I read the magazine to see what things our country has to offer, not to see what things the youth of this country are destroying their minds with. The whole idea of riding a push-bike down a hill covered in silly looking clothing and motor-cycling body armour is, I think, worthy of ridicule.
As for the speeds you say that you attain, I can hardly believe it. If you do attain such dangerous speeds, then shame on you for endangering the lives of some innocent young family! You can hardly be a family man!
The reference to "smoking hooter" is deplorable in the extreme as young adults whose minds are easily swayed will be influenced by such talk. No wonder youth suicide is rising at such an alarming rate!
The Labour Government is to blame for all of this silly liberal talk which is spreading around New Zealand. The youth of this country such as yourselves should be enlisted into the Army as they were in my day, this would help you onto the right path and straighten out your ideas and get real jobs. There was no such thing as the Unemployment Benefit or Solo Mothers in my youth - the guilty ones would be made to get married!
I shall be forwarding copies of my letter and your so-called article to both the Editor of Adventure and to the NZ Police. Let them do what is right.
Yours,
Mr A Nally
---
---
Name - Wheels
Nick Name - Ian
Title - Co-Owner
Shop - Cycle Services, Wellington
Riding habits - Frotting About On Downhills
Height - 6' 3"
Weight - 13 stone
Age - 29 yrs
What I Ride - Marin Team FRS
Frame - 19" FRS Alloy with Noleen shock
Fork - '97 Judy DH
Derailleurs - XT
Shifters - XT Rapid Fire Plus
Cranks - Race Face with 24/36/46 Race Face Rings
Bottom Bracket - XT
Cogs - XT 8 sp 11-28
Chain - Sedis M90
Pedals - 737 Shimano SPD
Brakes - XT V-Brakes
Brake Levers - XT
Hubs - White Industries Tracker/XT 8 speed
Rims - Ambrosio CC24 (Best rims in the World!)
Tyres - Panaracer Magic DH
Tubes - Ritchey S.V.
Bars - Club Roost Go Fast DH
Stem - Kore A-Head
Headset - F.S.A.
Barends - Are fully C.U.!!
Grips - Titus Leather
Saddle - SDG 7000 Titanium
Seatpost - Marin Lite (It hasn't bent yet!)
Computer - Vetta C-500
Weight - 30lb-ish (including tools)
Other Bits - Bullet Bros Chaim retention device
Comments - Super Plush Commuter Rig, eats Healing 10-speeds for breakfast. Rocker Suspension Frames Go Off!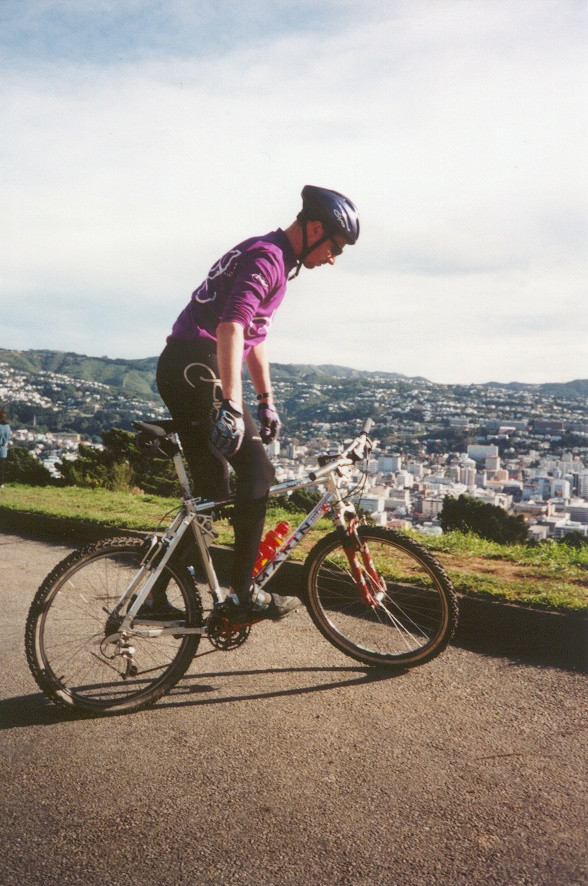 ---
THE "SLOW DOWN YOU FREAKS SECTION"
Suspension bike crash syndrom: This has happened so many times now that it's becoming a recognisable development phase. It goes like this:
Stage 1. The punter starts frotting out over full suspension bikes, and comes to the conclusion that they not only must have one, but also that once they have one, it will make them unbelievably fast.
Stage 2. They buy their dream bike, and head to somewhere steep and treacherous, that they would previously have been intimidated by, and go down it really fast until they crash.
Stage 3 is slow and boring, as it involves watching bad daytime TV and not doing any riding for three to four weeks. This is when disillusionment and thoughts of becoming a cross-country rider set in.
Stage 4 is when they start riding the suspension bike like an actual bicycle rather than a futuristic laser guided hovercraft. Failure to reach stage 4 leads to the endless repetition of stages 2 and 3.
Best Exponent of Suspension Bike Crash Syndrome. With out a doubt, Fraser wins this award, mainly for the shear speed at which he progressed through all the stages. As soon as we had finished assembling his $8000 Intense Uzzi with White Bros. D110's, he went straight out and tried to fly down a flight of over 100 stairs, leading to considerable damage.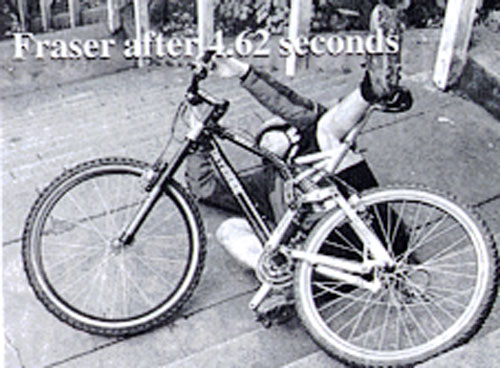 Even more impressive, he got into a magazine for doing so. (See photos!). To ensure his status as legend, he waited for three weeks until the replacement parts arrived from America, then went straight out and tried to ride through a 1.5m deep ditch at 70kph. Now that the cast is finally off, we are awaiting further developments.
Are Cycle Couriers all MAD? Do cycle couriers need to start taking some different drugs? I like to hoon about a bit myself, and anyone who can ride a bike with any degree of speed and expertise in Wellington is obviously going to be breaking their share of bogus traffic rules. But there's a big difference between cruising through a bunch of peds at walking pace, and nailing through them at 40k. After following a courier who was not only fully nailing every red light at 40k, but also simultaneously riding no hands while sorting the contents of his bag, I had to conclude that all those trippers who keep complaining about cycle couriers may have a point. As the feds already have little else better to do than harass cyclists about bullshit, the last thing we need are more crackdowns. Be more discrete, and remember – the whole point of being baked to the gills is to mellow out! I certainly hope you are all baked to the gills, because if you ride like that straight, you have some serious problems you need to work out with yourselves.
(and yes, this is coming from a convicted "reckless bicycle rider"!) Bunch of ARSE.
---
---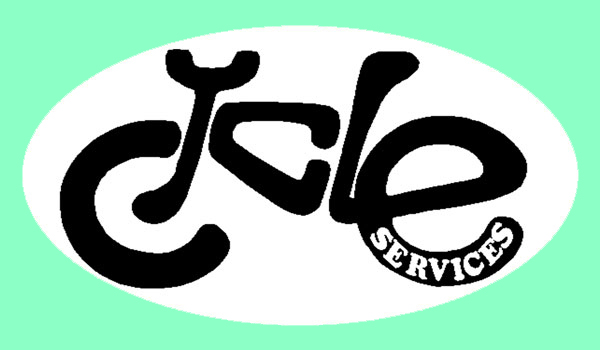 Back to Cycle Services Newsletter Index