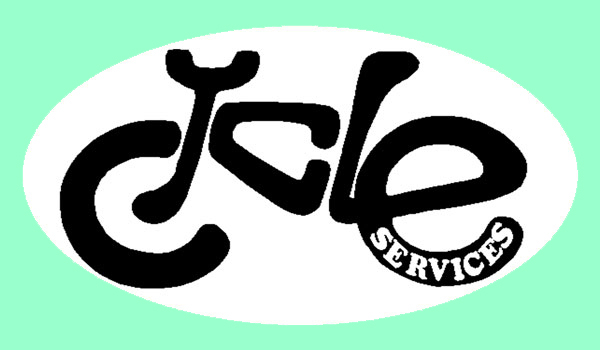 AUGUST 1998
Here at long last is the first ever CYBERFROT newsletter. The website version has a full colour sifty and marginally deviant action hip to the scene eXtra beef style, while the paper based one contains everything that will copy OK, and is obtainable from the usual outlet.
---
TEAM CYCLE SERVICES
DOWNHILL. Our new massively pro looking CYCLE SERVICES DOWNHILL TEAM is now fully kitted out and racing the winter downhill races. The team consists of Rod Bardsley, Mike Williamson, Aaron Lucy, Jimmy Mitchell, and Jake Bradley. Co-sponsors so far are IRC Tyres, and Havana Coffee. (we are always looking for more good sponsors!) Apart from looking frotty in purple Fox outfits adorned with the new "Flaming" CS logo, the team has already been kicking arse; At the Moonshine DH Race 5/7/98, Rod placed 1st=, Aaron placed 2nd, Mike 3rd, Jimmy 4th, and Jake was 12th. At the Mud Cycles Rolliminator 19/7/98, Rod was 2nd, and Mike and Aaron were 3rd equal. (Rob Metz from Hamilton won, but it was close). The team will be racing at local and national races over the upcoming season so watch out for the fast purple dudes. We want to have a really strong DH Team by summer, so as the rest of the crew get up to speed, there will no doubt be some new additions to the team.
CROSS COUNTRY. Serious contenders for the 98/99 season include Rex Humpherson (who is also Wellington Centre Road Champion), and Myra Moller. Rex is racing in the Elite Men XC. Myra has been winning loads of races in the Junior Women's grade. The rest of the crew had just better get training, because we're not sponsoring any XC riders with beer guts - only downhillers are allowed those!
ROAD. We still have a big posse of Roadies, and a hot new jersey is in the pipeline. Brent Backhouse, Paul Waite, John Callaghan, Rex, Henry, and Oli are all working on winter leg definition, while Bill Ayres, Gill Grey, Jay Neill, and Aaron Stagg are over in France checking out the Tour and getting a real tan. We are also co-sponsors for the superfit new Wellington Xerox Team.
---
While doing the 98 Shimano Technicians Course we got a look at what's new for 99. Nine speed clusters will bring LX, XT, and XTR up to 27 speed(!).The gear range is huge, but the narrower chain and teeth will probably wear faster in muddy conditions. The XT groupset looks very different, and has a new V-Brake design. XTR will continue to offer both the old std rear derailleur, and the new (and critically derided) "reverse pull deraileur". One of the coolest things to come out is the carbon brake booster - if you see one you will want two. STX is gone, but there will still be 24 speed STX-RC. There is a new Dura Ace road SPD, and it looks like the best road pedal yet, but does require yet another shoe plate configuration. The lower end groupsets look a bit sleeker, but overall it's not a ground breaking year. One exception is the new Nexus automatic 4-speed transmission. This trippy looking thing needs a pass code punching in, or the wheel won't turn, and has an electronic gear changer. Could be good for urban riding. The course was well done and we learned some handy new tricks, including a couple that used a hammer, so we were happy.
---
As well as the hideously expensive purple downhill outfits ($380), we have a new line of affordable and frotty new CS logo imprinted clothes, that we will be slowly and grudgingly releasing to the general public. First up are T-shirts, with the new hardcore flaming logo in yellow/red or green/white. These are $25 each, and the shirts themselves are in "Bogan Black" or "Old Fairlaine Blue". In the pipeline are pro looking road/xc jerseys in purple with black and white, and new riding shorts. Long sleeve T-shirts are also planned.
---
The New Team Jersey.
OK, here it is - the new road/xc jersey unveiled.
It will look something like this.
---
The world's sexiest cyclists
According to US Bikesite, these are the world's sexiest cyclists.
Are these people mad? What about Rod???
Men:
23% Miguel Indurain
22% Lance Armstrong
11% John Tomac
10% Shawn Palmer
6% Graham Obree
6% Zapata Espinoza
6% Gary Fisher
5% Greg LeMond
5% Tinker Juarez
4% Hanz Rey
2% Greg Herbold
Women:
30% Paola Pezzo
17% Leigh Donovan
16% Missy Giove
11% Ms. "Crackwax"
7% Marla Streb
5% Susan DeMatti
5% Mercedes Gonzalez
4% Juliana Furtado
2% Sara Ballantyne
1% Jacquie Phelan
1% Ruthie Matthes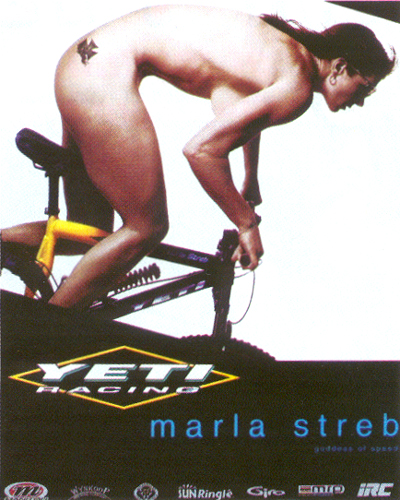 ---
Makara Peak Gets Cranking ( From the NZ MTB Web)
Development of the proposed mountain bike park at Makara Peak, Wellington, is changing up a gear. Wellington City Council have approved a $120,000 budget for the park and appointed the Kennett Bros as project managers to facilitate it's development.
While Wellington has many good mountain biking areas, none of the tracks are purpose built for riding. The nearest mountain bike park is a five hour drive away at Rotorua. The Makara Peak park will feature berms, jumps and whoopdy-doos (some of the features that have made the Rotorua area so popular) as well as awesome views and long descents.
At the moment Makara Peak has a few service roads but no single tracks. Hopefully, volunteer work parties will be able to make short work of clearing the first four or five tracks in time for an opening ceremony at the 1999 'RockShox Wellington MTB Festival' next March. In the longer term (3-5 years) a 50 kilometre network of tracks is planned for Makara Peak.
The city council expect the new park will reduce the pressure of recreational use in areas such as Mt Victoria and the Roller Coaster, but have stated that they do not plan to close any of the currently popular dual-use areas.
The park will cover 125 hectares of regenerating farmland southwest of Karori. The council have upgraded the fences and almost 500 goats have been shot in the area. A possum control operation will begin shortly and a fire prevention plan is in the pipeline. It is expected that eventually most of the tracks will be sheltered by a canopy of native forest.
Makara Peak is a significant part of Wellington's proposed 'Outer Green Belt' - a huge stretch of hills from the south coast all the way to Porirua and Belmont Regional Park (including Hawkins Hill, Wrights Hill, Johnsons Hill, and Mt Kaukau). Within a year you'll be able to ride from Red Rocks to Karori Park on a mixture of 4WD tracks, purpose built mountain bike tracks and a few hundred metres of sealed road.
Several dozen mountain bike riders have already put their names forward to help with track building and tree planting; in July riders planted 750 native plants alongside one section of track.
Track building bees will start on Saturday 15th August - meeting 10am at the Allington Road play area in Karori. We'll be clearing the ridge track down from the summit. If you can't make it till the afternoon, no worries - just follow the orange race arrows up from the play area (a one kilometre walk or ride).
Regular working bees at Makara Peak will be held on the first and last Sunday of every month. They will typically last for three to four hours. All tools will be provided by the city council.
Contact the Kennett Bros for more information.
Also, Mud Cycles is holding working bees the second Sunday in each month; and J'ville Cycles is holding track work parties on the third Saturday of each month.

"The best way to predict the future, is to invent it."
---
There's a lot of trees down on Mt Vic at the moment, but that's not the only reason for all of the logs on tracks - there's a tosser who gets off on putting logs and rocks on the track just after blind corners. You may see him up there, he does it quite a bit. He is a middle age guy, about 5'10" tall, dark but receding and greying curly hair. He may hassle you about riding too fast. If you confront him about the booby traps he will deny it, but as soon as he gets out of sight, he takes off rapidly. If you catch this bozo sifting up there, be sure to let him know what you think!
---
HIGH PERFORMANCE DOWNHILL IMPLANTS.
The secret is uncovered at last - this is how Rico goes so fast downhill! Yes it's true, New Zealand's #3 ranked downhiller has testicle implants.
These simultaneously lower his center of gravity, enabling him to corner faster, while also totally eliminating the "fear" factor that limits the speeds attainable by less well enhanced downhillers.
Is this an unfair advantage? Well it's not illegal yet, so we predict testicle implants will be the hot performance modification for next season. You saw it here first! (and probably not for much longer if Rico finds out.....)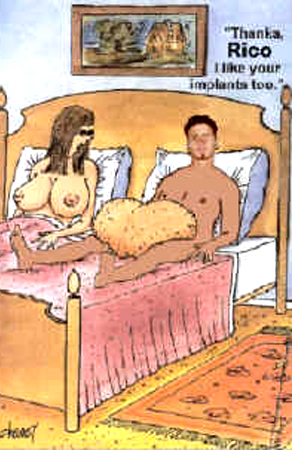 ---
This years Tour de France may end up being something of a landmark for exposing the true depth of drug taking in professional sport. It's not like there haven't been pro cyclists shooting up vast quantities of high performance drugs for the past 20 years. The big difference is that now a large number of them have been caught out, instead of the usual hypercritical "punish the drugtaker" response, now some cycling officials are saying "OK, we have had no success banning drug use, lets just make it all legal".
Although the governing bodies of other sporting codes are freaking out about this rampant admission of widespread drugtaking, if somewhere between 80 and 100% of pro riders are pharmaceutically enhanced, what else can be done?There is more involved here than riders trying to get ahead by cheating, although that is how it started out. For the modern professional, there has probably never been a realistic option of a drug free career. The demands of a sport like cycling are so high that even the most talented amateur would be struggling to turn pro without some assistance from drugs, and to get to the top requires both a huge drugs budget, and the full time assistance of a team "doctor".
There is a vicious circle, in that sponsors are only willing to front up with $10 million a year if the team wins races, and the races are so demanding that no one would stand a chance of winning unless they were well juiced up. But when a team gets done for drugs it's a big scandal and the sponsor pulls the plug. The big myth about drug taking in sport is the belief that there are drug tests that detect the drugs being used, and that drug takers are sooner or later caught.
Most of the true high performance drugs being used are not detected by the current tests, so the only way anyone gets caught is if the happen to be snapped doing something like driving around with 400 vials of EPO and a case of syringes. Even Festina, essentially the French national team, were unable to get away with that. ("It was all for the masseurs personal use"!)
The way in which this years scandal grew so large, is because after the Festina team's masseur was caught with a car load of drugs, the police raided their headquarters, and found books detailing the dosage programs for all the team riders. They also found that Festina was supplying drugs to other teams. After the Festina riders were arrested, and had admitted to widespread usage, the French police then took a heavy handed approach, searching and arresting more cyclists, which lead to the protests that halted the tour.
Public sympathy now lies with the cyclists, who are seen as victims of a system that has now turned on them, as soon as they are no longer seen as a viable commercial spectacle.Both the public and officials seem to be stuck in a mid-70's Eastern Block steroid mindset when it comes to drugs. Once in a while someone gets done for steroids, and the misconceptions of detectability are kept alive. At top levels, when steroids are used, the well funded professional has biochemically altered ones that the computerised urine tests are unable to detect.
In the case of athletics sprinter Ben Johnson, he was probably caught not so much because he was the only one using steroids, but because he was the only one getting ripped off by his dealer – he was on cheap horse steroids. While steroids are still popular, especially amongst strength based athletes, they are not the modern drug of choice for endurance athletes.In cycling, drug number one is EPO (erythropoitin). This is a drug first developed for kidney patients, that increases the rate of red blood cells production, an effect similar to living at very high altitudes. It enables the user to carry a greater amount of oxygen in the blood, and its use cannot be reliably detected at present. It does have the unfortunate side effect of thickening up the blood and causing heart attacks, but other drugs can reduce the likelihood of this.
Other popular drugs include HGH (human growth hormone), GHB (Gamma Hydroxybutyric acid), and Clenbuterol, with some exciting new cutting edge stuff on it's way.
What effect will this years scandal have? – a few predictions. It's going to make sponsors for the big pro teams extremely hard to find for next season, and is likely to lead to a recession in European pro racing for a few years. There will be a big crack down on EPO, and reliable tests will probably be in place by next year. Other sports will disassociate themselves from any calls to legalise performance drugs, and deny that their sports have serious drug problems. Next year there will continue to be widespread use of new undetectable drugs, but EPO will go out of fashion.
Drug testing will remain years behind drug taking, and the Tour de France will go back to normal.
---
TOUR DE FRANCE 98
A furtive Zulle finds his "special" locker empty, and suspects one of his rivals may have ripped off his 400 vials of EPO.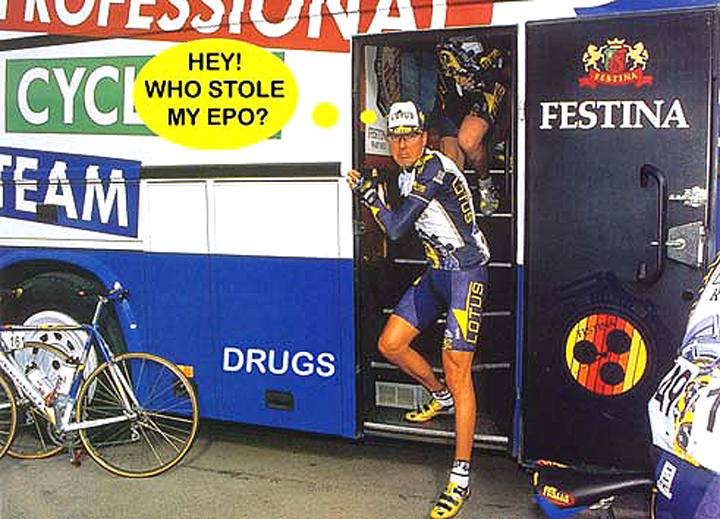 ---
We've been after this agency for a while, and are now pleased to announce an exclusive dealership for the whole Wellington region.
Remember, we service what we sell.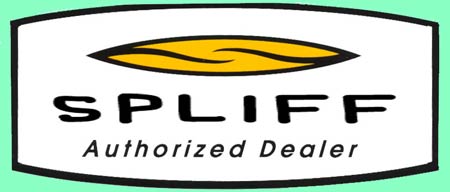 ---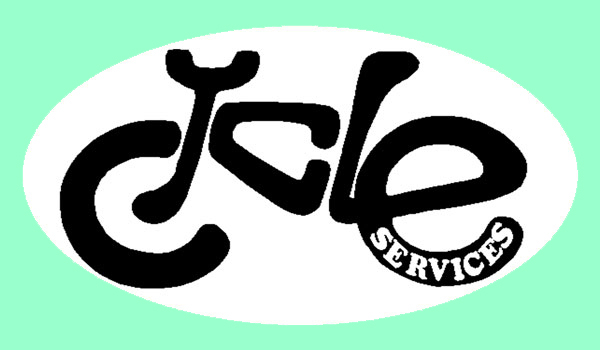 Back to Cycle Services Newsletter Index