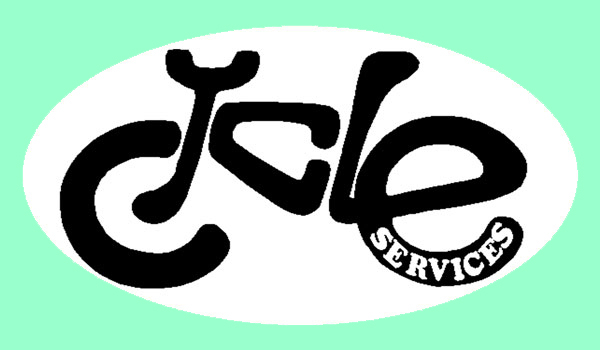 MARCH 1999
Sam was killed while out riding on Saturday 20th Febuary 99. He was training for the Ironman at Taupo and was in peak form and ready to kick some arse. We were all shocked and completely stunned by his sudden death. He had masses of friends, and we miss him a lot. There's a lot of funny and seriously hardcore stories of Sam's exploits, so as a tribute to Sam we will try to relate some of them. Maybe Sam would have prefered us to focus on his awesome fitness, and the triathlons that he raced in, but then again, he always loved a good laugh. Here's a few for starters.
A Bit Late
"I'll be a bit late tomorrow, I'm going training in the morning", Sam said one evening. The next day he didn't turn up until mid afternoon. When he finally did turn up he was looking pretty shagged, and sat in the office for a while staring at the ceiling. Then he staggered to his feet and said, "Mind if I have the afternoon off, I've got to do some more training", and off he went. The next day we learned what he spent the day doing. He put his running gear into a backpack, got on his bike and rode out to the Rimutuka Forest Park. Telling the disbelieving woman at the visitor centre that he was going to run to the top of Mt Matthews and back, he asked her to watch his bike. Sure enough he completed the two day hard tramp in a few hours, and then rode back into town at full speed, timing the whole thing. Realising he hadn't done any swimming that day, he finished up with 50 lengths of the pool. The next day he came to work and did nothing all day but stagger back and forth to the coffee shop and refuel.

The Smell
A few days after Sam had left to go to Hawaii for the Ironman, we started to notice a smell around the shop. We cleaned up and put the rubbish out, but it still remained. Next we hosed out the drains and checked the sewerage pipes, but the smell remained, and it was getting pretty bad. Finally it dawned on us - what a bunch of morons, the smell was coming from Sam's box of clothes. As we tipped out some towels and shirts, we unearthed a smell so bad we were gagging. At the bottom of the box was a pair of leather sandals, and the smell coming off them was so bad that once we let them loose, it took days of spraying air-freshener to make the shop stop smelling. We sealed them in two plastic bags and threw them out into the backyard, but even the backyard was starting to smell by the time Sam got back.

The Firehose
When Oli was cleaning his bike with the firehose one day, Sam managed to catch him out with the classic bozo trick. Gradually he turned the water pressure down, first down to a trickle, then right down to nothing. Unbelievably, Oli finally picked up the hose and looked straight down the end of it. Of course Sam was waiting for just this eventuality, and turned the pressure back up to full bore. He nearly waterblasted Oli's head clean off. We nearly wet ourselves laughing. Well, Oli didn't, but he was already wet enough. Luckily, Sam had thought to lock the door from inside, and managed to prevent a nasty act of retribution.

Pete Griffin's Breakfast
One of Sam's strangest obsessions was his flatmate Pete Griffin's breakfast. Whenever he had several Monteiths to drink, he would tell us about Pete's eating habits, which he spent many hours observing. Firstly Pete had a special cupboard for his food, his food was limited to a very limited range of pre-packaged food stuffs, and he ate the same thing at the same time every day. But it was his fastidious preparation of breakfast toast that Sam was most fascinated with. We would await each detail; How many slices, how he waited until they were all toasted before eating them so that he could get them all spread evenly, what he spread on them and how thick, the margin of toast round the edge that he didn't put spread on, the back up spreads in the cupboard in case he ran out, his eating posture and positioning in his favorite chair, and any occasional variations to standard routine - different garments worn, extra knives used, and so on. It was a good thing that Sam spent so much time training, otherwise he probably would have spent more time watching Pete eat his dinner.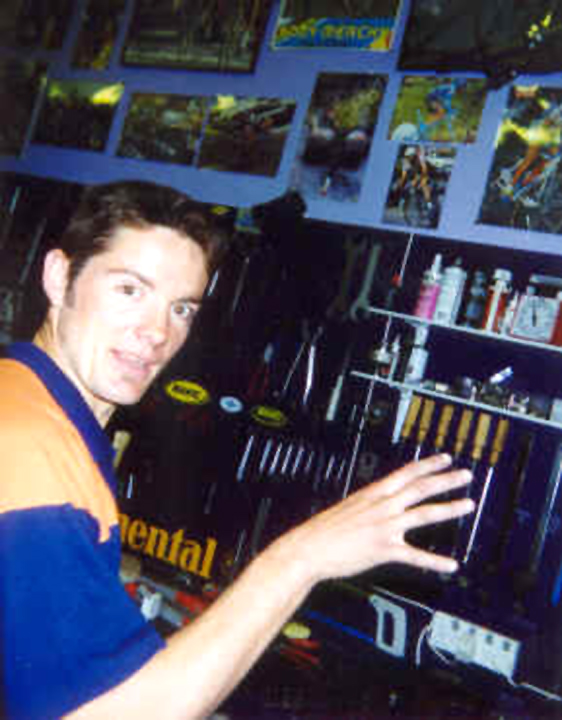 Sam at Work! - A rare photo of Sam at work. At least probably about to do some work. Maybe reaching for a coffee.
---
A Frenzied Subliminal Summer
We have been very busy all summer, setting sales turnover records for October, November, December, February, and March, by doing thousands of repairs, and even selling a few bikes. Maybe it's all because of Rod's Radio Active Cycle Reports. Rod has been rabbiting on about what goes off and where, and to our amazement there are a huge group of followers who seem to believe everything he says. The subliminal message "give all your money to Cycle Services" has been working wonders, and we have also been trialling "I need everything Rod sells me" Six months of amazingly good weather may have had something to do with it as well.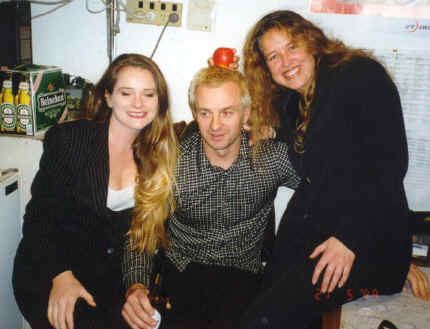 ---
John Kirkcaldie scored himself a factory ride for Schwinn in 99, so he's now a big bucks DH professional. Obviously handling himself with style, we were impressed with his first write up in VeloNews. This appeared in the February 8 1999 Issue:
"New Zealander John Kirkcaldie showed up at the Schwinn-Toyota RAV4 downhill team's January motorcycle skills camp with a couple of shiners and a wicked gash between the eyes. Seems there are two versions about what happened. The story given to team management had BMX bikes and dirt jumps involved. When cornered however, Kirkcaldie admitted he actually took some lumps in a New Years Eve brawl. While stepping to a night club with some friends, the former rugby player said he "cut in front of the biggest bastard there was. I happened to have talked some shit to him. Obviously I put up a bit of a fight because I have scabs all over my body." Kirkcaldie said he was going to come clean to his team, sooner or later. Better make it sooner, John."
---
Cycle Services MTB National DH Champions
Congratulations to Myra Moller, 99 National Expert Junior Womens XC Champion, and Kirstin Drabble, 99 Senior Womens DH Champion.
Pip Thomson kicking arse in the Dunedin round of the Nationals. She went on to win this race, and finished 3rd overall in the Expert 30+ Women.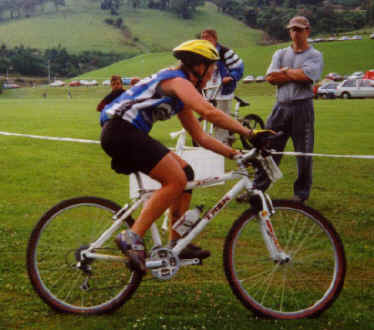 ---
Guess the CS Sifter Competition

Alias :
a. Albert Kingi
b. Poison Dwarf
c. Little Nig
d. The Fluid Mechanic

Occupation :
a. Arbitor
b. Barista
c. Chemist
d. Toreador

Activity :
a. Tossing a bike
b. Having a heave
c. Frotting against a railing
d. Urinating off balcony
Drug Enhancement :
a. Designer latte
b. Monster bucket bong
c. Creatine
d. Hallucinagenic suppository
Inventor Of :
a. Frottage
b. Seat Post Tossing
c. Nihilism
d. Hallucinogenic suppositories
Rules of the competition: The Multi Choice selection are a range of clues.... The careful observation of these clues you may trigger within you a recollection of the real name of our featured sifter.
Any competitor with the correct answer goes into the draw to win Hallucinogenic Suppositories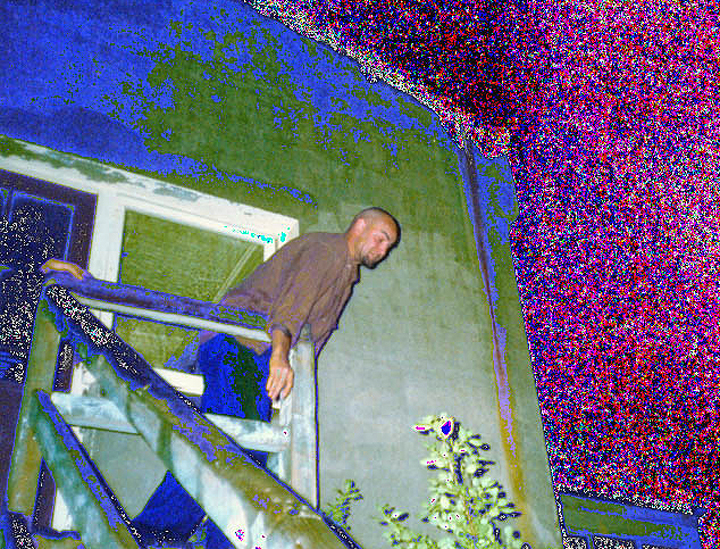 ---
99 MTB NATIONALS RESULTS - TEAM CS
Cross Country

Myra Moller
1st Expert Junior Women
Pip Thomson
3rd Expert 30+ Women
Adrian Elzinga
10th Pro Elite Men
Richard Smith
20th Pro Elite Men
Paul Odlin
13th Expert Under 23
Jimmy Mitchell
17th Expert Senior Men
Marcus Simons
2nd Sport Senior Men
Down Hill

Kirstin Drabble
1st Senior Women
Mike Williamson
11th Senior Men
Jimmy Mitchell
20th Senior Men
Aaron Lucy
23rd Senior Men
Stewart Doherty
24th Senior Men
Rod Bardsley
6th Master 30+ Men

---
AN APOLOGY TO OUR PRINTER
Our friendly printer, who gives us the best service we have ever known, was broken, distraught, gutted, and reduced to tears by the recent insinuation that our newsletter once being printed on insipid pale blue paper was due to "printer error". In fact Henry told him to just knock it off on whatever paper was lying about because we were in a hurry. Sorry "BILL". To make it up to "Bill", we have included this stylish picture of his mate "Gordy"
It's easy to see from this photo why Gordy was chosen to ride as a professional for the English Harrods Team. With his photogenic professionalism he encompasses exactly the upmarket image that a team like Harrods is looking for to represent them in the international media. It's hard for downhillers to compete with this, even pros like JK.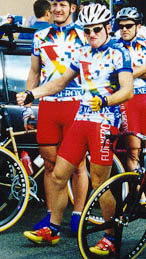 ---
The CS entries to Tama's Haiku contest
"Poetry with teeth" - The Collected works of CS - should win the T-shirt
Rod the lilac blur
Rides faster than you poseurs
Mud Boys are too slow
Sift and frot and munt
Are words that Tama borrowed
Give them back you punk
Wicked tongue it liz
Is that the gig with you bro?
Sifty bunch of arse
Liz bike you punter
Should have bought a new Fisher
Now your frame is fucked
Skunk is grunty weed
Just one pipe got me wasted
Have to have a feed
Now bring out the gimp
And put him on Tama's bike
He will not come last
CS are the champs
Our website is more purple
Better photos too
---
Kirky Van Damme - The Street Fighting Man
Problems defending the peloton from unco tri geeks with serious road occupancy insecurity problems?
Kirky is the man - he takes no prisoners! Seen here putting the hurt on in the 98 Palmie to Wellington.
---
New NZ MTB video "Tranz Mission Ride"
Unlike the limp Auckland MTB video, this one goes off. It ranks up there with many of the well known English and American Vids, but it's very different. NZ riding involves going hard and fast down rough tracks and keeping it together over nasty shit. There's not a lot of big air, or masses of crashes, although there certainly are some. But it's the real stuff, and some of the footage is really cool. Highlights include Rico going full speed down rutted firebreaks, Glen Sisarich and the New Plymouth crew doing some wild riding, and a guy called Boycey going apeshit down a 4-wheel drive track. It's great to see the locals going off on video. The soundtrack is entirely Head Like A Hole, so it's a good thing they rock out. Yes, Rod is on it, but only a little bit. There's lots of Rico, we call it the "Tranz Mission Rico" video. The editing is slick, and the video is well worth $29.95. Highly recommended, excellent gift.
---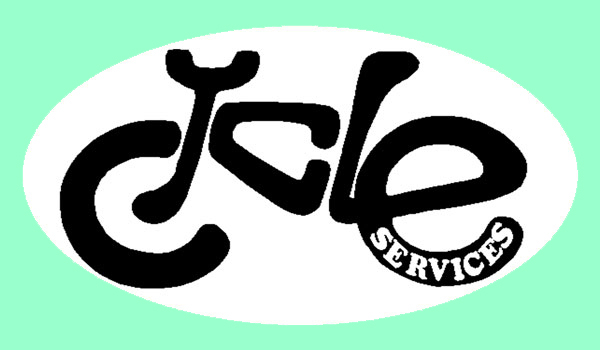 Back to Cycle Services Newsletter Index