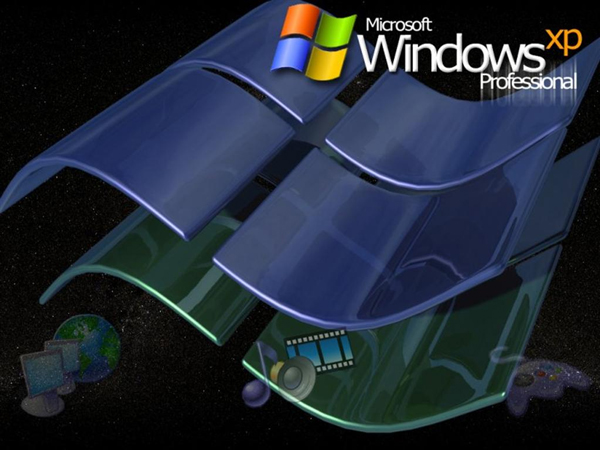 WINDOWS XP
XP was a workhorse. Everything ran OK on it, and it did the job. Because I used it for a decade everything was where I expected it, which saved time. With a few changes it looked OK – all the default ugly green graphics could easily be eradicated. When I wanted to get things done, I found XP fast enough because it all worked as expected. And despite being a bit slow XP was actually fairly stable which also saved time.
Where it really shone is that pretty much every programme ever released was widely and freely available as a crack and they generally all worked well. XP was built for piracy – it was sort of like open source Microsoft. If there was dodgyness to be done, XP was king. But cracked programme availability for 7 is fully sorted these days and a quick visit to a torrent site will sort all software needs.
The main drawbacks were that it's slower than both 2000 and 7, and like 2000 it's hopeless for big file transfers, and searches. It was an OK operating system, but it was a bit plain and sluggish compared to 7. The default settings were rubbish and just about everything needed to be changed. (They were not as bad as the default settings on 7 though)
Having said that, the truth is, when setting up computers for friends and family, Windows 7 was not always been appreciated. I guess in some cases I installed it more for my convenience, for people who would have probably preferred XP. Nothing good has come of pushing non-tech people towards 7 over XP.
All the bollocks Microsoft and some clueless journalists said about "the death of XP" because Microsoft stopped support in April 2014, was just a desperate attempt to sell some software. Microsoft support for operating systems is irrelevant, and third party support for XP is still widely available. It's even still available from third parties for Windows 98!
In many workplaces, and many countries outside of America, (including China where XP still has a huge share of the market) XP remains popular. Even in America where consumers rush out and buy whatever is the latest thing, XP is still going. It was gestimated (by Steve Balmer) that outside of America, 90% of all copies of XP were pirated.
For a free copy of XP go here – or if you prefer 7, here.
This operating system usage pie chart from February 2014 is fairly typical, but it contains the same inbuilt inaccuracies that nearly all the charts like this do:
Firstly, it mainly reflects what American and English speaking consumers are web surfing on (rather than workplace use, where many workers are predominantly using XP with no internet connection).
Secondly it doesn't reflect what non English speaking computer users in countries such as China are using, where XP is popular, most XP copies are pirated, and internet connections are thin on the ground.
Thirdly, these charts are all based on either web surfing stats (which don't reflect work use) or the new sales of "legitimate" operating systems (which don't reflect second hand computer sales, or piracy, or downloads of Linux).
And it's pretty safe to say nobody is doing anything productive with Windows 8
---
Setting up Windows XP
Install from disc
Start computer up with "Windows XP" disc in DVD drive, and no internet connection.
When it's finished installing, first change to classic view
Start (green button in left bottom corner) – right click and switch to classic view
Go to Control Panel
Start / settings / control panel /
Display
Desktop – start with the Stonehenge one to get rid of the green default Microsoft one – (replace it later with something better)
Screensaver – 3D pipes – settings – mixed, textured, multiple, fast (gets rid of xp logo screensaver)
Appearance – windows classic style, (a timeless theme that gets rid of the green start button) & then set font to large
Settings – 1280×768 for 3×4 monitors or 1600 x 900 for 16×9 widescreen monitors, and colour quality highest (32 bit)
Security Centre
Start / settings / control panel / security centre
(To turn off Microsoft Security and Updates)
Click on "change the way security centre alerts me" (in the box on left side)
Untick the three alert settings
Go to manage security settings option at the bottom – turn off anything that's on, such as firewall (make sure that Microsoft has nothing to do with the security and is not doing any updates)
Desktop Icons
First Add Windows Explorer Desktop Icon
(It's in Start / Programmes / Accessories)
Windows Explorer – right click – send to desktop (create shortcut)
Follow same steps for other desktop icons as the programmes are installed
eg. Start / Programmes / Microsoft Office / Microsoft Office Word 2003
Right click – send to desktop (create shortcut)
Once the icon is on the desktop – right click the icon – rename – eg "word"
right click on the icon – properties – maximised (opens each programme straight into a full window)
Disable the Automatic Desktop Wizard
To stop the wizard from automatically running every 60 days:
Right-click a blank spot on the desktop, and then click Properties to open the Display Properties dialogue box.
Click the Desktop tab.
Click Customize desktop to open the Desktop Items dialogue box.
Click to clear the Run Desktop Cleanup Wizard every 60 days check box.
Click OK to close the dialogue boxes.
Fix Windows Explorer Settings
Open Windows Explorer
Tools / Folder Options / General / Use Windows classic folders
Now change the view of whichever folder you are looking at to Details view – then go to
Tools / Folder Options / View – folder view – apply to all folders (no more icon view)
Tools / Folder Options / View / Advanced Settings
Tick:
Show hidden files and folders
Untick:
Hide extensions for known file types
"Explorer preview pane" – Alt+P to enable/disable
Improve Performance
In Windows Explorer go to My Computer and right click on it:
Properties
Advanced
Performance
Settings
First select "adjust for best performance" (this unticks everything)
Then select "custom"
Tick "use drop shadows for icon labels on the desktop" (2nd to last option)
OR – Same change can be done from:
Start/Settings/Control panel/System/Advanced/Performance/Settings
Disable autoplay
Start/Run
Paste in: gpedit.msc
(Left Pane) Computer Configuration > Administrative Templates > System
(Right Pane) Set "Turn off autoplay" to "Enabled"