ISIS is a Zionist creation
The Truth Of ISIS Exposed
They never attack Israel. The evidence that ISIS is a Zionist creation of the cabal that runs the US (and the Western allies) and Israel (using radical Islam as a scapegoat) is overwhelming – And here's a data dump.
British Labor Leader Corbyn: "ISIS Created by UK and US": British Labor leader Jeremy Corbyn has risked sparking fresh controversy after blaming the rise of ISIS on Britain and the United States.
Related: Tracking ISIS to DC's Doorsteps
The veteran anti-war campaigner said ISIS hadn't "come from nowhere" and was partly "a creation of Western interventions in the region."
The Truth Of ISIS Exposed In Four Minutes
Related: British government IPs found linked to ISIS Twitter accounts
Corbyn, 66, said attacking the fanatical group would only make things worse and instead claimed Britain would be safer it if declared that it supported the "diversity of faith and diversity of aspirations around the world."
Corbyn was roundly condemned on for refusing to sing the national anthem at a memorial to Battle of Britain heroes. The veteran socialist, speaking to the obscure website 'Middle East Eye,' said Labor needed to stick to its 'principles' and vowed to stay on as Labor leader for the next five years.
But he risks a major rebellion over a proposed vote on extending the military action against ISIS into Syria.
In 2013 Cameron was left humiliated after MPs – including Corbyn – rejected airstrikes. Speaking in 2015, Corbyn said he would not change his position.
Corbyn said:
"ISIS did not come from nowhere. They have got a lot of money that's come from somewhere. They've got a huge supply of arms that have come from somewhere. They are – not in total, but in part – a creation of Western interventions in the region.
What I would do is try to economically isolate them. And also try to unite the other groups in the region by supporting autonomy for the Kurdish groups and recognize the vast amount of arms that we have sold – particularly to Saudi Arabia – end up somewhere and those are now being used.
Bombing by the West in Syria now would create more mayhem. It's very unclear who the alliances would be with and it would make the situation worse. I opposed the bombing of Syria in that historic 2013 vote and would continue that position."
Despite his position Corbyn insisted he would keep Britain safe. He said:
"We make ourselves safer by not being part of US foreign policy at every single turn. We make ourselves safer by saying we understand the diversity of faith and diversity of aspirations around the world. And also by becoming a force for human rights rather than military interventions around the world. I think that would make us safer."
Corbyn has previously sparked fury by comparing ISIS brutality to US military action in Iraq; Daily Mail reported.
Related: Israeli Colonel Caught with IS Pants Down
ISIS Leader Admits to Being Funded by the US
In early 2015, Yousaf al Salafi, a man believed to be the Pakistani commander of the Islamic State, confessed during investigations that he has been receiving money through the United States.
"Captured" US military hardware
A few months after al Salafi revealed the funding he was receiving was routed through the United States, Michael Flynn, former director of Obama's Defence Intelligence Agency, said he warned the Obama administration three years ago that the groups they were funding in Syria were actually Islamic jihadists.
Related: Guess Who is Behind the Islamic State: Israeli IDF Colonel Leading ISIS Terrorists Arrested in Iraq
Now, a group of 50 intelligence analysts working out of the U.S. military's Central Command have complained that their reports on Islamic State and the Syrian branch of Al-Qaeda were being incorrectly changed by senior officials.
On January 22, law enforcing agencies in Pakistan claimed they arrested not only al Salafi, but also two other people during a raid in the city of Lahore. A source familiar with the investigation told Daily Express that during the investigation al Salafi admitted he received funding to run the organisation in Pakistan and "recruit young people to fight in Syria."
The Pakistani-Syrian entered Pakistan via Turkey last year, but it was previously reported that he crossed into Turkey from Syria, was caught there but managed to escape and went to Pakistan to establish ISIS in the region.
Daily Express cited sources as saying that John Kerry, the U.S. Secretary of State was familiar with al Salafi's revelations and so was CENTCOM chief General Lloyd Austin. Al Salafi confessed he was recruiting people with a Pakistani accomplice to send them to Syria and was receiving around US$600 per person.
ISIS was created by the CIA and Mossad
A recently declassified 2012 document shows that "Salafist, the Muslim Brotherhood and AQI [Al-Qaeda in Iraq]" were listed as the "major forces driving the insurgency in Syria." The document also revealed that "the West, Gulf countries and Turkey support the opposition while Russia, China and Iran support the regime."
According to the declassified document, the Obama administration was warned in 2012 that these Islamic jihadists wanted to create a:
"Salafist principality in eastern Syria" and that ISI [Islamic State of Iraq] could declare an Islamic State through its union with other terrorist organizations in Iraq and Syria, which will create grave danger in regards to unifying Iraq and the protection of its territory."
Now, over 50 intelligence analysts have formally claimed their reports on Islamic State and al-Qaeda's branch in Syria were altered by senior officials, The Daily Beast reported. An investigation into the alleged manipulation of intelligence has been opened.
More "Captured" US military hardware
A couple of months ago, two senior analysts at CENTCOM claimed in a written complaint to the Defence Department inspector general that the reports described the terror groups as weaker than they believe they are.
The reports, some of which were briefed to the U.S. president, were altered by CENTCOM senior officials to make sure it adheres to the presidential administration's public line that the United States is winning the fight against Islamic State and an al-Qaeda branch in Syria named al-Nusra, the analysts told the publication. The written complaint was supported by 50 other intelligence analysts.
In recent months, members of the Obama administration have tried to convince the population that the fight against ISIS may soon be over. "ISIS is losing," John Allen, retired Marine general charged with coordinating the Islamic State campaign said in July.
Related: Reality Check: Proof U.S. Government Wanted ISIS To Emerge In Syria
We Fabricated ISIS – CIA Contractor
Former CIA contractor Steven Kelley has said on record that ISIS/ISIL are a fabricated terrorist group made and funded by the CIA in the United States.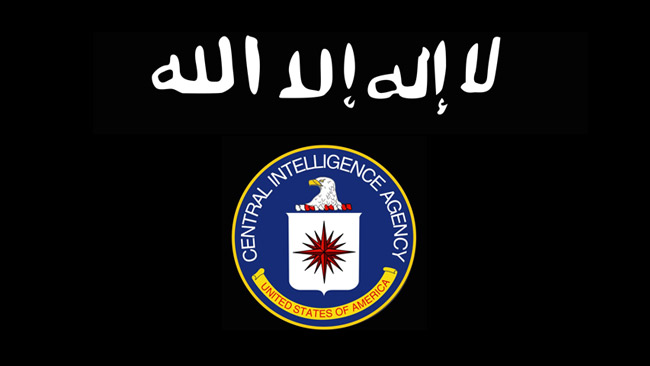 According to the video description: "This is a completely fabricated enemy," he said in a phone interview with Press TV from Anaheim, California on Thursday.
Related: Twenty-six Things About the Islamic State (ISIS) that Obama Does Not Want You to Know About
"The funding is completely from the United States and its allies and for people to think that this enemy is something that needs to be attacked in Syria or Iraq is a farce because obviously this is something that we created, we control and only now it has become inconvenient for us to attack this group as a legitimate enemy," Kelley added.
He made the remarks as US President Barack Obama is under pressure to seek congressional approval before expanding Washington's military air campaign against ISIL targets from Iraq into neighboring Syria.
The Pentagon has already launched at least 100 airstrikes on ISIL positions in northern Iraq since Obama authorized the use of force against the terrorist group earlier this month.
The White House insists it does not need explicit congressional authorization for those operations because they are intended to protect American personnel and interests inside the Arab country.
White House press secretary Josh Earnest said Monday that Obama "will not hesitate to use his authority" to keep Americans safe, but added that the president was "committed to coordinating and consulting with Congress" on a decision to hit ISIL targets in Syria.
"If you want to get to the root of the problem and remove this organization, the first thing they need to do is to remove the funding and take care of entities responsible for the creation of this group," Kelley said."I believe that this ISIS group would probably go away, would be easily defeated by the armies of [Syrian President] Bashar Assad," he said.
Related: Delivery of US Weapons and Ammunition to ISIS: Iraqi Commander Wiretaps ISIS Communications with US Military
'Everything the West has done was to create ISIS' – John Pilger
Related Articles:
Shock Report: Pentagon Defies Obama's Policy of Arming ISIS Jihadists
'Everything the West has done was to create ISIS' – John Pilger
Breaking Bullcrap – Episode 1: ISIS Islamic State Worldwide Deception Exposed
Rouhani calls on Muslims to 'correct image of Islam' worldwide
Bombshell! Norway Confirms ISIS Oil Sold into Turkey at Low Prices
Why is a Hate Campaign being Waged against Muslims?
Israel is the Main Purchaser of ISIS Oil
ISIS vows to destroy New Zealand and other enemies in new propaganda video
How Turkey Exports ISIS Oil To The World: The Scientific Evidence
"Humanitarian Supplies" for the Islamic State (ISIS): NATO's Terror Convoys Halted at Syrian Border
The Unexpected Explanation How "That Ford Truck" Ended Up In ISIS Hands
Israeli military showcases 3-year-long medical support operations for Islamic State terrorists
Saving their sworn enemy: Heartstopping footage shows Israeli commandos rescuing wounded men from Syrian warzone – but WHY are they risking their lives for Islamic militants?
From: GlobalResearch / Australian National Review / Geopolitics