Where can I get clean safe water in Wellington NZ?
Where can I get clean safe water in Wellington NZ?
Unfortunately the mains water in Wellington is toxic, like much of the water in NZ, so you need a filtration system to make it safer even for showering or bathing in, let alone drinking. It certainly has fluoride, and chlorine in it, as well as brown slime from time to time, and probably other toxic contaminants.
Most tap water in NZ is toxic because it contains fluoride, chlorine, aluminium (alum), and in some cases (where there are old water pipes) asbestos as well
It's not just drinking the tap water that's a problem – bathing and showering in it can lead to fluoride and chlorine absorption.
A good household carbon filter will take out chlorine, asbestos, and aluminium, but it will not take out fluoride. This requires a more expensive filtration system (around NZ$3000-$5000) to sort out your entire household water supply for bathing and showering. Water that has gone through full filtration systems has no minerals left in it, so is not a good source of drinking water.
Reverse osmosis filters and distillers are cheaper, and can get most of the fluoride out just for drinking, but they remove the good minerals too, and this causes other problems in the long term.
If you are unable to obtain drinking water free from a good source, and have to buy bottled water, keep in mind that some bottled water is just tap water that's been filtered to get rid of the chlorine taste, while some bottled spring water is good quality. Some of the world's best bottled water comes from NZ: www.antipodes.co.nz
In Wellington, bulk clean drinking water is freely available directly from the Petone Aquifer fountain, and the Dowse Art Gallery taps in Lower Hutt, and in small amounts from the Moore Wilson's fountain in Tory St.
Petone Aquifer fountain: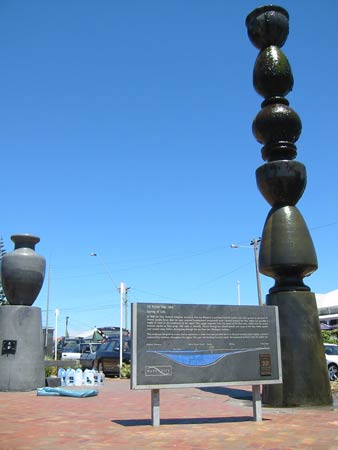 Dowse Art Gallery taps, Lower Hutt: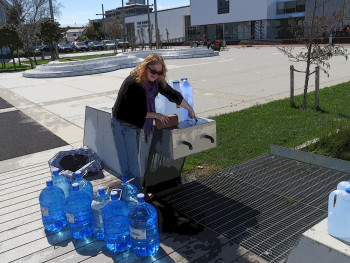 Moore Wilson's fountain:
To get clean water for washing in (which is actually more important than the drinking water because we absorb far more fluoride from showering in it than we do from drinking it) two whole house filters are needed, such as a fluoride master for the fluoride and a carbon filter for the chlorine and other contaminants.
www.watersco.co.nz/fluoridemaster
It's also a good idea to use a pre-filter to take out the brown slime before it clogs the main filters – there is a lot of brown slime and seeing it collect in a filter can be quite an eye opener! – The pre filter cartridges generally need replacing every 2-3 months.
Sorry to say that, it's a nasty and expensive surprise, but fluoride is far more dangerous than most people in NZ realise.
For more info see our page about fluoride:
www.frot.co.nz/wapf/fluoride.htm
We recommend reading Dr Jerry Tennant's book "Healing is Voltage"
www.amazon.com/Healing-Voltage
Also download his free newsletter "hypothyroidism" for a good explanation of what fluoride is really doing.