Government – The Enemy Of Freedom
Government – The Enemy Of Freedom
We're being played for fools. On paper, we may be technically free.
In reality, however, we are only as free as a government official may allow.
Related: When the Police Become Mother Hens

"Rights aren't rights if someone can take them away. They're privileges. That's all we've ever had in this country, is a bill of temporary privileges. And if you read the news even badly, you know that every year the list gets shorter and shorter.
Sooner or later, the people in this country are gonna realize the government … doesn't care about you, or your children, or your rights, or your welfare or your safety… It's interested in its own power.
That's the only thing. Keeping it and expanding it wherever possible."
– George Carlin
We only think we live in a constitutional republic, governed by just laws created for our benefit.
Truth be told, we live in a dictatorship disguised as a democracy where all that we own, all that we earn, all that we say and do – our very lives – depends on the benevolence of government agents and corporate shareholders for whom profit and power will always trump principle.
And now the government is litigating and legislating its way into a new framework where the dictates of petty bureaucrats carry greater weight than the inalienable rights of the citizenry.
We're in trouble, folks.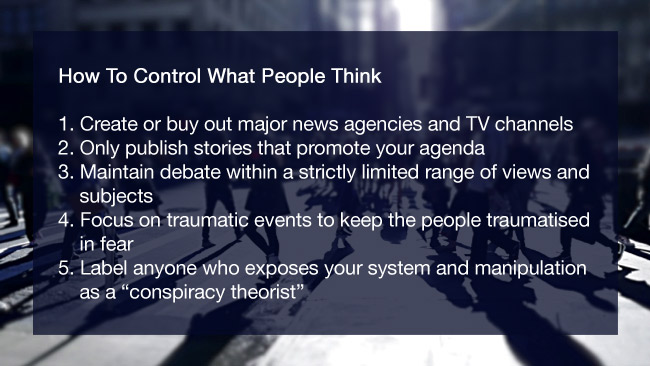 Related: Government Versus Anarchy
Freedom no longer means what it once did.
This holds true whether you're talking about the right to criticize the government in word or deed, the right to be free from government surveillance, the right to not have your person or your property subjected to warrantless searches by government agents, the right to due process, the right to be safe from soldiers invading your home, the right to be innocent until proven guilty and every other right that once reinforced the founders' belief that this would be "a government of the people, by the people and for the people."
Not only do we no longer have dominion over our bodies, our families, our property and our lives, but the government continues to chip away at what few rights we still have to speak freely and think for ourselves.
If the government can control speech, it can control thought and, in turn, it can control the minds of the citizenry.
Related: Open Source Government: True Government Of The People, By The People And For The People
The unspoken freedom enshrined in the First Amendment is the right to think freely and openly debate issues without being muzzled or treated like a criminal.
In other words, if we no longer have the right to tell a Census Worker to get off our property, if we no longer have the right to tell a police officer to get a search warrant before they dare to walk through our door, if we no longer have the right to stand in front of the Supreme Court wearing a protest sign or approach an elected representative to share our views, if we no longer have the right to protest unjust laws by voicing our opinions in public or on our clothing or before a legislative body – no matter how misogynistic, hateful, prejudiced, intolerant, misguided or politically incorrect they might be – then we do not have free speech.
What we have instead is regulated, controlled speech, and that's a whole other ballgame.
Protest laws, free speech zones, bubble zones, trespass zones, anti-bullying legislation, zero tolerance policies, hate crime laws and a host of other legalistic maladies dreamed up by politicians and prosecutors are conspiring to corrode our core freedoms purportedly for our own good.
Related: Have You Ever Felt Like The Government Doesn't Really Care What You Think?
For instance, the protest laws being introduced across the country – in 18 states so far – are supposedly in the name of "public safety and limiting economic damage."
Don't fall for it.
No matter how you package these laws, no matter how well-meaning they may sound, no matter how much you may disagree with the protesters or sympathize with the objects of the protest, these proposed laws are aimed at one thing only: discouraging dissent.
In Arizona, police would be permitted to seize the assets of anyone involved in a protest that at some point becomes violent.
In Minnesota, protesters would be forced to pay for the cost of having police on hand to "police" demonstrations.
Oregon lawmakers want to "require public community colleges and universities to expel any student convicted of participating in a violent riot."
A proposed North Dakota law would give drivers the green light to "accidentally" run over protesters who are blocking a public roadway. Florida and Tennessee are entertaining similar laws.
Pushing back against what it refers to as "economic terrorism," Washington wants to increase penalties for protesters who block access to highways and railways.
Anticipating protests over the Keystone Pipeline, South Dakota wants to apply the governor's emergency response authority to potentially destructive protests, create new trespassing penalties and make it a crime to obstruct highways.
In Iowa, protesters who block highways with speeds posted above 55 mph could spend five years in prison, plus a fine of up to $7,500. Obstruct traffic in Mississippi and you could be facing a $10,000 fine and a five-year prison sentence.
A North Carolina law would make it a crime to heckle state officials. Under this law, shouting at a former governor would constitute a crime.
Indiana lawmakers wanted to authorize police to use "any means necessary" to breakup mass gatherings that block traffic. That legislation has since been amended to merely empower police to issue fines for such behavior.
Georgia is proposing harsh penalties and mandatory sentencing laws for those who obstruct public passages or throw bodily fluids on "public safety officers."
Virginia wants to subject protesters who engage in an "unlawful assembly" after "having been lawfully warned to disperse" with up to a year of jail time and a fine of up to $2,500.
Missouri wants to make it illegal for anyone participating in an "unlawful assembly" to intentionally conceal "his or her identity by the means of a robe, mask, or other disguise."
Colorado wants to lock up protesters for up to 18 months who obstruct or tamper with oil and gas equipment and charge them with up to $100,000 in fines.
Oklahoma wants to create a sliding scale for protesters whose actions impact or impede critical infrastructure. The penalties would range from $1,000 and six months in a county jail to $100,000 and up to 10 years in prison. And if you're part of an organization, that fine goes as high as $1,000,000.
Michigan hopes to make it easier for courts to shut down "mass picketing" demonstrations and fine protesters who block entrances to businesses, private residences or roadways up to $1,000 a day. That fine jumps to $10,000 a day for unions or other organizing groups.
Ask yourself: if there are already laws on the books in all of the states that address criminal or illegal behavior such as blocking public roadways or trespassing on private property – because such laws are already on the books – then why does the government need to pass laws criminalizing activities that are already outlawed?
What's really going on here?

No matter what the politicians might say, the government doesn't care about our rights, our welfare or our safety.
How many times will we keep falling for the same tricks?
Every despotic measure used to control us and make us cower and fear and comply with the government's dictates has been packaged as being for our benefit, while in truth benefiting only those who stand to profit, financially or otherwise, from the government's transformation of the citizenry into a criminal class.
Remember, the Patriot Act didn't make us safer. It simply turned American citizens into suspects and, in the process, gave rise to an entire industry – private and governmental – whose profit depends on its ability to undermine our Fourth Amendment rights.
Placing TSA agents in our nation's airports didn't make us safer.
It simply subjected Americans to invasive groping, ogling and bodily searches by government agents.
Now the TSA plans to subject travelers to even more "comprehensive" patdowns.
So, too, these protest laws are not about protecting the economy or private property or public roads. Rather, they are intended to muzzle discontent and discourage anyone from challenging government authority.
These laws are the shot across the bow.
They're intended to send a strong message that in the American police state, you're either a patriot who marches in lockstep with the government's dictates or you're a pariah, a suspect, a criminal, a troublemaker, a terrorist, a radical, a revolutionary.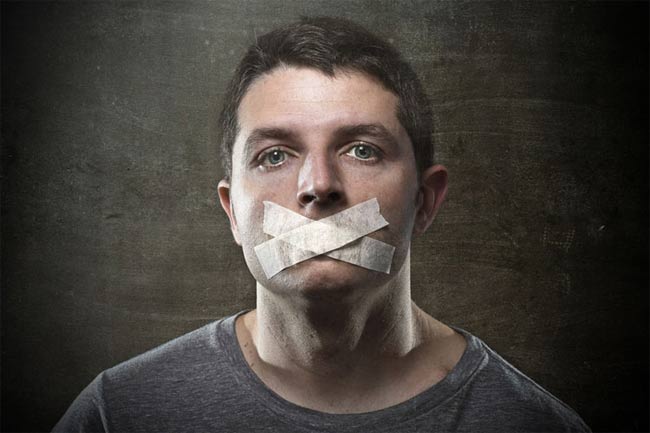 Related: How A Secretive Elite Created The EU To Build A World Government
Yet by muzzling the citizenry, by removing the constitutional steam valves that allow people to speak their minds, air their grievances and contribute to a larger dialogue that hopefully results in a more just world, the government is deliberately stirring the pot, creating a climate in which violence becomes inevitable.
When there is no steam valve – when there is no one to hear what the people have to say, because government representatives have removed themselves so far from their constituents – then frustration builds, anger grows and people become more volatile and desperate to force a conversation.
Then again, perhaps that was the government's plan all along.
As John F. Kennedy warned in March 1962, "Those who make peaceful revolution impossible will make violent revolution inevitable."
The government is making violent revolution inevitable.
How do you lock down a nation?
You sow discontent and fear among the populace. You terrorize the people into believing that radicalized foreigners are preparing to invade.
You teach them to be non-thinkers who passively accept whatever is told them, whether it's delivered by way of the corporate media or a government handler. You brainwash them into believing that everything the government does is for their good and anyone who opposes the government is an enemy.
You acclimate them to a state of martial law, carried out by soldiers disguised as police officers but bearing the weapons of war. You polarize them so that they can never unite and stand united against the government.
Click on the image above to see more detail in a new window
Related: 10 Government Rulers Who Have Told Us A "Secret Government" Rules The Earth
You create a climate in which silence is golden and those who speak up are shouted down. You spread propaganda and lies. You package the police state in the rhetoric of politicians.
And then, when and if the people finally wake up to the fact that the government is not and has never been their friend, when it's too late for peaceful protests and violence is all that remains to them as a recourse against tyranny, you use all of the tools you've been so carefully amassing – the criminal databases and surveillance and identification systems and private prisons and protest laws – and you shut them down for good.
As I make clear in my book Battlefield America: The War on the American People, once a government assumes power – unconstitutional or not – it does not relinquish it.
The militarized police are not going to stand down.
Related: The Proof Is In: The US Government Is The Most Complete Criminal Organization In Human History
The NSA will continue to collect electronic files on everything we do. More and more Americans are going to face jail time for offenses that prior generations did not concern themselves with.
The government – at all levels – could crack down on virtually anyone at any time.
Martin Luther King saw it coming: both the "spontaneous explosion of anger by various citizen groups" and the ensuing crackdown by the government.
"Police, national guard and other armed bodies are feverously preparing for repression," King wrote shortly before he was assassinated.

"They can be curbed not by unorganized resort to force…but only by a massive wave of militant nonviolence…

It also may be the instrument of our national salvation."

Militant nonviolent resistance.
"A nationwide nonviolent movement is very important," King wrote. "We know from past experience that Congress and the President won't do anything until you develop a movement around which people of goodwill can find a way to put pressure on them…
This means making the movement powerful enough, dramatic enough, morally appealing enough, so that people of goodwill, the churches, laborers, liberals, intellectuals, students, poor people themselves begin to put pressure on congressmen to the point that they can no longer elude our demands.
It must be militant, massive nonviolence," King emphasized.

In other words, besides marches and protests, there would have to be civil disobedience. Civil disobedience forces the government to expend energy in many directions, especially if it is nonviolent, organized and is conducted on a massive scale.
Related: A Constitutional Timebomb: Is New Zealand's Government And Court System Unlawful?
This is, as King knew, the only way to move the beast. It is the way to effect change without resorting to violence. And it is exactly what these protest laws are attempting to discourage
We are coming to a crossroads. Either we gather together now and attempt to restore freedom or all will be lost.
As King cautioned, "everywhere, 'time is winding up,' in the words of one of our spirituals, corruption in the land, people take your stand; time is winding up."
Related Articles:
Young People Feel Betrayed By New Zealand Government
CAFR Update: How The New Zealand Government Hides Billions (Trillions) In Slush Funds
Globalists Interviewed: They Admitted They Controlled The Government
This is a bombshell. It's a crucial piece of history that has been ignored by mass media.
I've published this interview before. Here I want to make new comments.
Related: Former Presidents Warn About The "Invisible Government" Running The United States
First of all, David Rockefeller's Trilateral Commission was born in 1973, in part because the Globalist plan to ensure "free trade" (no tariffs paid by predatory mega-corporations) had run into a glitch.
That glitch was President Richard Nixon. He began laying tariffs on certain goods imported into the US, in order to level the playing field and protect American companies. Nixon, a substantial crook in other respects, went off-script in this case and actually started a movement to reject the Globalist vision.
After Nixon's ouster from the White House, Gerald Ford became president, and he chose David's brother, Nelson Rockefeller as his vice-president. It was a sign Globalism and free trade were back on track.
But David Rockefeller and his sidekick, Brzezinski, wanted more. They wanted a man in the White House whom they'd created from scratch.
That man was a peanut farmer no one had ever heard of: Jimmy Carter.
Through their media connections, David and Brzezinski vaulted Carter into the spotlight. He won the Democratic nomination (1976), spread a syrupy message of love and coming together after the Watergate debacle, and soon he was ensconced in the Oval Office.
Flash forward to 1978, the second year of Carter's presidency. An interview took place.
It's a close-up snap shot of a remarkable moment. It's a through-the-looking-glass secret – in the form of a conversation between a reporter, Jeremiah Novak, and two Trilateral Commission members, Karl Kaiser and Richard Cooper.
The interview concerned the issue of who exactly, during President Carter's administration, was formulating and controlling US economic and political policy.
The careless and off-hand attitude of Trilateralists Kaiser and Cooper is astonishing. It's as if they're saying, "What we're revealing is already out in the open, it's too late to do anything about it, why are you so worked up, we've already won…"
"NOVAK (the reporter): Is it true that a private [Trilateral committee] led by Henry Owen of the US and made up of [Trilateral] representatives of the US, UK, West Germany, Japan, France and the EEC is coordinating the economic and political policies of the Trilateral countries [which would include the US]?

COOPER: Yes, they have met three times.

NOVAK: Yet, in your recent paper you state that this committee should remain informal because to formalize 'this function might well prove offensive to some of the Trilateral and other countries which do not take part.' Who are you afraid of?

KAISER: Many countries in Europe would resent the dominant role that West Germany plays at these [Trilateral] meetings.

COOPER: Many people still live in a world of separate nations [!], and they would resent such coordination [of policy].

NOVAK: But this [Trilateral] committee is essential to your whole policy. How can you keep it a secret or fail to try to get popular support [for its decisions on how Trilateral member nations will conduct their economic and political policies]?

COOPER: Well, I guess it's the press' job to publicize it.

NOVAK: Yes, but why doesn't President Carter come out with it and tell the American people that [US] economic and political power is being coordinated by a [Trilateral] committee made up of Henry Owen and six others? After all, if [US] policy is being made on a multinational level, the people should know.

COOPER: President Carter and Secretary of State Vance have constantly alluded to this in their speeches.

KAISER: It just hasn't become an issue.

Source: "Trilateralism: The Trilateral Commission and Elite Planning for World Management," ed. by Holly Sklar, 1980. South End Press, Boston. Pages 192-3.
Of course, although Kaiser and Cooper claimed everything being manipulated by the Trilateral Commission committee was already out in the open, it wasn't.
Their interview slipped under the mainstream media radar, which is to say, it was ignored and buried. It didn't become a scandal on the level of, say, Watergate, although its essence was far larger than Watergate.
US economic and political policy run by a committee of the Trilateral Commission – the Commission had been created in 1973 as an "informal discussion group" by David Rockefeller and his sidekick, Brzezinski, who would become Jimmy Carter's National Security Advisor.
Shortly after Carter won the presidential election, his aide, Hamilton Jordan, said that if after the inauguration, Cy Vance and Brzezinski came on board as secretary of state and national security adviser, "We have lost. And I will quit."
Lost – because both men were powerful members of the Trilateral Commission and their appointment to key positions would signal a surrender of White House control to the Commission.
Vance and Brzezinski were appointed secretary of state and national security adviser, as Jordan feared. But he didn't quit. He became Carter's chief of staff.
Flash forward again, to the Obama administration.
Related: EXPOSED: CIA – Swamp Monsters Three Factions that Control the World
In the run-up to his inauguration after the 2008 presidential election, Obama was tutored by the co-founder of the Trilateral Commission, Zbigniew Brzezinski.
Four years before birthing the Commission with his boss of bosses, David Rockefeller, Brzezinski wrote:

"[The] nation state as a fundamental unit of man's organized life has ceased to be the principal creative force. International banks and multinational corporations are acting and planning in terms that are far in advance of the political concepts of the nation state."
Goodbye, separate nations.
Any doubt on the question of Trialteral goals is answered by David Rockefeller himself, in his Memoirs (2002):
"Some even believe we are part of a secret cabal working against the best interests of the United States, characterizing my family and me as 'internationalists' and of conspiring with others around the world to build a more integrated global political and economic structure – one world, if you will. If that is the charge, I stand guilty, and I am proud of it."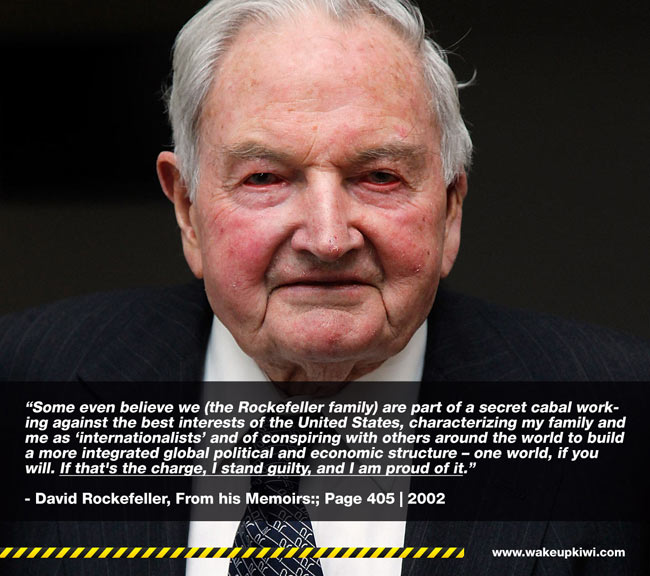 Patrick Wood, author of Trilaterals Over Washington and Technocracy Rising, points out there are only 87 members of the Trilateral Commission who live in America.
Obama appointed eleven of them to posts in his administration. For example:
Tim Geithner, Treasury Secretary;
James Jones, National Security Advisor;
Paul Volker, Chairman, Economic Recovery Committee;
Dennis Blair, Director of National Intelligence.
Here is the payoff. The US Trade Representative (appointed by Obama in 2013), who was responsible for negotiating the Globalist TPP (Trans-Pacific Partnership) treaty with 11 other nations, was Michael Froman, a former member of the Trilateral Commission.
Don't let the word "former" fool you. Commission members resign when they take positions in the Executive Branch of government. And when they serve in vital positions, such as US Trade Representative, they aren't there by accident. They're operatives with a specific agenda.
Flash forward one more time. Trump, who squashed the Globalist TPP treaty as soon as he was inaugurated, has been busy making staff appointments. Patrick Wood writes (2/6/17):
"According to a White House press release, the first member of the Trilateral Commission has entered the Trump administration as the Deputy Assistant to the President for International Economic Affairs, where he will sit on the National Security Council:
Kenneth I. Juster will serve as Deputy Assistant to the President for International Economic Affairs. He will coordinate the Administration's international economic policy and integrate it with national security and foreign policy. He will also be the President's representative and lead U.S. negotiator ("Sherpa") for the annual G-7, G-20, and APEC Summits."
Juster's duties will take him into the heart of high-level negotiations with foreign governments on economic policy.
Keep your eye on Mr. Juster. Will he take actions in line with Trump's avowed anti-Globalist stance? Or will Juster work as one more covert Trilateral operative in the center of American decision-making?
If the answer is "covert operative," does Trump know this? Does he condone what Mr. Juster will do? Or is this a case of secret infiltration, on behalf the most powerful Globalist group in the world, the Trilateral Commission?
From: Sott / JonRappoport