The True Cost Of Israel
America's support to Israel goes far beyond the official numbers. The American Israel Public Affairs Committee (AIPAC) concluded its annual conference late last month, triggering the usual debate in various alternative media outlets.
Why does so much U.S. taxpayer money go to a small and not particularly useful client state that has a vibrant European-level economy and is already a regional military colossus?
Related: Israel's never-ending crimes: It's not just settlements
Those who support the cash flow argue that Israel is threatened, most notably by Iran; they claim the assistance, which has been largely but not completely used to buy American-made weapons, is required to maintain a qualitative edge over the country's potential enemies.
Those who oppose the aid would counter that the Iranian threat is largely an Israeli and Saudi Arabian invention, used to justify continued American support for the national-security policies of both countries. And they would add that Tel Aviv is more than able to defend itself and pay for its own military establishment.
In truth, American aid to Israel is something like a pot of gold that keeps on giving. Both sides in the discussion would probably agree that the domestic Israel Lobby has been instrumental in sustaining the high level of aid, though they would undoubtedly disagree over whether that is a good or bad thing.
The operation of "The Lobby," generally regarded as the most powerful voice on foreign policy in Washington, led Professors Stephen Walt and John Mearsheimer to ask:
"Why has the U.S. been willing to set aside its own security … in order to advance the interests of another state? [No] explanation can account for the remarkable level of material and diplomatic support that the U.S. provides."
They observed that "Other special interest groups have managed to skew foreign policy, but no lobby has managed to divert it as far from what the national interest would suggest, while simultaneously convincing Americans that U.S. interests and those of the other country – in this case, Israel – are essentially identical."
Since the foundation of the state of Israel in 1948, it has been "the largest cumulative recipient of U.S. foreign assistance since World War II,"  according to the Congressional Research Service. The United States has provided Israel with $233.7 billion in adjusted for inflation aid between 1948 through the end of 2012, reports Haaretz.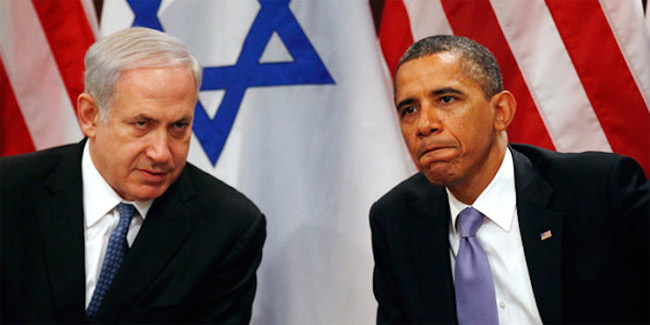 Related: Nazionist Mafia Circles The Wagons As Investigations Zero In On Bush / Netanyahu
Current discussions center on the Obama administration's memo of understanding with Israel that promised it $38 billion in military assistance over the next 10 years, a considerable sum but nevertheless a total that is far less than what is actually received annually from the United States Treasury and from other American sources.
Senator Lindsey Graham (R-S.C.), speaking in the most recent legislative discussion over Israeli aid, stated that the $38 billion should be regarded as a floor, and that Congress should approve additional funds for Israeli defense as needed. It has, in fact, done so.
At its most recent meeting, AIPAC announced the latest windfall from America, applauding:
"The U.S. House of Representatives for significantly bolstering its support of U.S.-Israel missile defense cooperation in the FY 2017 defense appropriations bill.
The House appropriated $600.7 million for U.S.-Israel missile defense programs."
Related: Nazionists Are On Some Agonizing Deathbed Tantrums
And there is a long history of such special funding for Israeli-connected projects. The Iron Dome missile-defense system was largely funded by the United States, to the tune of more than $1 billion.
In the 1980s, the Israeli Lavi jet-fighter development program was funded by Washington, costing $2 billion to the U.S. taxpayer before it was terminated over technical and other problems, part of $5.45 billion in Pentagon funding of various Israeli weapons projects through 2002.
The admittedly unreliable former Congressman James Traficant once claimed that "Israel gets $15 billion per year from the American taxpayers."
Indeed, how Israel gets money from the United States is actually quite complex and not very transparent to the American public, going well beyond the check for $3.8 billion handed over at the beginning of the fiscal year on October 1. Even that check, uniquely given to aid recipient Israel as one lump sum on the first day of the year, is manipulated to produce extra revenue.
Related: The Occupation of the American Mind
It is normally immediately redeposited with the U.S. Treasury, which then, because it operates on a deficit, borrows the money to pay interest on it as the Israelis draw it down. That interest payment costs the American taxpayer an estimated $100 million more per year.
Israel has also been adept at using "loan guarantees," an issue that may have contributed to the downfall of President George H.W. Bush. The reality is that the loans, totaling $42 billion, are never repaid by Israel, meaning that the United States Treasury picks up the tab on principle and interest, a form of additional assistance. The Bush-era loan amounted to $10 billion.
Department of Defense co-production projects, preferential contracting, "scrapping" or "surplusing" of usable equipment that is then turned over to the Israel Defense Forces (IDF), as well as the forward deployment of military hardware to an Israeli-run base in Israel (used to support local military operations), are considerable benefits to Tel Aviv's bottom line. Much of this assistance is hidden from view.
Related: New Zealand's Zionist Diplomacy In The UN Security Council: "Israel Has A Right To Defend Itself"
In 1992, AIPAC President James Steiner bragged how he "got almost a billion dollars in other goodies [in negotiations with Secretary of State Jim Baker] that people don't even know about." In September 2012, Israel's former commander-in-chief, Gen. Gabi Ashkenazi, admitted at a conference that between 2009 and 2012 American taxpayers had paid for more of his country's defense budget than had Israeli taxpayers.
Those numbers have been disputed, but the fact remains that a considerable portion of the Israeli military spending comes from the United States. It currently is more than 20 percent of the total $16 billion budget, not counting special appropriations.
Through tax exemptions, the U.S. government also subsidizes the coordinated effort to provide additional assistance to Israel.

No other lobbying effort to promote the interests of a foreign country benefits in like fashion, and, indeed, most similar groups are required to register under the Foreign Agents Registration Act of 1938, as former National Security Advisor Michael Flynn has learned to his chagrin regarding Turkey.
Most organizations and foundations that might reasonably be considered active parts of the Israel Lobby are generally registered with the Department of the Treasury as 501(c)3 tax-exempt educational foundations. Grant Smith, speaking at a conference on the U.S. and Israel on March 24, explained how the broader Israel Lobby uses this legal framework:
"Key U.S. organizations include the American Israel Public Affairs Committee (AIPAC), the American Jewish Committee (AJC), the Zionist Organization of America (ZOA) and the Anti-Defamation League (ADL).
Hundreds more, including a small number of evangelical Christian organizations, play a role within a vast ecosystem that demands unconditional U.S. support for Israel.
In the year 2012 the nonprofit wing of the Israel lobby raised $3.7 billion in revenue. They are on track to reach $6.3 billion by 2020. Collectively they employed 14,000 and claimed 350,000 volunteers."
The $3.7 billion raised in 2012 was largely tax exempt and it does not include the billions in private donations that go directly to Israel, as well as the billions in contributions that are regarded as covered by "religious exemptions" for groups that don't file at all.
There are also contributions sent straight to various Israeli-based foundations that are themselves often registered as charities.
Related: The Israeli Government Is The Most Anti-Semitic Organisation On The Face Of The Earth: Enough Of The Zionist Satanism
The Forward magazine investigated 3,600 Jewish tax-exempt charitable foundations in 2014 and determined that they had net assets of $26 billion, $12 – 14 billion in annual revenue, and "focuse[d] the largest share of [their] donor dollars on Israel." That share amounted to 38 percent of total income.
The Forward adds that it is:
"An apparatus that benefits massively from the U.S. federal government and many state and local governments, in the form of hundreds of millions of dollars in government grants, billions in tax-deductible donations and billions more in program fees paid for with government funds."
Some pro-Israel foundations are in-your-face about their goals. The Friends of the Israel Defense Forces, which "Support[s] the wellbeing and education needs of Israel's brave soldiers," is a registered tax-exempt charity that conducts fundraisers throughout the United States.
Money being fungible, some American Jews have been surprised to learn that the donations that they had presumed were going to what they regard as charitable causes in Israel have instead wound up in expanding the illegal settlements on the West Bank, an objective that they might not support.
It was recently reported that Donald Trump's son-in-law and advisor Jared Kushner has a family foundation that has made donations to Israel, including funding of West Bank settlements, which is illegal under U.S. law.
Israel also benefits in other ways, frequently due to legislative action by Congress. It enjoys free and even preferential trade status with the United States and runs a $9 billion trade surplus per annum.
Its companies and parastatal organizations can, without any restrictions, bid on U.S. defense and homeland-security projects – a privilege normally only granted to NATO partners – which has given it dominance in some U.S. law-enforcement, telecommunications, and travel-security sectors.
Its involvement in the development and use of classified military technologies developed by U.S. arms producers has sometimes led to claims that Israel has adopted and adapted – or even stolen – proprietary information and then used it to develop its own arms industry, which is now ranked sixth in the world by volume of sales.
Ironically, U.S. taxpayers have subsidized an Israeli industry that then competes directly with American companies, producing a loss of jobs in the United States.
There has also been considerable collateral damage derived from the relationship with Israel, including the Arab Oil embargo and possibly even some blame for the ruinous cost of Iraq, which many believe to have been fought in part for Israel.
But even without that war, the U.S.-Israeli bilateral relationship has been an expensive proposition for Americans. Whether Israel is a strategic liability or not, or whether its complicated geostrategic situation merits virtually unquestioning support from the United States, the reality is that it has a lopsided relationship with Washington.


Related: 'The Motherlode of Jewish Lists' – Everything you ever wanted to know about Jewish control of American society
This has long been and continues to be largely paid for by the United States taxpayer, who is not as well off as he once was.
The U.S.-Israel relationship is yet another instance where the perceived needs of an American "ally" take precedence over genuine national interests. Tens of billions of dollars need not necessarily be spent to placate a wealthy foreign country and its powerful domestic lobby.
Indeed, other options to employ the money closer to home – in the form of schools, highways, and hospitals – may become increasingly attractive to American voters.
Philip Giraldi, a former CIA officer, is executive director of the Council for the National Interest.

The Reality Of Zionist Control
The Zionist control of the media, both traditional, mainstream and alternative is nothing new, it has been an on-going process for over a century, as evidenced by the Protocols of The Learned Elders of Zion:
Protocol XII – Control of the Press: We Control The Press: NOT A SINGLE ANNOUNCEMENT WILL REACH THE PUBLIC WITHOUT OUR CONTROL. Even now this is already being attained by us inasmuch as all news items are received by a few agencies, in whose offices they are focused from all parts of the world. These agencies will then be already entirely ours and will give publicity only to what we dictate to them.
Related: Were Hitler & Nazism Zionist Creations?
It is worth reading the full text of Protocol XII in order to understand how and why the Zionists have taken control of the world's media.
Comment: Personally I hate this subject – it drives straight to the core of the Cabal. The article on the following link describes the history in detail. The Khazarian Zionists run the Cabal – they hide within Judaism.
Jews are NOT a race. Judaism is a RELIGION. Zionism is a POLITICAL MOVEMENT. One does not have to be a Jew to be a Zionist. One does not have to be a Zionist to be a Jew.
The Zionists hide within the religion of Judaism behind their over-hyped and manufactures 'Apocaluypse' with their crybaby 'Anti-Semitic' rhetort – when in fact they visited they have most heinous atrocoties upon their cover-story people the Jewish – whilst raping and murdering their way arounf the world on their quest to bring in their fascist, Luciferian New World Order.
Jews are NOT the problem. The Khazarian Zionists are the problem. AND THEY WANT YOU DEAD if you are not one of them – as has been stated in the public domain for decades.
Related: The Hidden History Of The Incredibly Evil Khazarian Mafia [Illuminati Cabal Zionists…]
Related: Zionist Organized Crime
"The best way to control the opposition is to lead it ourselves."
– Vladimir Ilyich Lenin
Rather than use the term Zionist, we are best served by Khazarian Mafia, a term coined by Dr. Preston James. The Khazarians are a group that formed a parasitic nation during the early first millennium, northern Turkey, the Ukraine, Belarus and a bit of Kazakhstan.
Because they were so vile, so hated, their neighbors had the choice of either wiping them out or reforming them. They were given the chance to choose a religion, available at the time, Islam, really reformed Judaism, Christianity, really repackaged Greco-Roman pagan worship and Judaism. They chose the latter.
With the barbarian invasions, Khazaria was broken up and their population pushed across Eastern Europe, making up the Jewish populations later rounded up by Hitler.
Related: Jewish Power-The power to silence criticism of Jewish Power
None were Semitic, their genetics, when tested, prove that out by 95% according to Johns Hopkins.
Real Jews went to Morocco, Spain, Persia and Iraq, even into Africa. Most real "Jews" became Palestinians, changing their religion to Christianity and then Islam, as governments required at the time.
Without the expertise of Israel, neither congress nor the Pentagon could get paid, terrorists and jihadists would never travel freely around the world like wraiths and some of our curious and improbable acts of terror just might have never occurred; but this sounds a bit like conspiracy theory so we must move on.
Related Articles:
Crypto Jews In The Music Industry, Hollywood, And The Media – Hidden In Plain Sight
Why Did the Al-Jazeera Expose Fail?
Stop Everything You Do and Watch This!
The Plot Against Britain…
A Short Film On British Forgiveness
RabbI Meir Kahane On The Jewish State
Tzipi Livni cancels Brussels trip, war crimes summons scare her off?
Violence: The only language of a Jewish state
Benjamin Netanyahu faces 'criminal investigation' over fraud and bribery claims
Netanyahu 'told New Zealand backing UN vote would be declaration of war'
Israel Threatens to Wipe New Zealand Off the Map
"Being a Jew and a Zionist are one and the same" (Jewish Chronicle)
Khazarians Aim for A Chilling Effect on Judge Scalia's Murder
The Glorification of Antonin Scalia
New Zealand university professor subjected to pro-Zionist witch-hunt
Can Jews ever leave their Cult
---
The Balfour Declaration At 100: Seeds Of Discord
A hundred years since Britain's infamous declaration, its repercussions are still felt across the Middle East today.
The Balfour Declaration was a public promise by the British government during World War One, announcing support for the establishment of "a national home for the Jewish people" in Palestine. Palestine was still a part of the Ottoman Empire at the time, with a minority Jewish population.
Related: The Balfour Declaration – One Hundred Years of (Goyim) Solitude
The 67-word document, in the form of a letter from British Foreign Secretary Arthur Balfour to the prominent British Jewish figure, Lord Rothschild, dated November 2, 1917, read:
His Majesty's government view with favour the establishment in Palestine of a national home for the Jewish people, and will use their best endeavours to facilitate the achievement of this object, it being clearly understood that nothing shall be done which may prejudice the civil and religious rights of existing non-Jewish communities in Palestine, or the rights and political status enjoyed by Jews in any other country.
Whatever its real intentions, the declaration has had a profound impact on the Middle East and its people; and its effects still resonate across the region today.
"Without Britain, the state of Israel wouldn't have been established. No question. Without the Zionists, it wouldn't have been established."
– Motti Golani, historian, Haifa University
The British War Cabinet began to consider the future of Palestine during World War One in which it fought the central powers of Germany, Austria-Hungary and the Ottoman Empire.
Related: Why the British Government Sold Out the Palestinians
According to historian and author Jonathan Schneer, the British somehow "felt that the Jews held the key to winning the war and so they had to figure out how to bribe the Jews to support them."
James Renton of Edge Hill University elaborates on British motives:
"We can boil it down to two elements of British self-interest at that time. Not an emotional interest in Zionism or a love of Jews and the Jewish plight and the desire for return of the Jews to the holy land, no… they wanted to mobilise the allies behind Britain and this idea of Jewish power in the world.
They were all of the different policy elites in the war – believers in the notion that Jews who have tremendous influence in the corridors of power around the globe.
If the British government appeared to support Zionism, they would win over World Jewry to their side, and all that entailed. The British were convinced that Zionism was really at the centre of the Jewish heart."
Whatever its basis, the relationship between the British Zionists and the government was established in late 1916 and continued to develop throughout 1917, leading to the Declaration in November.
It was the first expression of public support for Zionism by a major political power.
"As a term, 'a national home' didn't exist", says Palestinian historian Basheer Nafi. "At that time, international law was well developed. They could have used 'self-governance' or 'independent state'. There was no such a term in international law as 'a national homeland'. What did 'a national home for the Jews in Palestine' mean?"
The term "national home" was intentionally vague as to whether a Jewish state was contemplated. The intended boundaries of Palestine were not specified, and the British government later confirmed that the words "in Palestine" meant that the Jewish national home was not intended to cover all of Palestine.
Related: Balfour Declaration: Banksy holds 'apology' party for Palestinians
The second half of the declaration was added to satisfy opponents of the policy, who had claimed that it would otherwise prejudice the position of the local population of Palestine and encourage anti-semitism against Jews worldwide.
While the declaration called for political rights in Palestine for Jews, rights for the Palestinian Arabs, who comprised the vast majority of the local population, were limited to civil and religious rights.
"The Jews were described as a people with the right to self-determination while the Arabs were considered non-Jewish communities," explains French historian Philippe Prevost. "They didn't even mention the name of the Arabs. They were called non-Jewish. They only could enjoy civil and religious rights. They had no political rights."
But the Balfour Declaration set in motion a series of events that, over two decades, began to signal its deep flaws.
The British proposed partitioning Palestine into separate Arab and Jewish states, but Arab dissent built up to the three-year Revolt between 1936 and 1939. It was a nationalist uprising against the British administration, demanding Arab independence and the end of Jewish immigration.
In May 1939, the British government had begun to reconsider its position and published a policy document, known in the UK as a White Paper. It proposed abandoning the partition of Palestine into two states – and called instead for an independent Palestine in which Arabs and Jews would share government.
Related: The Balfour Declaration Explained
It limited Jewish immigration to 75,000 for five years and said that the Arab majority should determine future immigration levels. It also said that Balfour had not meant to create a Jewish state at the expense of the Arabs – any more than the McMahon-Hussein correspondence 24 years before had promised an Arab state to Sharif Hussein of Mecca.
But the White Paper faced opposition on several fronts and was dropped by a British government suddenly preoccupied with the Second World War.
A hundred years on, the declaration's effects still resonate across the Middle East. It still represents to Palestinians the moment an imperial power promised their land away to another people. They hold Balfour responsible for their expulsion, displacement and occupation.
Related: The Balfour Declaration: World Zionism and World War I
From: TheAmericanConservative / VeteransToday