Some truths about "Conspiracy Theorists"
Nine

Truths About "Conspiracy Theorists" and another unintended one



If the masses ever woke up and understood what the term "conspiracy theory" really means or recognised the truth about "conspiracy theorists," who they are, what they stand for, the world ruling elite's hold on humanity would be over.


Their deceptive cover would be blown wide open and there would be consequences.
Related: The Telegraph: Perhaps The World's Conspiracy Theorists Have Been Right All Along
So, in light of the above, here are nine truths about "conspiracy theorists."
"Conspiracy Theorists"
1. …have to put up with much ignorance, and as a knee-jerk reaction, baseless accusation of "conspiracy theory." "Conspiracy theory" carries with it the deriding insinuation that there are no conspiracies (no conspiracy facts, just theory). Who could be so brainwashed, unquestioningly ignorant, or naïve enough to believe that no country has ever conspired?
2. Are conspiracy factualists. Using evidence they expose the truth about what's really going on in the world. They expose the deceitful criminal perpetrator networks and authorities. Therefore, the term "conspiracy theorist" is a misnomer.
Related: 10 "Conspiracy Theories" That Came True
3. Give credible accounts of events, diligently challenging the official versions filled with lies, inconsistencies, fake bogeymen enemies and false paradigms… manufactured for power, profit and political gains. Many official versions of these false flag events have big enough holes in their stories to drive double-decker buses in and out of.
Further, they expose financial, health, environmental, educational and war agendas, the secret occult societies, paedophilia, organ harvesting and black ops projects… the ruling elite enslavers don't want you know about.
Then there are the eugenics, trans-humanism and depopulation agendas… these blatantly obvious conspiracy facts are there for all to see.
4. As a consequence of 3, are perceived by the ruling elite and their associates as a threat. In order to get away with their crimes and deception they know that "conspiracy theorists" have to be ignored, invalidated, or ridiculed by the masses: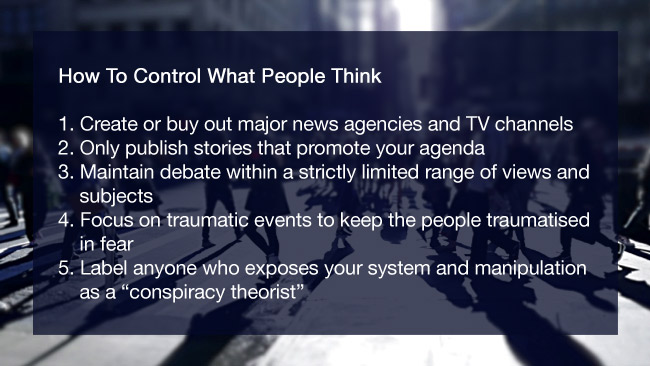 Related: 10 More Conspiracy Theories That Turned Out To Be True
The term "conspiracy theory" was originally a 1960s' CIA invention. Over the years the ruling elite's owned and controlled intelligence agencies such as the CIA and their mainstream media propaganda machine have used this term to expand its effect of negatively stigmatizing "conspiracy theorists" so that the masses will never realize that these people were right all along.
5. …therefore are truther messengers running the risk of getting shot. They are targeted individuals. Targeted by the likes of the UK's ex-Prime Minister David Cameron, calling them "non-violent domestic extremists" as one of the many attempts to silence such people who have seen right through the phoney baloney.
6. Are not "coincidence theorists."  How can anyone dismiss the overwhelming number of coincidences pointed out by "conspiracy theorists" to be indicators of crimes and cover-ups tied in with false flag events?  Is it really a mere coincidence that it's always the elite few; the banksters, the puppet senior politicians, the owner/controllers of mega-corporations that benefit from these events?
Related: Conspiracy Theories: Scavenging For Truth
7. Are the freethinking minority able to think for themselves against the backdrop: a world full of sheep-like people going into agreement with the general consensus of the masses while blindly accepting authority viewpoints blurted out in the ruling elite's bought-off, owned and controlled mainstream media…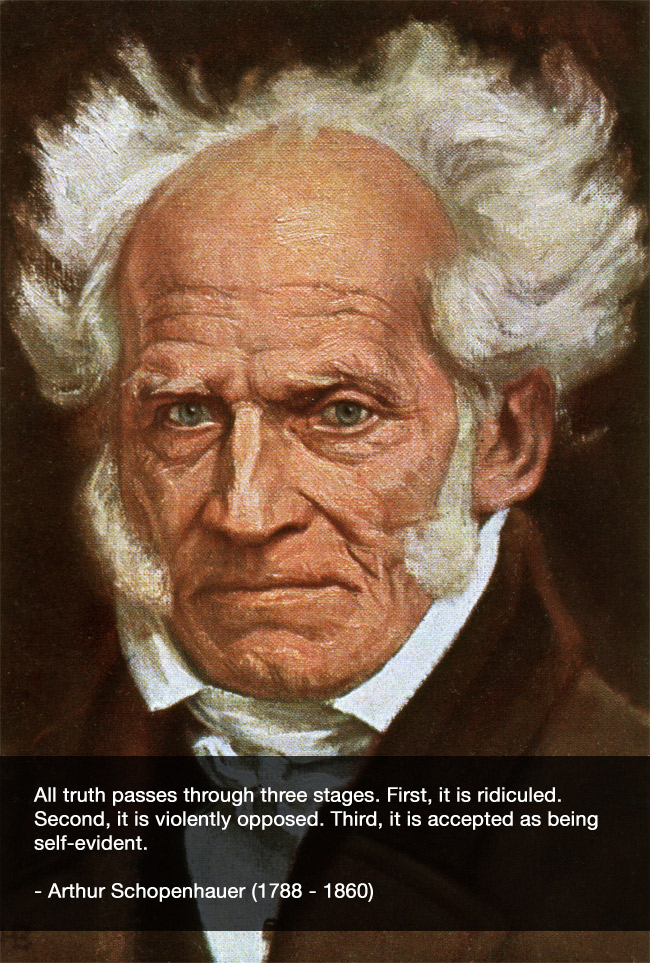 Related: Scientific Study: 'Conspiracy Theorists' Are The Sanest Of All
8. Consistent with Arthur Schopenhauer's statement, in time, with their conspiracy facts, could be the majority stage-3: "…accepted as being self-evident."  
9. …Are who the world's needs most: Unstoppable, increasing in numbers and gathering in momentum. They are laudable investigators.
They are peaceful activists, spreading the truth about what's really going on in the world. Many do their inner work to co-create a turnaround, away from the planned doom and gloom.  Thus, it is their intention to co-create freedom: A new paradigm experience, a world that truly makes a difference for everyone.
A shift in mass consciousness is the underlying key principle. This is how these consciously awakened individuals will bring about that freedom.
Not an attempt at an exhaustive A-Z account, I realize, but that concludes my 9 indisputable truths about "conspiracy theorists."
"Conspiracy theorists," just keep on keeping on!
Related: Conspiracy Theorist – The New Normal
---
This post was written by "Zen Gardener" – someone I wouldn't recommend or trust as far as I could spit, but in this case the message was worthwhile I think.
Maybe this next message is even more important. It looks like the Zen Gardener was another example of a fake conspiracy theorist – here is a response:
---
The Rise and Fall of Zen Gardner
People who follow the so-called 'alternative media' know Zen Gardner and his popular eponymous website. From the site's beginning, it  attracted a loyal readership and fan base. When I first happened upon Zen's site back in 2012, I was immediately drawn to it. I was impressed with the elegant design and  the articles.
The articles were drawn from a broad range of writers, bloggers, vloggers, and free thinkers. Most of them took an unconventional perspective on the issues facing our planet and species and were edgy enough so that the site couldn't be dismissed as New Age escapism.
I really liked the streamlined design, with a bare minimum of advertising and  click bait. Many of the writers whose articles I read stretched my mind and enlarged my view on world events. During the first couple of years I visited the site, I wasn't even aware that there was a person named 'Zen Gardner.'  He didn't post his own articles at that time and I thought the name of the website was just a homage to Zen Buddhism.
However, by late 2014 and into  2015, a noticeable shift began to occur. First, the website  underwent a dramatic redesign. The streamlined design was jettisoned in favor of one with far more advertising; furthermore, the advertising was sponsored by that evil Israeli-run company, Taboola,  After reading through the list of articles on the home page, readers were confronted with a TMZ-esque smorgasbord of celebrity gossip stories. To see this advertising on Zen's site was jarring, and I was shocked to see that few of his readers objected to it in the forum section.
The next major shift to occur was the appearance of Zen Gardner himself from 'out of the shadows,' so to speak. Suddenly, his articles were at the top of the homepage, and he began to write prolifically. Although many of his supposed fans in the forum were effusive in their praise of his writing ability, I never thought much of it. All of the articles were a rehash of the same theme: 'the shift of the ages is occurring, we are 'riding the waves' of seismic change, hold on to your hat, stay centered, blah, blah, blah. 'The content was uninspiring, derivative, and repetitive. The writing itself was of poor quality, though again few, if any, of the readers seemed to notice. Zen also started doing dozens of interviews, all of which were of course posted on the top menu bar. When I first heard his voice, I had an uncomfortable feeling. His voice just didn't resonate with me; it was high-pitched- almost feminine- and didn't sound like an enlightened man in his late 60s.
Next, the content of the aggregated articles changed markedly. The hard, edgy content of the previous years was replaced by hundreds of gloppy, syrupy, new-agey fluff pieces. Most of the newer articles  focused on how to meditate and what foods to eat. Linked videos of George Carlin and Bill Hicks appeared almost daily, apparently to attract hipsters.
The appearance of in-your-face advertising and  new age writing, coupled with  the  deliberate cultivation of the cult around 'Zen Gardner' set off alarm bells in my mind. I sensed something very wrong was happening and surmised that perhaps the site, and its founder, had been co-opted by Intelligence. Here and there, a few thought-provoking articles still appeared, but the new direction was clear.
When I read Zen's revelations last month about his time spent in a pedophile cult, I was shocked and disturbed, as was everyone. I read his utterly unconvincing explanations for this episode of his life. I also followed the subsequent articles he wrote where he attempted to douse the flames and claim that those who were exposing him were merely on a witch hunt  and should examine their own skeletons instead of lambasting him. To see so many of his groupie fans defending and coddling him, including Jon Rappaoport, was disheartening and disgusting.
There is much food for thought here in this sad drama and some hard lessons to be learned for everyone who participates in the alternative media, whether as a producer or consumer. Was 'Zen Gardner' , aka Don Ferguson, a CIA plant who was set up from the beginning to fail, and bring his followers down with him?  I think it's quite possible. In fact, until I see a more plausible explanation, that is the one I am going with.
It's also a possibility that he began with good intentions but was turned to the dark side by the powers-that-be. As I have shown above, it's quite easy to trace the arc of the site's downward spiral and see when and how it lost its way.
For those of us who wade daily into the realm of truth-seeking, we need to be ever on -guard. Those who at first glance appear to be on our side often turn out to be gatekeepers, shills, double agents, spooks, and monsters. We must use our intuition at all times and bring people to task when they fail to live up to their rhetoric. We have seen so many big names come crashing down in the last few years: Alex Jones, Joe Rogan, Mark Dice, Jesse Ventura, Gerald Celente, Jeff Rense, Jeff C, and many, many more have been exposed. Zen Gardner has now joined this infamous club of shame. We should have seen it coming.
FROM – Brian Stupar