American Food "Science" Is Totally Corrupt And It's All A Failed Decades Long Diet Experiment
Although we have been saying most of the stuff for many years, it's interesting to see this information becoming increasingly mainstream. And to see McDonalds attempting to fix their declining profits by pushing "soft" drinks which have a 90% profit margin (and are the #1 cause of cancer and obesity, but never mind). We wouldn't touch "engineered" or 3D printed foods with a 10 foot pole, let alone eat the crap, but I guess the intro line appeals to the modern American geek.

There could be a future where we eat incredible, sustainable, engineered foods – 3D-printed or lab-grown meals, chemically optimized to unleash the perfect combination of flavor and nutrients to fit our bodies and our tastes.
Better tasting hot dogs with harmful fats removed! Healthier snacks with accurate expiration dates! Or, we can continue on our present path, and Americans will keep eating the same foods we always have, including foods that make us sick and obese.
Related: Food Regulations Under Review
If the United States would like a say in the future of food, the government and the people need to start paying attention to our food scientists.
Take Karen Schaich, a Rutgers food science professor who studies the very nature of how food ages. Schaich observes how common foods like tortilla chips and peanut butter go rancid, and believes she's found processes that cause food to spoil faster than we think. But she struggles to get this important research funded.
She's not the only one – American food science itself is struggling, and for more reasons than funding alone. We have food science programs, but some of the food scientists that I spoke with find it difficult to attract the funding needed to innovate and come up with novel solutions to food science and nutrition issues through basic research.

Others left publicly-funded food science for greener pastures in private industry.
Not all American food science is suffering, E. Allen Foegeding, professor at the North Carolina State Department of Food, Bioprocessing and Nutrition Sciences, told Gizmodo – he noted that the fields of sustainability, microbiology and food safety have seen lots of attention.
Related: Should Some Foods Be Treated As A Drug?
Instead, what's lagging is what some of the folks I spoke with called food innovation, or interdisciplinary research combining the fields of physics, chemistry and engineering to understand food down to its molecules to create solutions for the future.
For example: cows emit greenhouse gases, so let's lab-grow a replacement beef. Consumers don't want to eat trans fat, so let's engineer a healthier alternative that has the same physical properties.
Right now, the alphabet soup of federal agencies (NIH, NSF, and USDA through NIFA) and private funding sources supporting food science research in the United States don't have a shared stated goal or direction. And while many startups are trying to be innovative, private innovation prevents the spread of knowledge for other scientists to build on.
"The situation in the US is sad," said Alejandro Marangoni, professor in food science at the University of Guelph in Canada.
Marangoni should know – his Canadian lab innovates with the structure of fats and oils, replacing unhealthy fats with oil and cellulose-based gels in products like hot dogs, or imaging milk fat using high-powered microscopes.
Sure, the United States has scientists doing work like Marangoni's, but it doesn't seem to him and scientists like him that American food research has a central, forward-looking goal.
"We need more of that type of conversation at the country level and decide where we need to be putting our money to help society move forward," said Foegeding.
Today, food science funding is patched together. Federal funding – your taxpayer mon – goes mainly to nutritional, agricultural and food safety research, leaving a void for those interested in innovation.
Related: How Clothes Are Polluting the Food Supply
Scientists start looking for funding through the United States Department of Agriculture's National Institute of Food and Agriculture, said John Coupland, professor at Penn State and president of the Institute of Food Technologists, but "the hit rates for these grants are not good," he added.
NIFA grants typically go for several hundred thousand dollars a piece, enough to take on a few Ph.D students and pay for travel, but mostly relate to agriculture in some way, as opposed to, say, discovering all of the biological components of milk. Nutrition studies, meanwhile, might receive National Institute of Health grants, also for a few hundred thousand dollars.
"The NIH doesn't consider pure food research in their domain unless you're doing something clinical," that is, the research must act as a cure to some disease, said Marangoni. "The NSF doesn't want to see food research because that's USDA stuff."
I contacted NIFA asking where someone interested in researching food after it's already been picked from the soil, for reasons other than nutrition, might apply for public funding. The agency has not yet responded to the inquiry.
If you check out nutrition papers, you'll typically find large-scale studies where scientists ask a lot of people to check what they remember eating off of a list.
Few, though an increasing number of studies, break food down to its individual chemicals and observe how those molecules interact with our guts, or with with the bacteria living inside them.
Right now, what we know about food chemistry, individual molecules and how to harness them is limited and lagging.
"What does an apple truly look like as it moves through you?" asked professor David Mills from the University of California, Davis' Food Science and Technology department.

"All the complex sugar structures aren't known. Fiber is a terrible name," since there are far more diverse molecules than the name alone implies.

"By definition its name says that we don't know what it is. That's crazy!"

"You can procure funding, but need to sneak it through. You'll hide what you're actually researching inside a proposal for research you're not really going after."
Related: Chicago Gets its First Organic Fast-Food Chain
The NSF does offer grants for food scientists interested in starting a business: The Small Business Innovation Research's (SBIR) Biological Technologies program gives $225,000 in seed funding to researchers interested in creating a new food-based technology.
Such grants have been used to fund mainly food safety or agricultural technology startups, said Ruth Shuman, SBIR program director, but there's no reason that folks interested in using technology to find a new process to alter food and its chemistry can't apply, she said: "If people started sending ideas for developing new foods, I would be happy to review those proposals."
One SBIR-funded program looks for a new way to extend the shelf life of food, while another looked to create a non-synthetic red food dye.
But most basic science doesn't progress with a marketable product in mind. When scientists are trying to make a cookie that's better than all cookies, that's healthier on a molecular level, tastier, and cheaper all at the same time, sometimes they want to do it for the better of all of us people and society, rather than personal gain.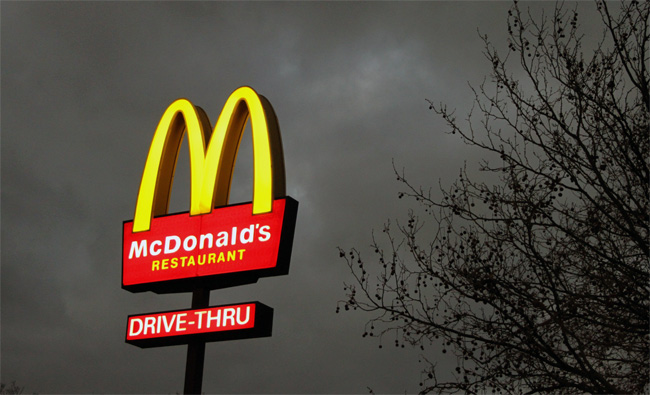 Related: McDonald's to Cut Prices on Drinks as Industry Slumps
Of course, a scientist can enter a field with the eventual goal of making a ton of money on an end product, but for most basic research, there's years of lab work shared with and reviewed by other scientists before a product hits the market. Still, industry is exactly where scientists head for funding help.
Since NIFA funding alone just isn't enough to generate what universities like to see, Coupland said, "you look around for other sources. It might be a straight out industry contract."
By doing research for the industry, researchers can use the extra money to buy shiny new equipment and keep their lab up-to-date.
The researchers I spoke to have considered or used money from companies like General Mills or Nabisco to buy new lab equipment like centrifuges and high-performance liquid chromatography systems for their university research.
"That leaves you in a position where you can procure that funding but need to sneak it through," said Irwin Adam Eydelnant, a biomedical engineer who has since started his own privately-funded company, the Future Food Studio. "You'll hide what you're actually researching inside a proposal for research you're not really going after."
Even those industry contacts don't always make ends meet. Schaich's food science lab at Rutgers University in New Jersey has long relied on industry arrangements to study the way that fats and oils change over time.
Today, her lab is aging, and not like a high-end sharp cheddar. Yellowing letters taped to the wall show dates from thirty years ago. The machinery looks straight out of a 1980s video arcade. Even a bag of potato chips labeled for research purposes only displays an outdated Lays' logo.
As food scientists express their frustration procuring funds for basic research, this broken system is having a tangible impact on America's international standing – we don't seem to be keeping up.
Related: What Really Goes into a Jar of Nutella Will Shock You
Related: Why You Should Avoid Nutella
In 2016, American institutions published 85 articles out of 177 submitted to the fairly well-cited journal Food Chemistry, compared to China's 430 published, 1754 submitted, Spain's 148 published, 338 submitted, and Italy's 125 published, 254 submitted, according to documents obtained by Gizmodo.
A similar pattern pops up in a moderate-impact journal Food Research International: the United States published 26 out of 77 submitted articles, compared to China's 33 out of 662, Brazil's 73 out of 378, and Spain's 43 out of 235. Statistical analyses weren't provided.
Of course, food scientists don't just publish in food science journals," said Coupland. "Many food scientists work on food as their primary job but are plugged into other fields… where they're using the same techniques and the same language," like genetics or alternative fuel sources.

Still, the American scientists interviewed for this article almost all spoke jealously of Marangoni's large lipid lab, or of Wageningen University, the Netherlands' food science Mecca.
How did things get to be this way? When Schaich began as a food scientist over 40 years ago, the industry-university relationship felt like a partnership.
She suspects a combination of many of the pitfalls of capitalism brought a sea change – for instance, large tobacco companies like Philip Morris and R. J. Reynolds buying or merging with food companies in the 1980s, or Reagan-era trickle down economics.
Related: Monsanto Is Scrambling To Bury This Breaking Story – Don't Let This Go Unshared!
She noticed the General Foods research center close in the 1990s, and thought the takeovers and changing economic policies encouraged these companies to focus on profit over innovation.
"I have former students working at Mondelez," once owned by Phillip Morris, "and what was basic research that brought development of a lot of the low fat cookies, Cool Whip and a lot of things we take for granted are not being done at all," she said. "They're just monitoring existing product." Now, lots of food companies rely on small entrepreneurs to innovate, and then buy up the new products, she said.
Eydelnant and others thought that the startup model could actually put America at the forefront of food innovation. Memphis Meats, for example, is a Bay Area startup trying to grow meat in a lab to prevent animal slaughter.
Private funding allows a product to hit the shelves faster and allows the company to stay nimble said Uma Valeti, Memphis Meat's CEO and cofounder. Taxpayer-funded research lays the groundwork, while private industry can provide new ideas. He thinks things are working better that way, too.
"Currently, we feel that private funding is the best option for producing high-quality research that leads to better food for everyone," he said to Gizmodo in an email.
But as previously noted,startups need to make money. Privately-funded research won't necessarily better society or expand the general knowledge base, as companies patent their products or maintain industry recipe and formulation secrets like Coca Cola's flavor or KFC's spice combination.
Related: DNA Tests Say Subway's Oven-Roasted Chicken is Actually 50% Soy Product
Some researchers think America needs something akin to a food moonsh – a major reprioritization of our country's food science money to focus on actually understanding all of the chemicals in food, how we taste them, and how they interact with our bodies.
This could lead to food innovations that actually prevent disease.
"When you consider the negative impact food can have on our health, how can this not be an national priority?" asked Mills.
Why, he asked, do doctors prescribe Lipitor to lower bad cholesterol, when there's the potential to simply personalize and alter our diets so cholesterol isn't high in the first place?
And, imagine if private companies shared their food science secrets with the world? We might have a true understanding about how our own bodies work and how to eat delicious, affordable, optimized food.
Related: Poison Fruit: Dow Chemical Wants Farmers to Keep Using a Pesticide Linked to Autism and ADHD
Many companies are trying to do that, but that doesn't seem to be stopping us from trashing our bodies or being spoon-fed politically and industry-motivated nutritional recommendations, taking on shady fad diets or stuffing ourselves with vitamins that don't work.
Related: Is Your Multivitamin Toxic? + Is Your Multivitamin Supplement A Multi-Waste Of Your Money?
Ultimately, we probably all need to change our mindset about food science.
"There's a sense that food should be natural and anything that makes food not natural, and physics and chemistry don't sound natural, that's a bad thing to do," speculated Coupland.

"Food technology" as I discuss here "won't attract attention from big-name journals like Science, Nature or even The Journal of Food Science."
Coupland would at least like to find ways to get universities to value this type of forward-looking research more.
"And more money would be nice."
We're All Guinea Pigs In A Failed Decades-Long Diet Experiment
"The change in dietary advice to promote low-fat foods is perhaps the biggest mistake in modern medical history."
Let's say you want to lose some weight. Which of these foods would you choose: A skim-milk latte, or the same drink with whole milk? A low-cal breakfast bar or steak and eggs? A salad tossed in light dressing or the same salad doused with butter milk ranch?
Related: The Vegetarian Myth
If you're like most people, you either aren't sure how to answer, or you're very sure – but very wrong. And it's not your fault. It's the fault, experts say, of decades of flawed or misleading nutrition advice – advice that was never based on solid science.
The US Department of Agriculture, along with the agency that is now called Health and Human Services, first released a set of national dietary guidelines back in 1980. That 20-page booklet trained its focus primarily on three health villains: fat, saturated fat, and cholesterol.
Recently, research has come out strongly in support of dietary fat and cholesterol as benign, rather than harmful, additions to person's diet. Saturated fat seems poised for a similar pardon.
"The science that these guidelines were based on was wrong,"
Robert Lustig, a neuro-endocrinologist at the University of California, San Francisco, told Tonic. In particular, the idea that cutting fat from a person's diet would offer some health benefit was never backed by hard evidence, Lustig said.
Just this week, some of Lustig's colleagues at UCSF released an incendiary report revealing that in the 1960s, sugar industry lobbyists funded research that linked heart disease to fat and cholesterol while downplaying evidence that sugar was the real killer.
Nina Teicholz, a science journalist and author of the The Big Fat Surprise, said a lot of the early anti-fat push came from the American Heart Association (AHA), which based its anti-fat stance on the fact that fat is roughly twice as calorie-dense as protein and carbohydrates.
"This advice to avoid fat allowed the food industry to go hog-wild promoting low-fat, carb-heavy foods as 'light' or 'healthy,' and that's been a disaster for public health,"
Lustig said.
"They had no clinical data to show that a low-fat diet alone would help with obesity or heart disease," Teicholz told Tonic.
But because fat was high in calories, they adopted this anti-fat position, and the government followed their lead. Surely the 1960s research rigged by the Sugar Association, which was published in the prestigious New England Journal of Medicine, added to our collective fat fears.
By the 1990s, when Teicholz says the epidemiological data started piling up to show that a low-fat, high-carb diet did not help with weight loss or heart disease – calories be damned – much of the damage was already done.
The US public was deep in what nutrition experts sometimes call the "Snackwell phenomenon" – a devotion to low-fat and low-calorie processed snack foods, which people pounded by the bagful because they believed them to be healthy.
The stats back him up. Since the US government first published a set of national nutrition guidelines in 1980, rates of obesity and related diseases like diabetes have more than doubled.
"Childhood diabetes was basically unheard of, and now it's an epidemic,"
Lustig said.
Overseas, national health authorities followed America's lead on fat. The results have been similarly grim. Earlier this year, a UK nonprofit called the National ObesityForum (NOF) published a blistering condemnation of its government's diet and nutrition policies.
In its report, the NOF argues that advice to cut back on fat and cholesterol is "the root cause" of Britain's skyrocketing rates of obesity and diabetes. Speaking shortly after the report's publication, Aseem Malhotra, a British cardiologist who consulted on the NOF report, said;
"The change in dietary advice to promote low-fat foods is perhaps the biggest mistake in modern medical history.
Along with ripping its government's "failed policies," the NOF report called for a"complete overhaul of dietary advice and public health messaging."
In a recent editorial appearing in the British Journal of Sports Medicine, researcher Zoe Harcombe from the University of the West of Scotland explains that obesity rates among British men and women rose from 2.7 percent in 1972 to 23 percent and 26 percent, respectively, by 1999.
"There are only three macronutrients," Harcombe told Tonic, "protein, fat, and carbohydrates."
Nearly everything you eat or drink contains one or more of these. And if you followed the government's advice to eat less fat, it's inevitable that your carb consumption would shoot up, she said. That's just what happened at a population level during the 1980s and 90s.
A whole generation of health professionals accepted – and passed on to their patients – the government's guidance to avoid fat and cholesterol. Many still do.
Related: Low-Carbohydrate, High Fat Diet Advice Questioned
To give credit where credit is due: The latest iteration of the US government's dietary guidelines no longer makes a point of capping total fat and cholesterol intakes. But this omission is more a furtive walking back of bad advice than a public acknowledgment of error, Teicholz said. Worse:
"When you look at the actual nutritional modeling that the government uses to inform its feeding programs, such as the National School Lunch program, they are all still low in fat," she said.
Another example of the government's persistent crusade against fat: The 2015 Dietary Guidelines for Americans still push low-fat dairy over full fat – a recommendation the latest research doesn't support.
"Studies have not shown benefits of low-fat dairy over full-fat for weight loss, especially if the fat calories are replaced with sugar,"
Walter Willett, chair of nutrition at Harvard School of Public Health, told Tonic.
"If anything, the evidence goes the other way."
Willett is quick to point out that he doesn't consider whole milk and full-fat cheese "health foods."
Nuts, for example, are a healthier source of fat, he said. But if you're going to sip some milk or eat some yogurt, the evidence suggests your waistline may be better off with the full-fat stuff – probably because it's more filling and so curbs excessive eating.
Related: 9 Lies About Fat That Destroyed The World's Health
Teicholz said it's hard to overstate the effect of national health authorities' pro-carb, anti-fat stance. A whole generation of health professionals accepted – and passed on to their patients – the government's guidance to avoid fat and cholesterol. Many still do.
"Both professional and institutional credibility are at stake,"
she said when asked why more doctors and policymakers aren't making noise about the harms caused by the government's dietary guidance.
She also mentioned food industry interests, the potential for "massive class-action lawsuits," and the shame of copping to nearly a half-century of bad diet advice as deterrents for USDA and other health authorities when it comes to admitting they were wrong.
In the United Kingdom, the disconnect between nutrition science and government dietary policy has opened rifts within the public health community. Since its report's publication, the National Obesity Forum has lost four of its senior members, and the fallout has sparked a national debate among doctors, nutrition scientists, and policy makers over what sorts of food truly belong in a healthy diet.
"Our previous reports had garnered little interest, so we had no way of knowing this one would go interplanetary," David Haslam, chair of the National Obesity Forum and a professor of obesity sciences at Robert Gordon University, told Tonic.
Repeating the advice put forward in his organization's report, Haslam said he firmly believes public health would be greatly improved if we all just ate fewer refined carbohydra – stuff like baked goods, chips, breakfast cereals, and other packaged goods – and instead ate more "natural foods" regardless of their macronutrient content.
This last point – that we should all pay less attention to a food's nutrient makeup – is an important one. Harvard's Willett said focusing only on a food's specific macro and micronutrient content is confusing, and not a good way to evaluate an item's health impacts.
So what's a confused dieter to do?
Related: Your Body Is Electrical And Runs On Electrons – NOT Sugar, Protein Or Fat!
Jenny Knight, 30, is a speech therapist and mother of two in Norman, Oklahoma. "I've struggled with my weight since I was eight years old," Knight told VICE. At 5-foot-9 and close to 250 pounds, she's obese by any definition.
Like many heavy Americans, Knight has experimented with a hundred different diets that, when you boil them down, all advocate for cutting fat or calories in order to lose weight. Sooner or later, all of them failed her.
"Even when they were working, it was all about willpower," she said. "I'd be so hungry I'd be shaking, and eventually I wouldn't be able to keep that up anymore, and I'd gain all the weight back."
But since February, Knight has been on a fat-centric diet championed by David Ludwig, a professor of nutrition at Harvard.
Speaking to Tonic, Ludwig said that cutting fat from your diet in favor of processed carbs can trigger a cascade of unhealthy metabolic shifts that fuel diseases like diabetes and cause your body's fat cells to lock in – rather than dump – their energy.
All this results in "out-of-control" hunger, he said. Cutting more calories from your diet just adds fuel to that fire.
His plan, which he lays out in his book Always Hungry?, champions a shift away from carb-heavy processed food in favor of a diet heavy in fats from nuts, full-fat dairy, natural oils, and other whole foods.
So far, Knight has lost 32 pounds on Ludwig's plan. But it's not just the lost weight that has her feeling optimistic.
"This is the only diet I've ever tried that feels effortless – just no willpower required," she said. "It honestly feels decadent to eat things like dark chocolate or peanut butter or coconut milk, and I'm not hungry like I used to be."
Ludwig's diet may or may not be the answer to all our weight-loss prayers.
But one thing is clear: Dietary fat was never the boogeyman health authorities made it out to be.
"I think most of us would be 90 percent of the way to a really healthy diet if we just cut out processed foods," UCSF's Lustig said. "We wouldn't need diet guidelines if we ate real food."