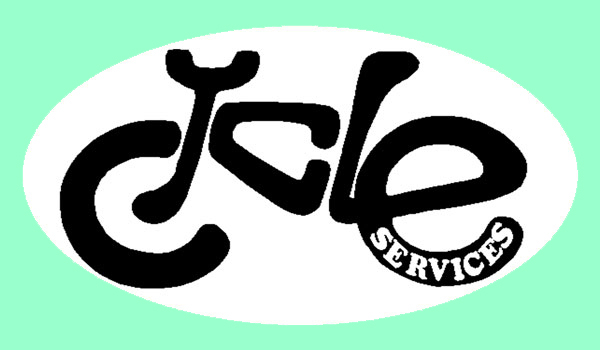 JULY 1999
Punters have still been asking the usual "what's happened to the newsletter" from time to time. We tell them that it's all on line now, wicked action, up to date every month, get wired you punks. They look broken and go off mouthing about "computer wankers".
As all you computer wankers know, the newsletters on line are just as out of date as the printed ones ever were. One good thing though, is that on the website we can write newsletters retrospectively, then post them, and pretend they were there all along. Or just update ones that were originally posted with stuff all in them, which is what's happened to the March 99 Newsletter.
Although our friendly printer "Bill", is raring to go, and wants to spit out some hardcopy, we have just been too slack to get around to it, so that means you computer wankers are the only ones who know wha's hap'n bro.
---
Cycle Services Downhill Race - Sunday 11 July
This was held at Baxter's Knob, the hill behind Aeotea lagoon, near Porirua. The race was an all new format - 3 way elimination runs. The course started off wide, then became tight technical singletrack, before opening up into a more open motorcross style bottom half, with some great jumps. There was a best of three format, sort of a cross between Slalom, DH Eliminator racing, and Boardercross. Sponsors were Cycle Services and Hutchinson, and prizes included the hot new Hutchinson 2.4 DH tyres, and 20 half price Hutchinson Tyre Vouchers. After a fair bit of rain during the week, the weekend was fine, the track dried up, and it was an excellent day. This area is worth checking out, and most of the DH course still remains. The photo shoes the lower section, and the view out over Porirua Harbour and Titahi Bay. Yes, that's Wheels BEATING Haldane in one of the runs. All Righty!!!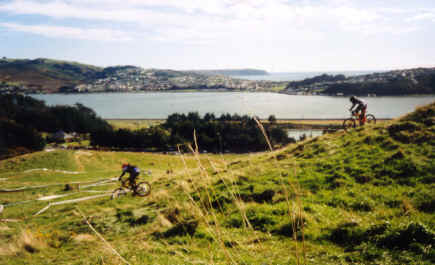 ---
Rod Is Overseas
Rod will be overseas from June to November. He and Rhiannon visited Thailand, and then went on to London, where they are living. Rod is working in a bike shop in London, and will be doing some film work involving MTB videos. He will be flying over to Canada to race at the Master's World Downhill Champs. We were thinking of replacing him with a life-size cardboard cutout, and a shrine, but decided against it because we didn't want a bunch of schoolboys with peroxided hair kneeling all over the place.
---
To compliment our popular Flaming Logo T-shirts, we will also be printing a limited run of our new label "SIFT". Unveiled for the first time, here it is: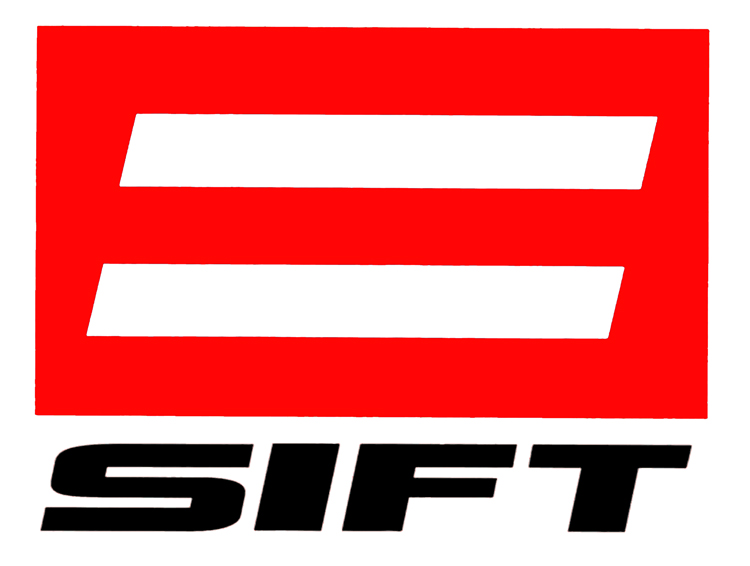 ---
Bugle tests prototype 12" travel downhill NECK!!
Looking quite pleased with himself after a quick blast round the Karipoti, Bugle say's it would be hard to go back to a rigid neck after using this long travel downhill system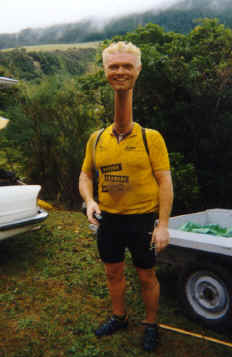 ---
Believe it or not, there is a tosser who has pulled this stunt on most of the bike shops in Wellington and the Hutt Valley. First he steals a set of brake pads off the shelf. Then he returns them saying the shop sold him the wrong type. He gets really shitty about it, and demands a different type or a refund. Then he takes the money or new pads and leaves. Why he doesn't just steal the right type in the first place is an obvious question. What he does with all those brake pads is another mystery. Anyway, after doing his second branch of "On Yer Bike", who rang around the other shops, he pushed his luck too far, and got arrested for doing it in "Toyworld' Lower Hutt.
---
Barnie's Hardcore Fashion Statement
Barnie is a roadie, but he doesn't dress like some Euro Pro, he models himself on hardman Clint Eastwood - in Dirty Harry's Retro Threads. This is a great example for any roadie who needs a new image. There's plenty of hardmen left to choose from - Dolf Lundgren, Arnie, Beavis and Butthead, Fred Flintstone, Jake the Muss, Don Johnson, the short guy from Fantasy Island - or maybe even a Downhiller like Missy Giove. Get a new image and look hard off the bike too.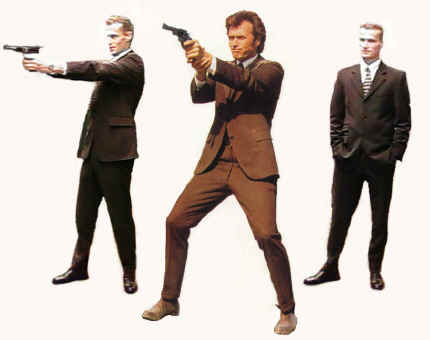 ---
The CS Hardcore Grommit Development Squad
They can pull wheelies, jump curbs, fetch McDonalds, wear goggles, and harass Frumpy Moles and Liz Punks. Watch out for "The Kids", they are fearless instigators....
---
Inside Goss from the NZ cycle industry.
Watch out for a lot of cut price sales this winter as over stocked shops and suppliers struggle to unload stock. A lot of this stuff is very close to cost, and there are some good deals out there, so snaffle them up while the price is right.
What's going on? - Firstly bicycle sales are declining world wide as the mountain bike boom comes to an end, Mountain bikes have been the main growth sector of the bicycle market over the past 10 years, and although new bike sales have been declining over the past three years, to some extent this was offset by increased spending on new technology - mainly expensive suspension and downhill bikes. This market has become increasingly specialised, and there is now a move back to simpler hardtail bikes for general riding.
When the number of people riding is remaining static, new products are the main thing that boost sales, but the only significant new development in the pipeline is mass market disc brakes. There are heaps of people out there riding bikes, and they are not giving up, but they are becoming less competitive, and keeping their bikes longer. Like the populations of developed nations as a whole, cyclists are aging. Unless a completely new bike design becomes popular, the cycle trade world wide is going to go into a major phase of retraction.
The new designs that are being developed by companies in the States and Taiwan are for electric powered transportation bikes - this is where they see new growth. These will not take off in NZ due to our vehicle licensing laws, which will classify electric bikes as motor vehicles, so disc brakes, and eventually internal gear hubs, are about it for NZ. In other words, there is probably no pressing desire for most cyclists to buy a new bike, other than it being so cheap that they would be a bozo to miss out. Hence 25% off sales.
New Zealand cycle businesses have also been adversely effected by internet sales, competition from other cheap consumer goods (cars, computers etc), and retailing as a whole has been static for the past two years. The NZ economy remains in an ongoing recession because of the huge portion of our earnings now being siphoned back out of the country due to overseas ownership of NZ assets. So support NZ owned companies, protest against asset sales and government corruption, vote Labour, and ride your bike more.
---
Myra Moller wins a world cup race in Australia.
Myra went over to Australia and won a round of the World Cup, in the Under 18 Division. Her ride was especially awesome considering she is only 15, and was riding a heavy old clunker. She has now picked up sponsorship from Iron Horse, and has a flash new bike.
---
These light sets are the BOMB. 35W Helmet mount light, with velcro mount and built in tail light, and a big grunty battery that goes for 105 minutes. They are made in NZ and blow the arse off any imported lightset under $500. You can ride off road at nearly full speed with one of these, it's like having a car headlight on your helmet. Handlebar mounted lights suck for offroad, but these helmet mount lights rock. Price is $249 with a cool electronic recharger that keeps the battery topped up, but never overcharged.
Technical Info for geeks: Sealed Quartz Halogen 35W Light, Sealed Lead Acid 6.5Ah Battery, Dual Level electronically controlled charger with LED indicators, heavy duty wiring.
---
His burning ambition is to get on the SIF FACE page again. Yeah OK, his forehead didn't used to be that big, but his brain grew. Aaron is a very brainy guy. If you are a bozo, try eating your own hand too, it may help.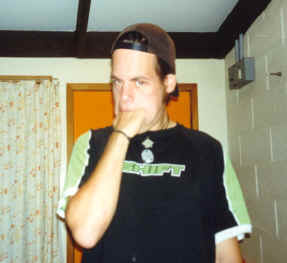 ---