WELLINGTON NEW ZEALAND CHAPTER OF THE WESTON A. PRICE FOUNDATION

R E S O U R C E S
This page is updated from our old NZ Where To Shop Guide, which had many out of date links. It is simpler now, but only covers NZ nationwide or local Wellington Suppliers that have websites. Please let us know if anything needs changing or adding.
---
MENU
To Avoid - Common Health Dangers

---
(local pick up or delivery only)
Commonsense Organics - organic groceries & produce
Raw Milk - email us for info on local raw organic milk
Urban Harvest -
online groceries and produce
Wairarapa Eco Farm - ( CSA - Community Supported agriculture) - organic fruit and veg
---
(nationwide distribution or delivery)
Colloidal Health Solutions - colloidal silver and gold
I E Produce - organic and gluten free groceries
Nature Foods - cod liver oil, coconut products, supplements
Ntolerance - gluten and allergy free foods
Ocean Organics - organic seaweed plant fertilisers
Pure Bread - organic and gluten free bread
Pure Wellbeing - health foods and other products
Water Kefir.co.nz - fermented cultures
---
Be Pure - Ben Warren, health and fitness consultant
Better Bods - Rachel Tomkinson, health consultant
Beyond Conformity - the vaccination scam exposed
Coconut.org.nz - information about coconut products
Competitive Edge Fitness - Dave Liow, personal trainer
DietNet - Deb Gully, nutritional consultant
DietNet Pinterest Board - Deb's recipe selection
EFT Net - Deb Gully, Emotional Freedom Technique therapist

Farmlet - a lifestyle farm in Northland
Fluoridation Free NZ - The Coalition to Ban Water Fluoridation
Gary Moller - health and fitness consultant
Super Maines - raw food cat breeder
NZ Journal Of Natural Medicine
NZ Where To Shop Page - the original Diet.Net shopping page
Sherry Elton - nutrition consultant in Southland
SIFT - Ian Gregson, exposing some cover ups
Uncensored Magazine - "think for yourself"
WAPF Wellington Chapter on Facebook

---
Onibasu Nutrition Search Engine
Price-Pottenger Nutrition Foundation
Weston A Price Foundation on Facebook
---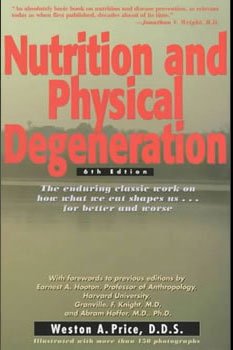 These are all books we highly recommend, the ones marked * we often
have in stock, and the others are available by request.

Allan, Christian & Lutz, Wolfgang - Life Without Bread
Blaylock, Russell - Excitotoxins, The Taste That Kills
Braly, James & Hoggan, Ron - Dangerous Grains
Campbell-McBride, Natasha - Gut and Psychology Syndrome (GAPS)*
Campbell-McBride, Natasha - Your Heart Is In Your Mouth*
Cowan, Thomas - The Fourfold Path to Healing
Daniel, Kaayla - The Whole Soy Story
Eisenstein, Charles - The Yoga Of Eating
Enig, Mary - Know Your Fats *
Fallon, Sally - Nourishing Traditions *
Fallon, Sally & Enig, Mary - Eat Fat, Lose Fat *
Fife, Bruce - Coconut Cures *
Gottschall, Elaine - Breaking The Vicious Cycle
Lipton, Bruce - Biology of Belief
Nagel, Ramiel - Cure Tooth Decay
Price, Weston A - Nutrition and Physical Degeneration *
Ravnskov, Uffe - Cholesterol Myths
Ross, Julia - The Diet Cure
Schmidt, Ron - The Story Of Milk
Schultze, Kymythy - Natural Nutrition for Cats
Schwarzbein, Diana - The Schwarzbein Principle
Tolle, Eckhart - A New Earth
---
Apricot Kernals
Caspian Sea Yoghurt / Matsoni / Villi
Coconut Flour
Cocoa Powder
Coconut Oil
Fermented Cod Liver Oil
Free Range Eggs
Kefir
Kombucha
Maple Syrup
Nut Butters
Olive Oil
Organic Beef / Lamb / Pork
Organic Butter
Organic Produce
Peanut Butter
Raw Cheese
Raw Milk
Raw or soaked Nuts
Raw Cream
Unfluoridated Water
Whole Foods
Yoghurt
Young Coconut Flesh
Young Coconut Water
---
Aluminium cookware
Antibiotics
Aspartame (Nutrasweet)

CAT Scans
Cell Phones (keep away from head and body)
Cell Phone Towers
Chemicals (all 80,000+ varieties)
Chemotherapy
Coffee (the new tobacco)
Cordless Phones (keep away from head and body)
Drugs
Fluoride
Fluorescent Light Bulbs
Gluten
GM (GE) Foods
Irradiated Foods
Low Fat Foods

Mammogram's
Medications (pain killers, statins etc - ie. drugs)

Mercury Amalgam Fillings
Microchips (carcinogenic in animals as well as humans)
Microwaves

MSG (aka "natural flavour")
Pasteurised Milk (Homogenised and UHT are even worse)
Radiation (inc radiotherapy)
Soft Drinks (Coke, Pepsi, Red Bull, etc)

Soy
Sugar
Sun Cream
Tap water (contains fluoride, chlorine, and aluminium)
Teflon cookware
Toothpaste (containing fluoride and vegetable glycerine)
Vaccinations (all types, including flu and tetanus)
Underarm antiperspirant (containing aluminium)
X-rays (including dental X-rays)
---

---
S i t e B y F R O T D E S I G N