Scroll down a bit for the Hydrolysate...
"The Food of a Thousand Uses". Unflavored and unsweetened, 100% pure beef gelatin. Can be added to stocks to thicken, and will assist in the digestion of all foods. For use in any recipe calling for gelatin such as real fruit jellies or our cod liver oil chews. Or add to a hot drink.
Sprinkle over room temperature liquid to swell and soften, then gently heat to dissolve.
Or can be dissolved directly in boiling water
Great Lakes
The Great Lakes beef gelatin is from grass fed cattle raised and slaughtered in Argentina and Brazil.
The Great Lakes pork gelatin is from hogs fed raw corn, pellets, selected waste foods from restaurants and grocery stores, when available.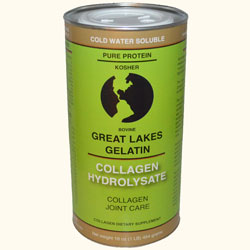 Great Lakes
Beef Collagen Hydrolysate
Gelatin - Collagen Hydrolysate
This is the same collagen found naturally in bones, skin and cartilage and provides amino acids to help the body repair tissues.
It is a bovine collagen that has been hydrolysed so that it can be mixed in with cold or warm liquids. This is ideal for protein shakes, and mixes best in a blender or shaker.
According to the can, 1 Tbs has the same nutritional make up as the Great Lakes gelatin above. But it is a much bigger can for the same weight, and on our scales 1 Tbs weighed 5gm.
The recommended dosage is 1 heaped tablespoon (which might come to 10gm if generously heaped, and would supply maybe 8-9 gms protein) twice a day.
Quantum Nutritional Flakes
Ingredients: Primary Grown Nutritional Yeast (Saccharomyces cerevisiae)
Quantum Nutritional Flakes are a source of extra protein for vegetarians, containing 18 amino acids, including good amounts of lysine and tryptophan. They are rich in B-complex vitamins, especially helpful for stress reduction and contain 15 minerals.
In the Superfoods chapter of Nourishing Traditions, Sally Fallon says: "Dried nutritional yeast is an excellent natural source of B complex vitamins (except for B12) plus a variety of minerals. Look for yeast that has been processed at low temperatures. Yeast does not contribute to candida as has been claimed— candida feeds on refined carbohydrates, not yeast. The late eminent physician Dr. Henry Bieler treated many cases of chronic fatigue with yeast supplements."
Sprinkle 1 or 2 teaspoons over any food to impart a rich, hearty, nutty-like flavor.
Primary Nutritional Yeast (Saccharomyces cerevisiae)
Servings (2 Tbs) per container: 14
Each 2 tablespoons (16g) serving contains:
Calories: 70
Total fat: 1g
Saturated fat: 0g
Cholesterol: 0mg
Sodium: 5mg
Total Carbohydrates: 7g
Dietary Fiber: 4g
Protein: 8g
Vitamin B1: 640% of DV (daily value)
Vitamin B2: 565% of DV
Vitamin B3: 280% of DV
Vitamin B6: 480% of DV
Folic Acid 60% of DV
Selenium 32% of DV
Zinc 21% of DV
Iron 4% of DV
Additional Naturally Occurring Amino Acids and Minerals:
Alanine (275mg), Arginine (330mg), Aspartic Acid (682mg), Beta 1, 3 Glucans, Biotin, Calcium, Choline, Chromium, Copper, Cystine (55mg), Ergosterol (Pro-Vitamin D), Glutamic Acid (840mg), Glutathione (GSH), Glycine (242mg), Histidine (99mg), Inositol, Isoleucine (264mg), Leucine (385mg), Lithium, Lysine (440mg), Magnesium, Manganese, Methionine (77mg), Molybdenum, Pantothenic Acid, Phenylalanine (242mg), Phosphorus, Potassium, Proline (429mg), Serine (308mg), Tin, Threonine (253mg), Tryptophan (66mg), Tyrosine (165mg), Valine (264mg).
Guaranteed Free of: Fillers, additives, magnesium stearate (a toxic excipient), corn, milk, soy, salt, sugar, wheat, artificial colors, flavors or preservatives.
It is also a recommended ingredient in Sally's homemade baby formula recipes.
Apricot kernels
Otago
A whole food source of laetrile, also known as vitamin B17.
Some people eat apricot kernels, in conjunction with a whole food diet, as part of a natural cancer treatment protocol. If you're one of them, we recommend that you take up to a maximum of one kernel per 5kg bodyweight, per day, in split doses, eaten whole.
New Zealand grown, from Otago. The apricots aren't organic, but the kernels have been tested and found residue free.
We are now stocking two different raw cacao powders.
The Loving Earth product from Peru is the one you're used to buying from us, and we still have that available in the 1kg bags.
The smaller bags are now Raw Planet brand, 250gm (instead of 300gm) and come from Bali. It is a bit more affordable than the smaller Loving Earth bags were, but is still an excellent product.
After some extensive taste testing in the Nature Foods office, we felt that the Bali powder had a richer, darker chocolate taste, and the Peru powder was maybe a bit more complex in flavour. Though most people probably wouldn't notice the difference unless trying them together, and we were split 50/50 on which tasted best.
The Chocolate Peanut Butter Slice recipe above tastes even better made with either of these raw cacao powders.
We have had enquiries about availability of the ingredients needed for Sally Fallon's milk based baby formula. We stock:
At this stage, we're not stocking most of the others, but we can tell you where to get them.The recipe is available online at the Weston A Price foundation website or click here to download a pdf document with recipes and FAQ about feeding babies.
Acerola powder
We have Camu camu powder, which Sally says is fine. This has about three times the vitamin C as acerola, so reduce the dose accordingly. Or Lifestream now have Acerola powder.
Yeast
We now stock Premier Research Labs Quantum Nutritional flakes
Bifidobacterium infantis
Commonsense Organics in Wellington can source Natren Life Start powder for you. So your local health food shop should be able to do the same. If they can't, it's available online from www.probiotics.co.nz
We are also stocking a new product from Biokult - BioKult Infantis. This has Bifidobacterium infantis in it, and other bacteria that are beneficial for infants.
Lactose
There is currently one person bringing lactose into NZ for retail sale . Email us for her contract details.
Sunflower oil
Your local health food shop should be able to supply an organic, cold pressed oil.
Email us if there is anything else you're having trouble sourcing.