AT WHAT POINT DOES MY ART CEASE TO BE MY OWN?
This is a question I've been pondering a bit lately on Hive with people discussing plagiarism vs. original art, and now that I'm planning to start posting to the Alien Art Hive Community I want to get a good idea of what is considered OK.
As well as trying to get my head around what is considered OK, this post is also a bit of an introduce myself to the Alien Art Community community. Next month will be my forth anniversary of posting on Steemit and then Hive, but I've never really been active on any communities so this community stuff is all new to me. I'm into photography, drawing, painting, image editing, and photo art edits.
Here are 10 of my recent pictures, that I'll give my own percent score on, starting with 100% original and working down to 50% or less. I'd call anything over 50% my own original art, but this is subjective and totally arbitrary. And that is the nature of art!
All these pictures have been through a similar process of digital editing, including being cropped to a 1×1 ratio, and finishing off with a black frame and my www.frot.co.nz URL. I'd be happy to post any of these pictures on my Hive posts, and already have with some of them, but I'm not a commercial artist, and I imagine some of them would cross an imaginary line in the sand for commercial use. But I have no idea where that line would be. I'd say anything above 50% is fully legit on Hive. Your comments and opinions are very welcome.
1. FREAK DOG TOMATO THING – 100%
For my first picture I'll go totally safe – this is originally a painting I did with acrylics on canvas. It's all from the deranged contents of my subconscious, so I'll call this 100% original.
2. STRANGE SCENE IN THE STREET WITH DOG PISSING – 100%
Most of my art is based on drawings I randomly do using pen on paper and then add colours. This is the sort of bizarre stuff I seem to keep drawing, it's all mine but don't ask me to explain it's deeper meanings!
3. GROOVING OUT AT THE SUPERMARKET – 80%
This is not a photo from a nightclub (nightclubs used to look like this in my youth) – it's actually taken in a supermarket. The guy in the photo just happened to be standing in line in front of me. The original photo looks fairly different, and although the subject might be totally oblivious to the fact that he was being photographed, I'd use this image anywhere and would give it an 80% score.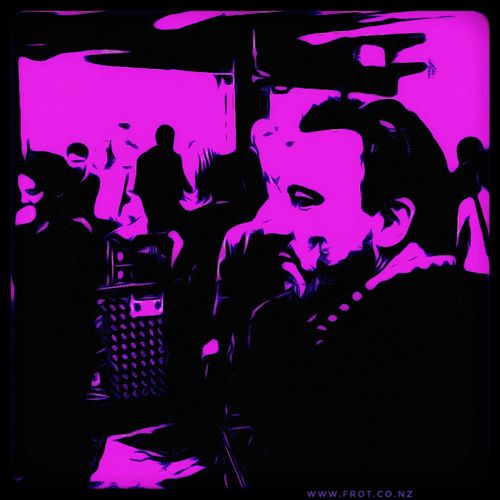 4.BIG BIRD IS LURKING IN THE BUSHES 80%
This is a photo I took of an ornament in a garden. It is just a mass produced garden ornament that belongs to my sister in law so I'm not likely to be sued for copyright! I'd say this is pretty safe ground and score it 80%. Not my original sculpture but the photo is all mine, and I'd happily use this image anywhere.
5. GET THAT FUCKING CAMERA OUT OF MY FACE – 70%
Strangers in the street are one of my favourite photo subjects. I regard anything in the public domain as mine to record, but some people disagree. Would the people I photograph all like me using their photos online? Hell no! – in fact the ones that look pissed off are often my favourites. This lady did not look impressed that I was taking her photo. I like this photo but would be a bit careful about where I posted it. So 70% on this one I guess.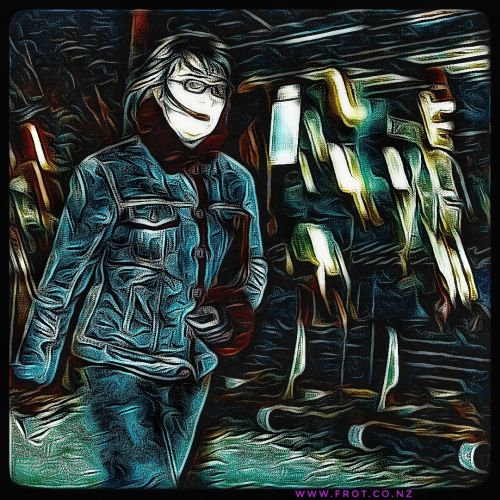 6. A COUPLE OF ABORIGINAL GUYS – 60%
This a drawing I did based on part of a photo of two Australian aboriginal guys. But it's not my photo and I no longer even have a copy of the original. My drawing is a bit different to the photo but probably fairly recognizable. I'd call this my own art but wouldn't use it for an advertising campaign!. I'll score this as 60% original because although I've changed it a lot, I'd be on shaky ground if anyone asked about the original photo.
7. SNAKE PSYCHEDELIC PARTY – 60%
This drawing was originally done by my friend @int2itiveart – I just coloured it in and did some edits – but she was happy for me to do that and liked how my version looked. I'd call it a collaboration, and would ask permission to use it commercially for any purpose. And if it made a bunch of money I'd give her half, But I'll call it 60% because I know she wouldn't mind me posting it on Hive.
8. AN INSECT AT THE WETA WORKSHOP. 50%
I take photos of all sorts of things, and with things like cars and motorbikes I don't hesitate to call it my own work. But 3D art is trickier. This is a photo of a sculpture I took at the display at the Weta Workshop here in Wellington –  https://wetaworkshop.com .  My edit does look a bit different to the original, but the original was very cool and I make no claim to there being much of my original art here. So it's my photo but not really my art. And this is based on a photo of a model from a very commercial source. Where is the line?
9. SKULLS GETTING MARRIED ON A WALL – 50%
Street art is another thing I like to take photos of – It's not my art though, and I have no idea who originally painted it. So although it is my photo taken in the public domain, it is very recognizable and not my original work. I like to edit photos of street art but have no idea if that is considered OK. I guess if I included my original unedited photo of the street art and made it clear that the art is not my own, that would be OK?
10. WONDER WOMAN DOES QUAD – ?%
I like to do edits of random pictures from the internet, and from my own image collection. Pictures of Wonder Woman are all over the place, and I have no idea where this original photo came from to start with (but I do have a copy of it). Here I have edited it into four different coloured copies, but Andy Warhol used to do that sort of thing a lot. Is this above or below the 50% line? I have no idea… Again, would including the original image and making it clear that it's not mine make it OK to post it as art on Hive?
Where do you draw your lines?
https://peakd.com/hive-158694/@frot/at-what-point-does-my-art-cease-to-be-my-own