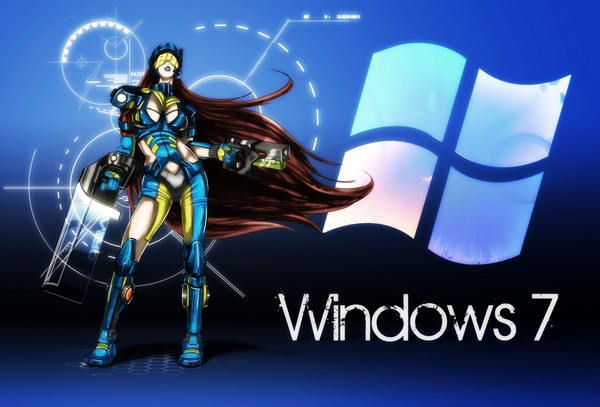 WINDOWS 7
Seven is going to go down in history as the last decent Microsoft operating system. It's as fast as 2000, so it seems quick compared with XP, and it has some improved graphics. The taskbar at the bottom of the screen is handy. Windows Explorer is much improved and is OK for moving large files around which was always a problem with earlier systems. It's OK looking overall and can be personalised to look pretty good. 7 is great at recognising new hardware and getting it working without having to mess about with drivers, so that's another big plus. Generally it works well, and it's the only Windows operating system I would want to use everyday, so that says it all really.
Drawbacks – Was that all M$ could come up with in over 10 years? There were very few major improvements from 2000. The amount of changes required to the default settings when installing is annoying. All it's defaults seem to be aimed to please administrators of cubicle farms. It has all the usual problems which are present in every version of Windows, and although nowhere near as bad as 8 or 10, it's full of M$ spyware.
---
Setting up Windows 7
This is what I do myself – I recommend doing all of the following, but do the parts in orange first before connecting to the internet or Microsoft will fuck your shit up. 
Install from disc
Start computer up with "Windows 7" disc in DVD drive, and no internet connection.
If using an "activated disc" choose either "Windows Professional" or "Windows Ultimate"- they are pretty much identical so choose the one you think sounds cooler. For old 32 bit computers use x86 (not the x64 option, which is for 64 bit computers) An activated disc contains all six versions of 7 in both 32 and 64 bit, including the hopeless "starter" and "basic" versions.
Follow prompts – computer will restart several times as it installs
Turn off all M$ updates BEFORE using the computer connected to the internet – disable Automatic Updates from the Administrative Tools (see below)
Even if running a "legitimate" copy I still think there is nothing good about allowing M$ to install updates, so I turn them all off. Some people (including some who know far more about computers than I do) think this is fruitloops, but if my computer worked well on the initial install I don't want Microsoft to change anything.
I put updates in the same category as vaccinations, low fat diets, fluoridated water and amalgam fillings – very undesirable things that majority of the public have been conned into believing are good for them. I am not as well researched on computers as I am on health scams, and I may well be missing something in updates, but this approach has worked well for me for the past 10 years, (and if it involves computers and it's dodgy, I probably do it regularly), so I'm happy to continue to avoid all updates.
Having all my data on separate drives to the operating system (and keeping back ups of those drives), and also having spare backup drives with copies of my fresh installs, means that security of the operating system is not of paramount importance to me anyway. Despite downloading 40 – 80 gb of assorted data each month, I generally enjoy trouble free computing.
Remember – before connecting to the internet, disable Automatic Updates from the Administrative Tools
Turning off all updates right from the outset before connecting to the internet prevents Microsoft spyware and updates from being installed.
If running a "legitimate" install, to check the activation status, go to control panel / system – the install will run for 30 days before it needs to be activated. This can be extended to 90 days – see http://windowssecrets.com/top-story/use-any-version-of-windows-7-free-for-120-days/
The o/s can be activated OK with all the updates etc. turned off, so it's OK to set everything up first before activating
(And if running an "illegitimate" install, just make sure it never gets a chance to update itself)
For anyone who for some reason insists on using a M$ operating system without the updates turned off, I recommend using a program such as Blockwindows or Aegis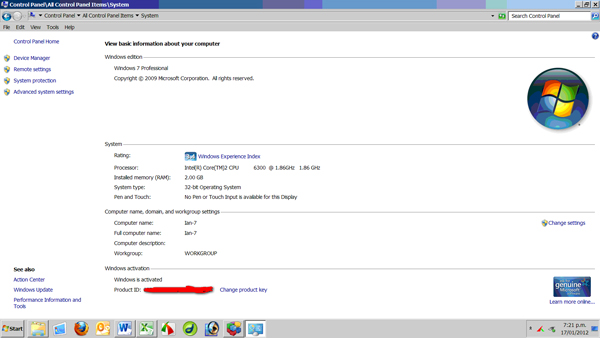 Disable Automatic Updates
Disable Automatic Updates from the Administrative Tools
Do this BEFORE connecting to the internet:
Firstly Disable Automatic Updates from Control Panel / Windows Updates
select the "Never Check for Updates" option
Then disable the Automatic Updates from the Administrative Tools in Control Panel
Control Panel / Administrative Tools / Services
Select "Windows Update"
On the left sidebar panel, find "Stop the Service" and choose this option
Then go back to Windows Update, right click on it, and under the Startup Type from the Properties Window select the Disabled option from the drop down menu. OK.
www.intechgrity.com/how-to-properly-disable-windows/#
While you are in here – Control Panel / Administrative Tools / Services
There's some other junk you may want to disable along with Windows Update, follow the same disable procedure for each of these.
Background Intelligent Transfer Service
Cryptographic Services
Windows Event Log
Windows Update
For example, Background Intelligent Transfer Service (BITS) transfers files in the background using idle network bandwidth. If the service is disabled, applications that depend on BITS, such as Windows Update or MSN Explorer, will be unable to automatically download programs and other information.
Preventing Microsoft Spying
A Windows 7 update KB971033, installs an "anti-piracy" component that contacts Microsoft without your knowledge every 90 days to check whether you are running a version of Windows tagged as pirated. If it thinks you are, Microsoft messes up your computer.
Although it's anti-piracy, it actually seems to mess up more of the poor saps who were daft enough to pay for "legitimate" copies of 7!  It's pretty funny reading all the comments online from righteous indignant Americans who paid for "legitimate" copies and then got tagged as pirated… LOL
If you do decide to allow any updates (DON'T!) in Control Panel/Windows Updates, make sure you block (untick) these ones – KB971033 and KB976902
If you are really insist on installing updates you may benefit from doing a search for Windows Genuine Advantage (WGA) Remover 2000, XP, Vista, 7 – remember, just like vaccinations, nothing good comes of updates, but bad things often do. And also remember, torrents are often our friend, but Bill Gates is not…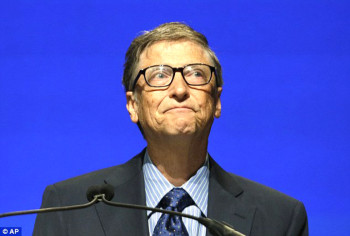 One of the ways Microsoft can carry out activities in the background without your knowledge is by using Remote Procedure Call (RPC) The main goal of RPC is to hide the existence of a connection to a network from the user, but I'm not bringing this up to say that it should be turned off – just to demonstrate that Microsoft do lurk about doing things without your knowledge.
This is real geek stuff, way over my head – one geek says this: "RPC services are rather vital. Practically everything depends on this to be running. Leave this service on Automatic and absolutely do not disable it"
How to uninstall Windows 7 Activation Update KB971033
If you have already accidentally allowed this spyware to install, you can uninstall it this way.
1. Go to Control Panel / Programs / View installed Updates
2. Look for "Update for Windows 7 (KB971033)"
3.Right click it and select Uninstall.
4.This will uninstall this activation update and prevent these intrusions from Microsoft
Black hole update KB976902
An even dodgier update is KB976902
Unfortunately you cannot uninstall it once it has been installed. It is known as "the black hole update"
It's spyware and Microsoft's cover story for this was that was required for installing a Service Pack 1 update.
SP1 itself contained no useful improvements, just further additional spyware such as this update. Unlike XP and Vista, 7 had no need for a service pack update anyway, as the initial release was fine. If possible, avoid like the plague, but if it's too late and you already have it (eg. on an activated copy of SP1), just avoid allowing any further updates.
See: Disable Automatic Updates from the Administrative Tools
http://www.techarp.com/showarticle.aspx?artno=698
http://windowssecrets.com/newsletter/what-you-need-to-know-about-windows-7-sp1/
Microsoft online services may also be spying – avoid using: Windows Live, Windows Live ID, Microsoft Office Live, Xbox Live, MSN, Windows Live Spaces, Windows Live Messenger, Hotmail, and MSN Groups,
http://www.readwriteweb.com/archives/an_in-depth_look_at_microsofts_spy_guide.php
http://www.pcworld.com/article/190233/microsofts_spy_guide_what_you_need_to_know.html
Also avoid using Windows Media Player and Internet Explorer, both of which can and do send info back to Microsoft. Don't update Internet Explorer 8 to 9, and initially install Opera or Firefox from a hard drive copy rather than using Internet Explorer to download them.
Why anyone still uses the appalling Internet Explorer browser is a mystery to me. I think Opera is way ahead of all the other browsers – www.opera.com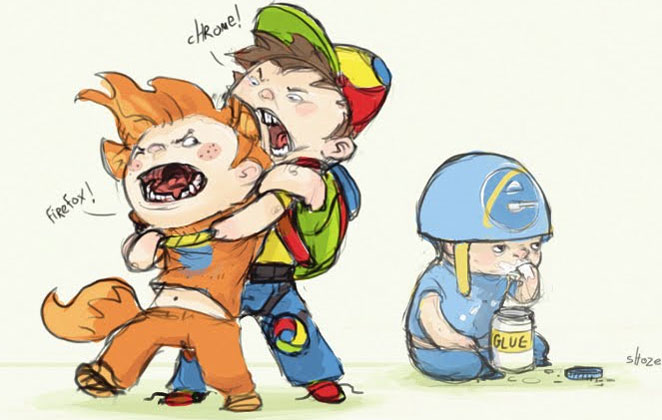 My Control Panel Settings
Start / Control Panel – view by small icons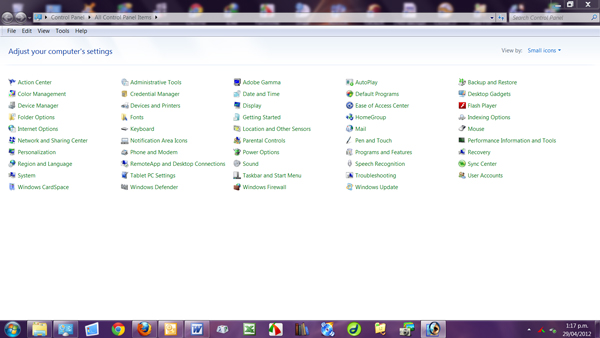 Action Centre:
Turn off everything – all security and maintenance
Administrative Tools
Disable the Automatic Updates:
Administrative Tools / Services
Find and select "Windows Update"
On the left sidebar panel, click on "Stop the Service"
Then right click on Windows Update / Properties
Under the Startup Type from the Properties Window select the Disabled option from the drop down menu
Then follow the same disable procedure for each of these "services":
Background Intelligent Transfer Service
Cryptographic Services
Windows Event Log
Windows Update
Services (double click to open it):
Sort by alphabetical order, then untick these ones below (but leave most of the others alone or they may create problems), then reboot
Application Experience
Computer Browser (If your PC does not connect to a network)
Desktop Window Manager Session Manager (If you don't want the aero effects)
Diagnostic Policy Service
Distributed Link Tracking Client
IP Helper
Offline Files
Portable Device Enumerator Service
Print Spooler (If you do not use a printer)
Protected Storage
Remote Registry
Secondary Logon
Security Center
Server (If your computer does not connect with any network)
Tablet PC Input Service
TCP/IP NetBIOS Helper
Windows Error Reporting Service
Windows Media Center Service Launcher
(this list was copied from here)
System Configuration (double click to open it):
Start up tab – untick any junk , and then reboot
It's tempting to also go into the Services tab as well and untick all that crap, but this can lead to problems, so take care and don't untick any of the Microsoft ones unless you know what you are doing.
Autoplay
Untick use autoplay
Desktop Gadgets:
Add a clock if you want a bigger clock than the one in the corner
The All CPU meter from this link can sometimes be handy
Device Manager:
Right click on drive / Properties of the disk / Policies button / Enable "write caching" (faster performance)
Otherwise External Drives run slowly – but remember to click on "safely remove hardware" icon or the drive can be erased when unplugged – see Notification Area Settings
Display:
For a 16 x 9 monitor I set resolution to 1920 x 1080
Folder Options:
In View Tab
 Tick show Hidden Files
Tick display the full path in the title bar (classic theme only)
Untick hide extensions for known file types
Untick hide empty drives in the computer folder
Untick hide protected operating systems – otherwise you won't even see the recycle bin in explorer
Remove the Recycle Bin shortcut from the desktop:
Click the Start button, type "desktop icons" into the search box, and then click show or hide common icons on the desktop.
In the Desktop Icon Settings dialog box, untick the Recycle Bin tick box.
Click OK
Personalization:
Theme / windows basic to save resources, or aero basic looks nicer, but uses more resources
Desktop background / choose an OK one, and later download something better from somewhere like www.wallpapersdb.org
Or set up a whole folders of wallpapers to randomly change every 30 seconds.
Screensaver / bubbles
Windows Colour – pick a colour and crank up intensity, hue, saturation, and brightness to max
Mouse:
Pointers – Windows Aero or Standard (extra large)
Notification Area Settings
Turn all the system icons to "show only notifications"
Except for Windows Explorer safely remove hardware and eject media (I want this one) – "show icon and notifications"
Power Settings:
Choose when to turn off the display – eg. turn off = 1 hour / sleep = 4 hours or never
Programs and Features:
This is the same as add or remove programs on XP – Uninstall/change to remove any junk
Then go into "Windows Features" and untick any other junk 
System:
An option is to disable any unwanted visual effects to increase speed, but only do this on slow computers, or things may not display as well – for example it will stop you customising the task bar colour
Control Panel / System
Advanced System Settings / Advanced tab / Performance / Settings / Custom
Options – first untick all the options by selecting "adjust for best performance"
then retick these four:
show thumbnails instead of icons
smooth edges of screen fonts
smooth scroll list boxes
use visual styles on windows and buttons
Task bar and start menu:
Untick lock the task bar
User account:
Remove Password – (if it lets you, otherwise see below)
Go to "Change Your Picture" – choose a better one
Go to "Change user accounts" and change the slider to "Never Notify"
(otherwise these notifications are a pain in the arse, as are passwords)
Disable Startup Password
Go to Control Panel/User Accounts/your profile – select "Remove your password"
This is the easiest way if it lets you, but if not, use this method:
Press WIN + R keys to get into the RUN menu
in the run menu paste or type: control userpasswords2
in user accounts window look for the option saying "Users must enter a user name and password to use this computer" and uncheck this option / "OK"
Now a windows opens up asking you to enter the current password you use to log in to Windows 7. Enter the password and confirm
Windows Defender:
OK to leave On I guess, if not using any other security, but don't allow it to update or autoscan, and don't trust it (it's Microsoft spyware and may cause problems with your "illegal" copy of windows) Leave "security" to people who like to vaccinate other people's children
Windows Firewall:
Leave On if not using any other firewall (it seems to work OK, but is probably dodgy)
Windows Updates:
Change Settings – tick "Never check for updates"
More info here
For more info on this and many other good tips see How To Geek
Change the boot order
While starting computer hit the F10 key to enter BIOs settings (for HP computer)
F10 / Storage / Boot Order / F10 to save
(The default setting is USB first which means the computer won't start with ext. drives plugged in – change to Hard Drive first)
The command key varies by computer brands – F10 or DEL key is often used
http://pcsupport.about.com/od/fixtheproblem/a/biosaccess_pc.htm
Fix Windows Explorer so it shows long file names without having to expand the columns
Open Windows Explorer
In the column 'Name', right click again and select "more" – at the bottom, make the width of selected column in pixels a larger number eg. 550 or 600
Select 'Organize' + 'Folder & Search Options' + 'View' + 'Apply to all Folders' from the page you have just resized
Then it will apply to all folders.
Disabling the Search Indexing
Click on the Start button
Right click "Computer" and select "Manage"
Computer Management / Services and Applications / Services
Windows Search / Right Click and choose Properties
Windows Search Properties Window / Startup type click on the drop down menu and choose Disabled
Click Apply then OK. The Windows 7 Search Indexing Feature is now disabled
Add a God Mode Control Panel
(an optional extra)
"God Mode" folder for Windows 7 shows nearly everything you can do within the Windows Control Panel.
To access the God Mode folder, create a new folder anywhere in your Windows 7 computer and name it:
GodMode.{ED7BA470-8E54-465E-825C-99712043E01C}
Once renamed, the icon will change to a control panel looking icon, and when opened you will be presented with different tweaking options
For more Win 7 performance tips see Computing Unleashed