ZIONISTS CONTINUE ON WITH THEIR GENOCIDE OF PALESTINE
IS THERE A WAY TO STOP THE ZIONISTS FROM COMPLETING THEIR GENOCIDE OF PALESTINE?
Most people are aware of the conflict between Israel and Palestine, and some even believe Israel's actions are reasonable. But the four maps of Palestine / Israel below tell a very different story.
Even if the UN plan, in 1946, to take part of Palestine and create the new country of Israel was in some way fair (and I am far from convinced that it was), what has occurred over the past 70 years is one of the most outrageous injustices of the past century.
Israel have gone on to take nearly all of the rest of Palestine by force, and are using divide and conquer tactics to gradually carry out genocide on the original inhabitants.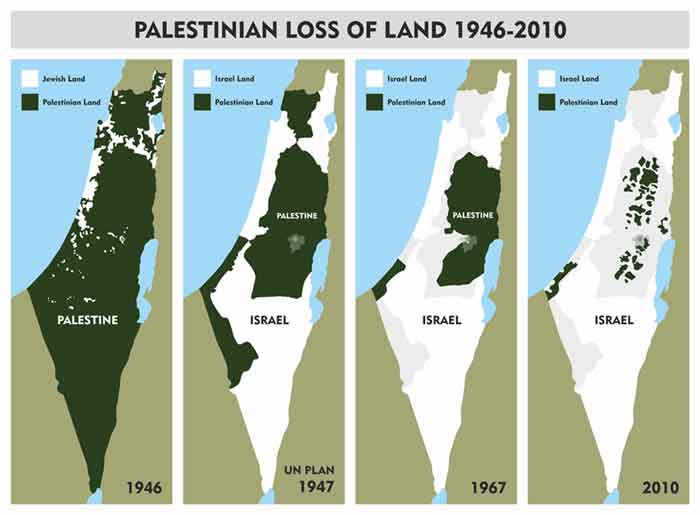 BOYCOTT ISRAELI PRODUCTS
When you buy products made in Israel or made by companies who fund Israel, you are contributing to the Israeli economy and supporting the massacre and genocide of the Palestinians, who have been surrounded and gradually wiped out by the Israeli military over the past 70 years.
If everyone keeps looking the other way like they have for the past 70 years because we are too scared to speak out, then we are all going to end up like the Palestinians.
https://steemit.com/politics/@truthseekereport/amazing-brave-french-students-stand-up-to-israeli-ambassador
Yes it probably is too late to help them, but if we don't stand up to this it will soon be too late for all of us. The Zionists won't be stopping with Palestine – they already own America, along with most of the world, and they have one hell of a plan in motion.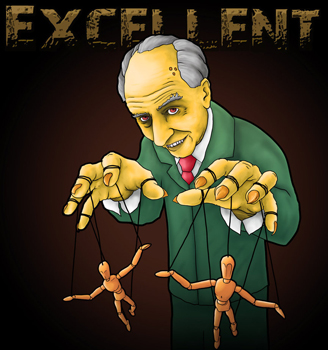 Finding up to date information about any of this is difficult because it's so heavily censored. Some of the following company information comes from an old site called Boycott Israel Today – https://boycottisraeltoday.wordpress.com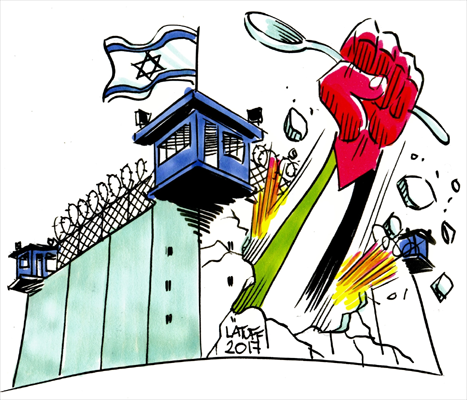 This cartoon can be freely reproduced by individuals and organizations that support Palestinian rights.
https://latuffcartoons.wordpress.com/
Here are five of the most widely known companies who are funding the Zionist military that it would be good to boycott first – not only are they supporting the Palestinian genocide, they are all selling utterly toxic crap too.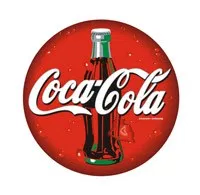 Coca Cola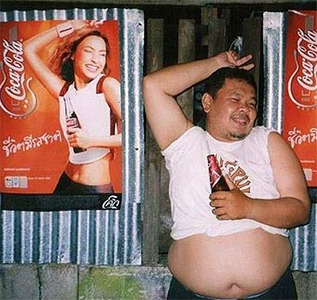 Image
A detailed account of Coca-Cola's links to Israel is provided here: http://www.inminds.com/boycott-coca-cola.html
From 1966 Coca-Cola has been a staunch supporter of Israel. In 1997 the Government of Israel Economic Mission honored Coca-Cola at the Israel Trade Award Dinner for its continued support of Israel for the last 30 years and for refusing to abide by the Arab League boycott of Israel.
Every year Coca Cola bankrolls the American-Israel Chamber of Commerce Awards which honors companies that have contributed most to the Israeli economy. In 2009 a Coca-Cola sponsored award went to Israel's Lobby AIPAC for its successful lobbying of the Senate to reject of the UN call for "immediate ceasefire" and endorse the continuation of the Israel military assault on Gaza.
In 2008 Coca-Cola tasked the Israeli venture capital Challenge Fund to locate suitable investments in Israel with a promise of "a blank cheque" . This agreement is exceptional in the Israeli venture capital industry.
In 2009 Coca-Cola hosted a special reception at the Coca-Cola world headquarters to honour Brigadier-General Ben-Eliezer. Ben-Eliezer is a wanted war criminal, during the Six-Day War his unit was responsible for the execution of over 300 Egyptian POWs. Under Sharon, Ben-Eliezer served as Defence Minister presiding over the massacre at Jenin.
For the past two decades, nearly every year, Coca-Cola has sponsored the JCC Maccabi Games whose stated aim is to cultivate Jewish youth in an informal setting to "encourage their identification with the state of Israel". As part of this, Coca Cola has sponsored young children to visit Israeli military bases and spend time with war criminals in order to engender empathy, in their own words "visit an air force base.. talk with the pilots that are the elite Israel Defense Force units..meet fighters of the army"
Coca-Cola Israel, Israel's third largest food & beverages company, owns dairy farms in the illegal Israeli settlements of Shadmot Mechola in the Jordan Valley and a plant in the industrial zone of Katzerin in the occupied Golan Heights.
For more enthusiastic endorsement, see my Coca-Cola webpage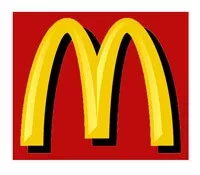 McDonald's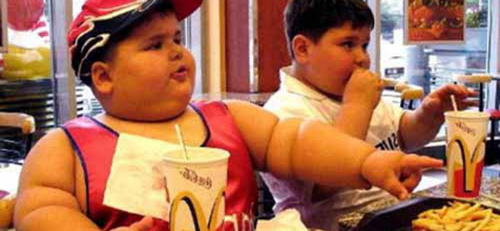 McDonald's Corporation is a major corporate partner of the Jewish United Fund and Jewish Federation. According to the Jewish United Fund, through its Israel Commission it "works to maintain American military, economic and diplomatic support for Israel; monitors and, when necessary, responds to media coverage of Israel".
The Jewish United Fund also runs "Fun-filled Summer Family Missions to Israel" where families get to "visit an army base and meet with Israeli soldiers" and "visit our sister city, Kiryat Gat and see the important work we are doing there". Kiryat Gat is built on stolen Palestinian land – the lands of the villages of Iraq Al Manshiya and Al-Faluja whose residents were ethnically cleansed in 1949 in contravention of International Law.
Through its "Partnership to Israel" programme, the Jewish United Fund provides $1.3 million annually to help further settlement and development of Kiryat Gat. The Jewish Federation, through its Israel Action Network is tasked to fight "efforts to boycott Israeli products" and "campaigns, such as equating Israel with apartheid South Africa".
Another way McDonald's supports the Jewish United Fund is by running a partnership scheme whereby they will match any donation an employee make to the Jewish United Fund with its own equal size donation.
McDonald's first restaurant in the Middle East was in Israel, opened in 1993, since then it has 160 restaurants in Israel (1996) with a 60% market share, employing around 4000 Israelis. Since April 2009 McDonald's has also opened 15 branches of McCafe chain in Israel, with plans to open 10 new branches every year.
McDonalds discriminates against its Arab workers, in 2004 it sacked an Arab worker in Israel because she was caught speaking arabic to another Arab employee. Arabic, along with Hebrew, is the official language of Israel spoken by 20% of the population.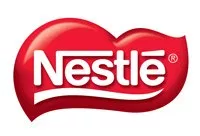 Nestlé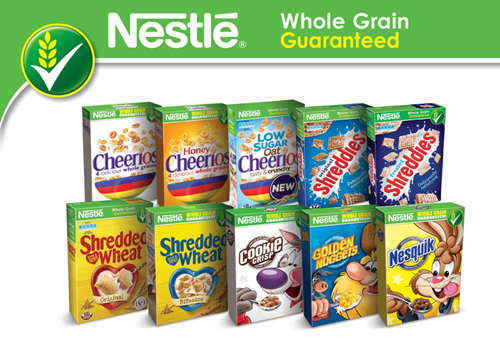 Image
Nestlé is the world's largest food company, it owns 53.8% share of leading Israeli food manufacturer Osem, an investment worth over $850 million.
In June 2002 Nestle opened its Research & Development Centre in Israel, in Sderot. And since then it has steadily increased its investment in Israel, its initial 10% stake in Osem has now grown to a controlling 53.8%. Nestle also owns Nespresso Israel Ltd in Tel Aviv which supplies coffee brewing equipment. In 2010 Nestle acquired a 51% stake in Israeli babyfood company Materna Laboratories for $72 million.
Nestle has 9 factories in Israel, which after China(18) and Russia(11) is the highest number in any country in Asia – disproportionately high when one considers its size and population.
Nestlé also owns 30% stake in L'Oréal, another company on the boycott list.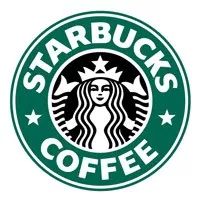 Starbucks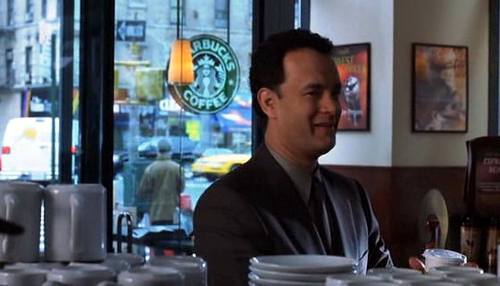 Image – High profile Zionist product placement is standard practice in almost all "American" movies
Howard Schultz, the founder, chairman, president and chief executive officer of Starbucks who also owns 31.6 million shares of Starbucks stock (worth around $1.4 billion in Nov 2011) is an active zionist.
In 1998 he was honoured by the Jerusalem Fund of Aish HaTorah with "The Israel 50th Anniversary Friend of Zion Tribute Award" for his services to the zionist state in "playing a key role in promoting close alliance between the United States and Israel".
The ultra-right wing Jerusalem Fund of Aish HaTorah funds Israeli arms fairs chaired by the butcher of Jenin, General Shaul Mofaz, and the zionist media pressure group honestreporting.com, they were also implicated in the production and distribution of the infamous islamophobic film 'Obesession'. Starbucks proudly displayed the award on the company's website under the section of 'awards and accolades' the Starbucks company has won, however, once the boycott started to bite the award mysteriously disappeared from its website.
Howard Shultz's work as a propagandist for Israel has been praised by the Israeli Foreign Ministry as being key to Israel's long-term PR success. On April 4th 2002, whilst the Israeli army was slaughtering Palestinians in Jenin, Howard Shultz made a provocative speech blaming the Palestinians, suggesting the intifada was a manifestation of anti- Semitism, and asked people to unite behind Israel. Starbucks also sponsors fund raisers for Israel.
At a time when other businesses were desperately pulling out of Israel, Starbucks decided to help Israel's floundering economy and open Starbucks in Israel. The venture failed but Shultz vowed Starbucks would "return to Israel in due course".
Starbucks had outlets in US bases in Afghanistan and Iraq, and even at the illegal torture centre in Guantanamo Bay.
Customer Relations say "Starbucks has the deepest respect and admiration for U.S. military, who risk their lives to protect Americans and our values of freedom and democracy". Petty Officer Barry Tate who was serving in Guantanamo Bay agreed that Starbucks was helping "lift the morale" of the guards and interrogator's at Guantanamo Bay.

Sodastream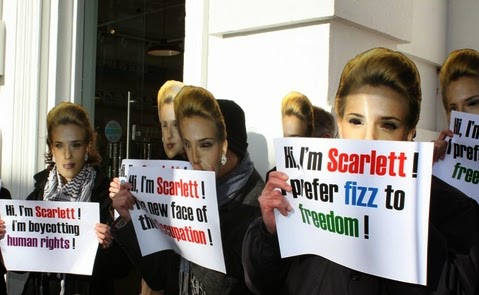 Image
SodaStream is an Israeli company manufacturing and distributing home carbonating devices and flavorings for soft drinks. The company's main plant is located in the industrial zone of Mishor Edomim which is an illegal Israeli settlement in the West Bank.
Kav LaOved, the NGO committed to protecting the rights of disadvantaged workers in Israeli companies, has reported that SodaStream factory workers, in particular Palestinians, are paid less than half the minimum wage and has described the working conditions in the factory as "one of the worst", with workers being fired if they complain of the conditions.
SodaStream brands include: SodaStream, Soda-Club, AlcoJet, Sprudelino, Aquabar, Gazoz, Aquafizz, Aquabubbler, Penguin, Sodamaker, Fountain Jet and Edition1. Its products are available in Argos, Asda, Comets, Currys, Harvey Nichols, Homebase, John Lewis, Robert Dyas, Selfridges and House of Fraser.
Now for the tricky one – the Zionist companies are mostly producing utter crap – but there is one exception – INTEL – I've tried AMD and they suck – so boycotting INTEL isn't an easy option…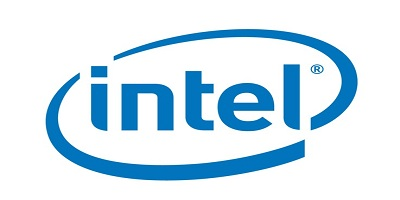 INTEL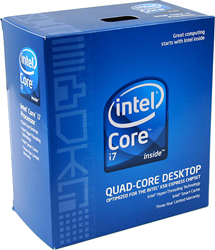 Image
Intel is one of the biggest supporters of Israel. Their very first development center outside the US was opened in Haifa in 1974. Since then they have continued pouring investment in to Israel. By 2000 they employed over 4000 Israelis. Exports from their Lachish-Qiryat Gat plant in israel total $3 million a day at peak capacity – approximately $ 1 billion a year.
The Intel plant at "Qiryat Gat" is built on land Israel confiscated from the Palestinian villages of Iraq al Manshiya. Iraq al Manshiya was a village of 2000 people living in 300 houses with two mosques and one school. The original Palestinian inhabitants were terrorized out of the village and then the whole village was razed to the ground to prepare the way for the new Israeli settlement of Qiryat Gat. The remaining population from Iraq al Manshiya was not allowed to return.
A MORE COMPLETE LIST OF ZIONIST SUPPORTING COMPANIES TO BOYCOTT: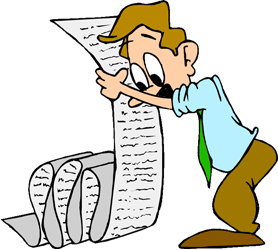 Image
I would have preferred to just copy and paste a list, but it's really hard to find any good ones so I compiled this myself. I suspect it's just the tip of the iceberg – please comment with any others I've missed out,
I have now included Apple, Microsoft and Ford, along with 70 other new additions – this is already much bigger than I anticipated
For me it's really only the computer stuff that's a problem – otherwise I wouldn't touch most of this crap with a 10 foot pole.
20th Century Fox
ABC
Aero Polo
After Eight
Alcobra
Ambi Pur
Ameriquest
Andrex
AOL
Apax Partners
Apex Supply
Apple
Aqua Velva
Aramis
Arsenal Football Club
Auchan
Aveda
Banana Republic
Barbie
Barr
Baskin Robbins
Bath & Body Works
Biotherm
BitTorrent
Bobbi Brown
Body Mist
Branch
Britannia Pacific
Bryan
Brylcreem
Buitoni
Bumble & Bumble
Cacharel
Calvin Klein
Carnation
Carnival Cruises
Carrefour
Carson
Caterpillar
CBS
Century 21
Champion
Charles Schwab Corp.
ChinaByte.com
Cisco Systems
Citigroup
cK
Clinique
CNBC
CNN
Coca-Cola
Columbia Pictures
Comcast
ConnectU
Cross & Blackwell
Danone
del.icio.us
Dell
Delta Galil
DIM
Disney
DKNY
Donna Karan
Douwe Egberts
Dream Works
Drop.io
Dunkin' Donuts
eBay
Emblaze
Estée Lauder
Evian
EXPO Design Centres
Express stores
Face.com
Facebook
Fanta
Felix cat food
Festival Records
Forbes
Ford
Fox
Friend.ly
FriendFeed
Fruitopia
GAP
Garnier
Georgia Lighting
Giorgio Armani
Gold Coast Bulletin
Goldman Sachs
Google
Gossard
Granada
H&R Block
Häagen-Dazs
Hanes
Harper Collins
Hear Music
Helena Rubinstein
Hema
Henri Bendel
Herald Sun
Home Depot
Hot Potato
HP foods
Huggies
Hugo Boss
IBM
ICQ
Independent
Instagram
Intel
Intimate Brands
Isrotel Hotels
Jacob
Jane
JC Penny
J-Crew
Jibbigo
Jo Malone
Johnson & Johnson
Jonny Rockets
JPMorgan Chase
Just My Size
Karma
Kate Spade
Kenneth Cole
Kia Orange
Kimberly-Clark
KitKat
Kleenex
Kotex
La Mer
La Roche-Posay
LA Times
Lancome Paris
Leggs
Lerner New York
Levi's
Lewis Trust Group
Libby's
Lightbox.com
Lilt
Lion
Loews Corporation
L'Oréal
Lovable
M&S
MAC
Maggi
Maison Cafe
Marks & Spencer
Mast Industries
Mattel
Maybelline
McDonald's
MGM
Microsoft
Milkmaid
Milkybar
Mirabilis and ICQ
Miramax
Motorola
MTV
Mushroom Records
National Geographical
NBC
NDS
Neiman Marcus
Nescafé
Nesquik
Nestle
New World Entertainment
New York & Company
New York Post
News Corporation
News of the World
Nextstop
Nickelodeon
Nokia
Nur Die
Nursery World
Oculus VR
Oracle Corporation
Origins
Outer Banks,
Pasqua
PayPal
Perrier
Phoenix
Pickwick
Pilao
Playtex
Prescriptives
Progressive Insurance
Protalix BioTherapeutics
ProtoGeo Oy
Pryca
Pure Life
Quality Street
Quark Pharmaceuticals
Radox
Ralph Lauren
Rawkus
Redken 5th Avenue
Revlon
River Island
Royal Carribean Cruises
Sanex
Sara Lee
Seattle Coffee
Selfridges
Siemens
Sky
Smarties
Sprite
St.Michaels
Star
Starbucks
Stila
Structure
Sun Microsystems
Sunday Mail
Sunglass Hut
Sunkist
Superior Coffee
Taro Pharmaceuticals
Tazo
Tchibo
Teva Pharmaceuticals
The Limited Inc
The Sun
The Telegraph
The Times
Timberland
Time Life magazine
Time Warner
Tommy Hilfiger
Toys R Us
Universal Studios
Viacom
Vichy
Victoria's Secret
Villager's Hardware
Vittel
Volvic
Walmart
Warner Brothers
WhatsApp
White Barn Candle Company
Wikileaks
Wikipedia
Wonderbra
Wynn Hotels
Zondervan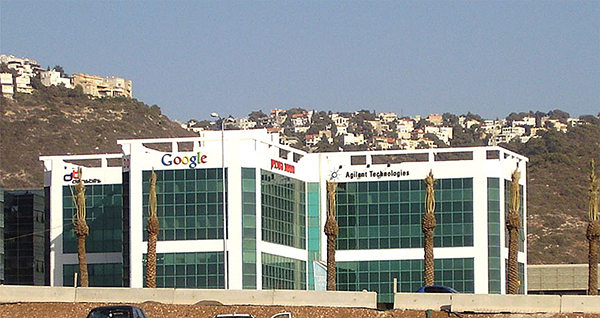 Image – "For over 20 years California's technology industry has been channeling billions of dollars to finance the growth of Israeli tech firms"
NOT THAT THE MEDIA WILL BE REPORTING ANY OF THIS…
When I was researching this post I found the subject is censored like nothing else I have ever tried to find online.
And I am regularly searching for stuff like false flags, vaccinations, and conspiracies.
For obvious reasons I never use Google, but I usually use DuckDuckGo – it's not perfect, but it's less censored than Google.
But in this case the results were clearly being manipulated.
And here is something I haven't seen before – I couldn't even pin some of the links to Pinterest and got this message: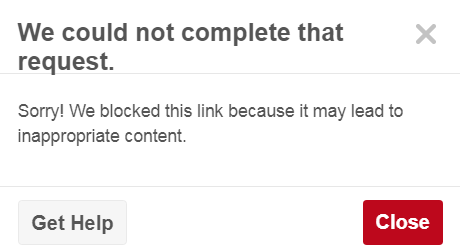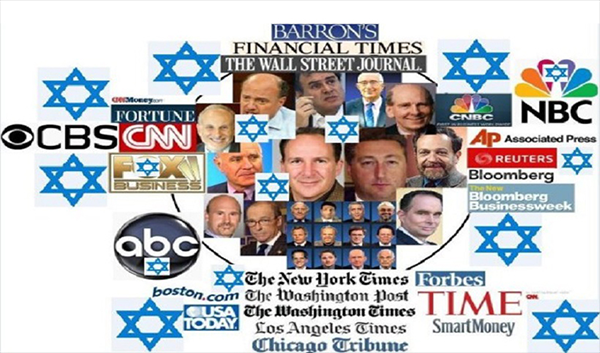 Image
For anyone looking for further information on Zionist related subjects – here are five links from my blog:
JEWISH CONTROL OF THE MUSIC INDUSTRY
THE HOLOCAUST OF SIX MILLION JEWS IS A HOAX