WICKED CAMPERS – BAN THEM NOW BEFORE I TAKE OFFENSE
WICKED CAMPERS ARE FORCING PEOPLE TO BE DEGENERATES
I'd say if people want to rent the vans then they are presumably renting the style and humour that is to their taste – other things that are popular in NZ include skanky NZ beers, president donkey boy, and silver Toyota Echos – these things could be seen as offensive to good taste in my opinion – but should they be banned because I don't find them inspirational?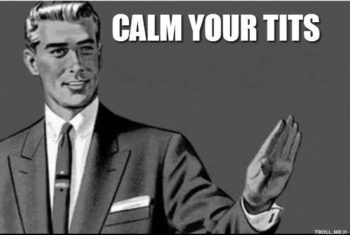 Driving around NZ I've had a chuckle at the odd camper van for sure, but what really cracks me up most is the prune faced looks of righteous indignation from the arbitrators of good taste who would like to censor anything that disturbs their prudish sensibilities… LOL like a MOFO!
These vans are sort of classic, in a world of boring grey cars they stands out like dogs balls and say hey look at this you boring numpties – I hope the pictures go viral so everyone gets to see them!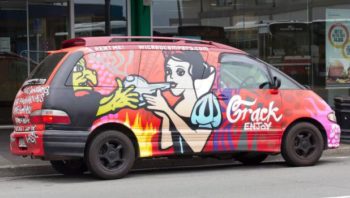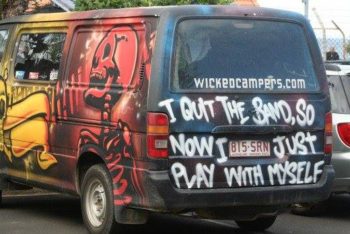 "these vans are a blot on our landscape and an affront to our environment"