More coming very soon!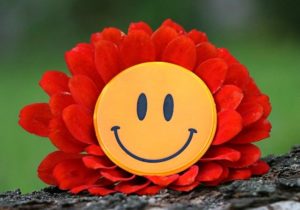 Happiness is a choice
Visit the Action for Happiness website. In particular, check out their Active Coping calendar for April 2020.
At times like this, it's even more important to look after our Mental Health. I'm not sure if this was written specifically for now, but I like these guidelines from Dr Kelly Jameson.
Keep in contact with friends and family
A senior, especially one who lives alone, would appreciate a phone call every few days. And I'm sure you already know about FaceTime, Skype and Zoom – and you probably all know a bunch of extra ways that I don't!
Laughter
Have a giggle at the Family Lockdown Boogie with Jack Buchanan and family.
When is a fart not a fart? Watch this short clip from The Sketch Show to find out. See the whole of Season 1 here.
Check out Aussie comedians live and online for $1 – go to EventFinda to learn more.
Music & Dance
Here's Brian May teaching fans how to play his famed guitar solo in Bohemian Rhapsody.
The Royal NZ Ballet are "delighted to broadcast some of our fantastic back catalogue, right into your living room" – starting with Hansel & Gretel – Friday 3 April at 7.30pm; Saturday 4 April at 1.30pm and Sunday 5 April at 10.30am (NZDT) – read more here.
Watch Mikhail Baryshnikov & Gregory Hines dance together in White Nights,
Theatre
Andrew Lloyd Webber is having his musicals live streaming free, a different one per week. Read more here.
Watch James Corden in a full performance of the National Theatre's show One Man, Two Guvnors with James Corden – apparently very funny.
Movies
Watch 66 Oscar-Nominated-and-Award-Winning Animated Shorts Online, Courtesy of the National Film Board of Canada.
Find out about 10 New Book Adaptations You Can Stream Right Now.
Well, that opened up a rabbit hole. The second one was Little Women, which got me wondering how many times it has been made into a movie or TV series, which led me to this article, and I can now tell you that there are quite a few with the most notable being:
1933 – US feature film – featuring Katherine Hepburn as Jo, in one of her earliest performances (wonder where I can find a copy of this?)
1949 – US feature film – with Janet Leigh as Meg, Elizabeth Taylor as Amy, Margaret O'Brien as Beth. and  June Allyson as Jo.
1978 – NBC 3 hour mini series – with Susan Dey as Jo, Meredith Baxter Birney as Meg and William Shatner as Professor Bauer.
1994 – US feature film – considered by many to be the definitive adaptation – with Trini Alvarado as Meg, Winona Ryder as Jo, Claire Danes as Beth, Samantha Mathis and Kirsten Dunst as Amy, Susan Sarandon as Marmee and Christian Bale as Laurie.
2017 – BBC & PBS mini-series – May Thurman Hawke as Jo, Kathryn Newton as Amy, Willa Fitzgerald as Meg, and Annes Elwy as Beth.
2018 – A version set in modern times, directed and written by Clare Niederpruem
2019 – US feature film – "Little Women has been done over and over again—but never like this most recent movie. In her sweeping adaptation, writer and director Greta Gerwig cleverly modified the original ending, paying homage to the fate Alcott envisioned for Jo but couldn't write herself… Emma Watson, Saoirse Ronan, Eliza Scanlen, and Florence Pugh are the new March sisters. Laura Dern plays a big-hearted Marmee, always amused by her girls; as the stern Aunt March, Meryl Streep never is amused."
Books that uplift us
I've already talked about ways to source reading material on the Keep your mind active page, but here is a list from BookBub of uplifting  books to check out.
Art
If Art Deco & Art Nouveau gives you pleasure, check out this Art Lovers FB page.
Get creative
What makes your heart sing
Meditation and Energy Healing
Hayley Lowe (Psychic Medium & Energy Healer) will be facilitating a program called 30 days to calm – you choose the price!

Other lockdown resources: Lockdown 2020 overview ~ Building good immunity ~ Resources for kids & families ~ Exercise routines ~ Keep your mind active ~ Keeping our spirits up and finding joy ~ Finding Purpose ~ Questioning the Mainstream Narrative ~ Sessions with Deb ~ Nature Foods